"I don't even recognize my husband! The kind, gentle man I thought I married is gone and in his place is an angry, accusing man I don't know. Porn turned him into a stranger."  
This dear lady just wants to be loved and valued by the man she married, but she discovered too late that his porn addiction was long term and deeply rooted.
In Proverbs 6, the strange woman is one who has turned away from her God and her spouse. In the modern world, the man involved in porn is the male counterpart, estranged from his God and his spouse. His sin has led him down a path that ends in destruction for him and for his marriage apart from true repentance and change (2 Corinthians 7:8-11).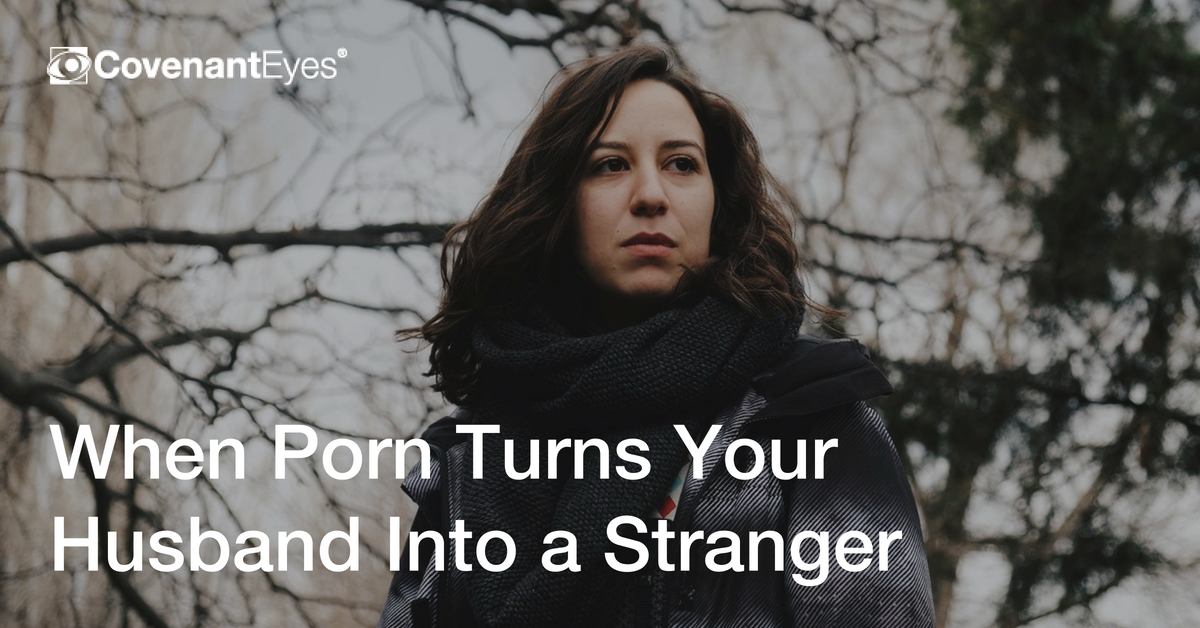 What to Do When He Looks at Porn
The day of discovery is vividly and permanently etched into your memory. You believe it can never get better for you, that your marriage will never recover and that your sanity will never return! But there is hope for you even amidst the devastation you feel right now!
You are not guilty for his sin, no matter what his accusations. Even if he never changes, God has made a way for you to deal with his sin without adding your own sinful response to the mix. That is His promise in 1 Corinthians 10:13-14, which not only applies to your husband's ability to escape the sinful addiction, but to your ability to escape a sinful response to his sin as you honor God by acting like Christ.
Your first response is likely anger toward your husband and maybe toward God for not controlling him better, for letting His wayward child pull off this great deception that is now affecting your marriage. Ephesians 4:26-27 confirms that it's not sin to get angry—even Jesus got angry at the right time for the right reason. However, when our angry responses lead to sinful destruction rather than to solutions, that is the real problem with much of our anger.
True solutions come out of true compassion. Jesus always had compassion for the sinner, though He rebuked the sin. Galatians 6:1-5 encourages us to help the one who is struggling and your husband is struggling both vertically and horizontally whether he recognizes that or not. One of the ways to help is to confront the sin by letting him know how it is affecting you and your marriage, and how that will impact him in the long run. Do this first privately, appealing to him to get help because it is very rare that any man overcomes his addiction to pornography without help.
Shame makes us want to keep this a secret sin, but openness brings possibilities for help (Proverbs 28:13). He will need the support. You may want to also have a small circle of trusted friends who will support you and encourage you in your own walk with the Lord. This is not time to talk about your husband and his sin, but to encourage you to walk faithfully during this trial.
The best help you can give your husband is to pray for him daily. Let him know you are praying for him to have victory. Pray for his overall growth, and pray for him specifically in the area of sexual temptations (James 5:16). And if all else fails, pray some more! Praying will keep your heart soft toward him, maturing you in compassion and a gracious spirit. You will change and mature through this trial (James 1:2-4) as you trust God to ultimately bring healing in your marriage. Learning to trust God, not your husband, is the real key. Your husband may fail many more times, but God never fails (Philippians 1:6)!
Encourage him to connect to a group of godly men who can hold him accountable. These connections are vital! If he continues to stumble, he has a small group to intervene. When warranted, continue the process to church discipline if he is resisting those who are trying to help him in his struggle with sinful idolatry (Matthew 18:15-20). The goal of good church discipline is always reconciliation of sinners to Christ and to those against whom they have sinned.
What If He Won't Change?
What about cases when the husband is an unbeliever? If you are a wife who is a believer but your husband is not, you are still under the protective authority of your local church. Your church leadership should be encouraging you to stand strong against his porn addiction, but to stand strong in gentle love, trying to win him (1 Peter 3:1-6). Your focus must be to hate the sin but to love the sinner, praying for God's love to flow through you. Love must be tough (not harsh!) and solution focused, always seasoned with grace. God promises wisdom and grace to deal with difficult circumstances.
Ladies, I am not talking here about husbands who are into prostitution and other sexual sins that will endanger your health as well as theirs. There is a different protocol for your protection that is not addressed here if that is your circumstance. Immediately get help in how to deal with his sin for your protection.
Also, I am in no way minimizing his sin of pornography. Sin is sin (Matthew 5:27-28), but there are different consequences to different sins. Murder equals jail time, though hatred may in time lead to murder and jail. Unrepentant adultery creates a hard heart that may lead to divorce, and viewing pornography may lead to acting out on it and therefore in time to divorce. Pornography is sin, but so is gossip and backbiting. We must be careful to not become the judge of our husband's sin, no matter what sin that may be (James 4:11-12). God has given us ways to deal with another's sin against us through intervention by the local church and civil government.
There are times when it may be necessary to call on civil authorities to step in to help you (Romans 13). If your husband's pornography addiction has led him into increased anger and even abuse toward you or the children, or to illegal activity, you can take steps to involve the police or to get an order of protection.
What If I Am Still Afraid?
I want to strongly communicate that his sin is never your fault. He will stand alone before God to give account (2 Corinthians 5:10, Romans 14:10-12).
And you are not responsible to change him—that is the work of the Holy Spirit. If you focus on your own sin issues and the changes God wants you to make rather than focusing on his sin, I can guarantee you that you will come out stronger as a godly woman and wife, and very likely you will see some good changes in your husband as well.
This is not to minimize his sin, but rather to put the responsibility for it right where it belongs—back on him. It is the job of the Holy Spirit to convict him of sin and of his need to change. Then it is the Father that follows through with the appropriate consequences (Heb 12:5-13).
Your job as his wife is to love him, to pray for him, and to insist that he follows through with the help he needs. Trust God to give you the wisdom and the grace to navigate these difficult waters without resentment and bitterness (Hebrews 12:15).
Lean on Proverbs 3:5-8 for guidance and healing. The Lord will be your comforter and strength, for He alone is worthy of our complete trust. With time and healing, your marriage can once again experience the true intimacy God designed for you and your husband, and you will be strangers no more!