Josh had been losing a battle against pornography and adultery for years when he decided he wanted to end his marriage. He had met someone new and wanted to move out, leaving his wife, Serena, devastated and alone.
But Serena wasn't the only one who suffered. He also left his children without their father.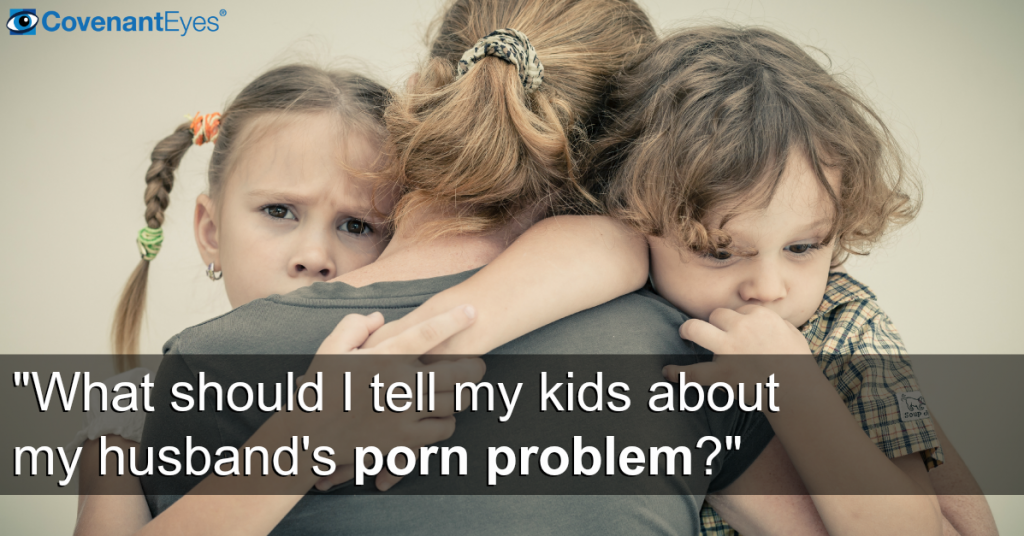 Unfortunately, Josh and Serena's story isn't unique. When a husband's porn use comes out, wives are left devastated…and even when the husband is repentant, there are often months (if not years) of tension and fighting in the home while both sides pursue healing. And all the while, the kids are on caught in the crossfire, watching how Daddy and Mommy treat each other.
This leads to one of our most frequently asked questions: "What should I tell my kids when my husband is hooked on porn?"
Oof, that's a big question, isn't it? We could probably write an entire e-book just on that. These women want to protect their kids, but they also can't just pretend like everything's fine, either.
So, what should a mother say?
Each family differs so much, it's hard to even know where to start. If you're a wife in this situation, the best advice we can give is to get someone else's advice. That might be a professional counselor, a mentor or spiritual advisor, or a couple of close friends who know you, your husband, and your kids well. If you're still communicating with your husband, he should probably be brought into the loop on this as well.
Licensed counselor Kay Bruner offers several pointers for wives with this question. "The thing about children in a family is they know the emotions," Bruner says. "They may not understand what the facts are of the situation, but they understand the emotions. And the thing that happens with children, especially younger children, is that they will make up an explanation in their own minds for what's going on, and many, many times that explanation will be self-blaming." Bruner offers some thoughts for distressed wives:
If there is any measure of visible marital distress in the home, kids need to be at least be told something. They need to hear from a parent so they don't begin inventing stories on their own.
If the marriage is in real distress, such as separation or divorce, the children need to know the truth from you so they don't hear it from another source.
Ideally, dad is the best person to have these conversations with the kids, disclosing the details of his porn problem. If dad is unwilling, mom should disclose enough information to make sure the kids know the truth without being overly slanderous.
Conversations need to be age-appropriate. This will depend on the child's level of cognitive maturity (a five-year-old has a different ability to process information compared to a 10-year-old) and their previous understanding of sexual matters. Teens, for instance, need the straight up truth.
Regardless of what you tell your kids, keep an eye on their mental health. Your husband's porn use brought trauma into the home, and they may need help as well.
Stopping the cycle before it starts
No matter what you tell your kids specifically, you do need to address pornography on a very general level. Start by protecting your kids online. Get a Covenant Eyes family account, and install this protective monitoring software on every computer, smartphone, and tablet in the home. You may also want to add Internet Filtering for your kids. The last thing you want right now is for them to accidentally stumble on your hubby's browsing history and wind up with the same problem.
One of the things to emphasize to your kids is this: the Internet, while good, can be dangerous, and that pornography hooks people. It hurts people, and it's very hard to stop watching once you start. Tell your kids you want them to keep from ever getting to that point. Make yourself a safe person for them to talk to about online temptations. If you have never had this conversation with them and they have already seen porn (which they may have), you need to provide support, not judgment. If this is the case for you—and we pray it's not—you will find help in our e-book, When Your Child is Looking At Porn.
A happy ending
Remember Josh and Serena? Serena didn't tell us exactly what words she used with her kids…but she made the choice to invite them into the family's recovery process, and she prayed with them for their daddy:
The children and I just prayed constantly. I read to them from the Bible about the Prodigal Son, and how this was a picture of Daddy. Prodigals leave home and forget where they come from for a season. They leave home and live like the devil, and leave the ones they care about behind. They lose their senses. But when the prodigal comes home he is welcomed with open arms, completely forgiven.
Three months after Josh's adultery came into light, Josh called Serena and begged her to pray for him. He had come to a personal crossroads, realizing how unfulfilled he was, and was ready to come home. And while it wasn't easy, and while it took their entire family some time and major changes to heal, Josh and Serena have continued to fight for their family's restoration:
The fight to keep our marriage wasn't just about me and Josh; this fight is about the future generation. Josh and I have four boys and two girls. I want our boys to grow up knowing that pornography is wrong, and while it may be a temptation, God has tools and ways to fight it. Friends and accountability will help in the battle. I want our girls to learn how to pray for their brothers and their future husbands, because this is not an easy fight. Often we make so many excuses allowing this addiction to grow into something than seems unmanageable. I want hope to arise that this battle is worth fighting. The rewards for living a life free from the addiction to pornography is worth every battle.