In the American church, pornography has gotten out of control. More than 60% of Christian men say they watch porn at least monthly; 15% of Christian women say the same.
One of the reasons why pornography has gotten out of control is because we have accountability all wrong. We treat accountability as a last resort, not a lifestyle—and then we raise our children with the same mentality.
For many people who use Internet accountability software, it is usually a crisis that gets them there. They get caught. They go too far. They reach a crisis of conscience. Something happens, and they reach the tipping point.
But accountability doesn't have to be a last ditch effort. It should be the preventative measure we use to keep us honest, attentive, and humble so we never have to face the crisis.
Better yet, we should raise our children to think of accountability as a lifestyle.
Porn-Proofing Our Kids: 3 Secrets
"Porn-proof" doesn't mean building a protective bubble to keep porn at bay. Unless you plan to seclude your family in the wilderness like some bad M. Night Shyamalan movie, this isn't an option. Porn-proofing means making your kids ready for a pornified world.
"What you need to do is not cover your kids' eyes but teach them to see. Install that software in their heads," says Liz Perle, editor in chief of Commonsense Media. Internet filters, she says, have their limits. What kids need more is a new way of seeing the world that prepares them to say no to pornography.
Secret #1: A Culture of Accountability
For many kids and teens, monitoring them online sounds like a punitive measure. But when accountability is modeled in the home, no one needs to feel like a target.
"Our kids learn by watching," said Jeff Randleman of Deliberate Dads. "If our kids only see us telling them what to do, and not exemplifying it ourselves, they won't understand the important nature of it, and will come to see us as hypocrites."
If you want your kids to grow up seeing accountability as a lifestyle, then live it out yourself and teach them why it matters.
What to say to your kids:
"We have Internet accountability software on all our devices in the home. [Accountability partner's name] gets my Internet reports every week. Right now, I'm not necessarily tempted to go places online I shouldn't go or see things I shouldn't see, but if there's one thing I've learned about guarding myself from sin, it is this: when you are at your best, plan for your worst. I'm not above temptation—none of us are. That's why in this home we want to watch each other's backs."
When you do this, your kids won't feel like accountability is a punishment, but just a normal pattern of life.
Secret #2: A Code of Wisdom
According to recent surveys, only 15% of Christians say their parents were their primary source of information about sex—and 65% say their primary sources were their friends, TV, or porn.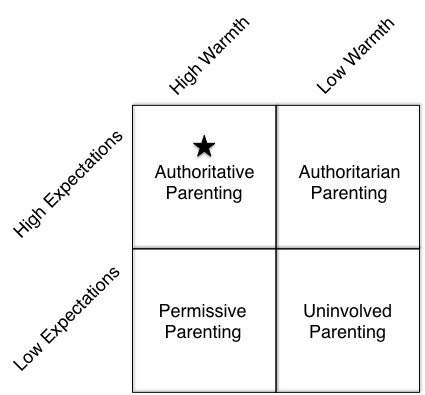 When it comes to pornography or the Internet—or anything, for that matter—kids need boundaries, rules, and expectations, and they need to understand how those rules are grounded in wisdom.
How do we set ground rules in a way that really works? Psychologist Diana Baumrind identified four parenting styles, and it is the last style that has been shown to be the most effective: authoritative parenting. Authoritative parenting means giving a high level of warmth and high expectations for your children. Parents like this are very loving but firm. As kids get older authoritative parents encourage independence while maintaining boundaries. They don't just set a code of rules for their kids, but with their kids. Kids raised in this environment are more likely to be socially responsible, autonomous, and conscientious.
When it comes to the Internet, parents need to be authoritative, setting clear rules but paired with conversations about why pornography is harmful.
Talking to Kids About Porn:
Secret #3: An Atmosphere of Encouragement
There are any number of reasons why kids might start looking at porn, but one reason kids get hooked on porn is because it becomes a refuge for them, a temporary escape from life. Porn offers a fantasy world where kids can enter what appears to be a risk-free environment, a place where they feel in control and temporarily satisfied.
As far as it depends on us, we should strive to make our homes a refuge for our children so our children won't try to find refuge in other places. What is the overall atmosphere of your home? Is it a place where your kids feel encouraged, affirmed, praised, and loved, or is it more of a place of anger, exasperation, noninvolvement, impatience, distraction, busyness, and self-centeredness? Are you your children's adversary or their gracious parent? Are you being harsh or severe with them and calling it "exercising your authority"? Or are you the driving engine of joy in the home?
As parents we must show a loving interest in our children in all of our parental oversight. In his book Father Hunger, Douglas Wilson talks about how to do this, explaining that there are two kinds of authority parents need.
The first is institutional authority. This is the authority parents have simply by virtue of being parents. It is why God commands children to honor their parents—even if their parents are jerks.
The second is personal authority. This is the kind of authority parents have by taking responsibility, showing love, attention, and affection. It is the kind of authority that is earned through personal devotion.
Institutional authority is like having your name on the checkbook. You are the one with the ability to make withdrawals and deposits. You are the signatory on the account. Personal authority is like having money in the bank. You can only get out of the account what you put in.
Some parents make the mistake of believing that they can't possibly be out of money because they still have checks. They demand obedience from their children by virtue of their authority as parents—and they are right, in so far as their institutional authority goes. But they give so little love and devotion, their children are exasperated to the point of giving up.
Some parents make the opposite mistake: they think that if they deposit tons of money into the account, they'll never have to write a check. They have a "just love on 'em" attitude that means they end up being pushovers.
We must be gracious parents, making deposits of love into our kids every day—so our kids won't be tempted to seek a refuge elsewhere—and making withdrawals by giving them clear boundaries. Doug Wilson comments:
"Gracious fathers lead their sons through the minefield of sin. Indulgent fathers watch their sons wander off into the minefield. Legal fathers chase them there" (Father Hunger, p.185).
A New Generation
We must believe that, as parents, we can raise a new generation of young adults who will have the stamina to say no to porn. Raised in a culture of accountability, with a code of wisdom, and in an atmosphere of encouragement, kids will have the "internal software" to set a new standard in our world.