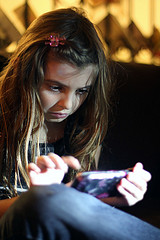 "I wish I had met you a year ago. That was before the FBI knocked on my door."
That's how a dad introduced himself to me in upstate New York, where I was teaching dads how to keep their families safe online at a Christian men's conference. He was dressed in weariness, his eyes gray and sad, and he told me of a cheerful and good-natured 15-year-old son who fell to the temptations of a wifi world.
Now, his son, a straight-A student and athlete, was branded as a sex-offender. Though their home did not have wifi, his son found it elsewhere and graduated quickly from bathing suit models, to soft core porn, to hard core porn…to soliciting online whom he thought was a 13-year-old girl for sex.
It was an FBI agent instead.
Today, mobile Internet-enabled devices are common fixtures on school buses, on playgrounds and even in classrooms, and wifi networks are everywhere.
And the vast majority of the devices these kids hold are unprotected.
More and more schools are finding valuable ways to use mobile devices for instruction and even use them to replace heavy school books. Unfortunately, our schools, our culture, and (most importantly) parents are not protecting children from the millions of websites that are devoted to porn and other inappropriate content. While schools provide wifi network filters, teens often find ways around them, and kids of all ages leave the school network with devices in tow and wander through a vast array of public and home networks that are completely unfiltered.
Why do parents fail to monitor or filter these devices? Here are the most common excuses I've heard during my travels teaching seminars and listening to parents across the country.
My kid is too young to be interested in that.
My spouse and I have been saying we should do something, but we haven't gotten around to it yet.
I didn't know they could access the Internet on that device.
This list holds true even in my own neighborhood. On different occasions, I have had boys, ages 8 and 10, show up at my home with iPod touch® devices that were covered in hardcore porn—not just nudity, it was serious hardcore porn. These are great kids, good students, from fantastic homes, who were given unprotected technology that took them for a tailspin. When I talked to the parents of these boys, I got the full list I'd heard before.
Parents today cope with issues no other generation of parents have faced. But that can't be used as an excuse. We, myself included, have to keep up with the technology that our kids are using and we have to install and use parental controls to protect our children online. We also need to share what we learn with other parents. When our kids visit another family we expect them to use safety belts when driving around town and take other basic precautions to keep our kids safe. We should also expect that our children will be safe online while in their care. That means we need to talk with other parents about online precautions.
Admittedly, that can sometimes be an awkward conversation. So here are a few ways you can learn about keeping your kids safe online and share that knowledge with parents you know.
1. Share the Knowledge
Covenant Eyes has published several free e-books to help you learn about the dangers families face online and how to secure the devices we use. What fellow parent wouldn't like to receive a friendly e-mail with a link to these free resources?
2. Protect, Protect, Protect
Sign up for Covenant Eyes Internet Accountability and Filtering software and tell your neighbors about it too. Procrastination is the biggest reason I hear of why family devices are not protected. We have a great Get Started Guide to make it easy. Plus, we offer free customer support, so you have a friendly voice if you need help. And as a special offer until the end of September, anyone who signs up using the promo code BackToSchool2013 will get their first 30 days free!
A great bonus of Covenant Eyes is that it requires a unique sign-in username, and in my church a good number of families use the service. That means, if Covenant Eyes is installed on computers at their friends' house, my kids can access the Internet and their activity is still monitored and the reports still come to my wife and me. It also means their filter settings and time restrictions follow them on the computers they use in this network of friends and family.
3. Run a Workshop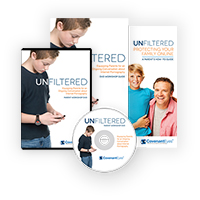 Covenant Eyes just published a DVD-based workshop that you can host in your home. It's called UNFILTERED: Equipping Parents for an Ongoing Conversation About Internet Pornography. You don't need to be an expert, because all of the experts are on the DVD. All you need to do is invite parents to your home, offer a few cookies, pop in a DVD, and hand out a how-to guide for parents that is designed for parents to take home.
I hear many heart-breaking stories in my travels. But the stories that really get me jazzed are the ones from parents who are passionately protecting their kids and their home and sharing their knowledge with their friends, their school, their church, and their community.
If you would like Sam Black to speak at your event or church, contact him at 989.720.8018 or sam.black@covenanteyes.com. Payment of travel expenses is required.
Photo Credit: Candace Nast
Pure Minds Online | Issue 35 |  More in this Issue: Sex, Smut, and Slavery: One film unpacks it all | New Legal Requirements for Your Child's Privacy | How to Have a Discussion with Your Kids About Porn