Pastors and church leaders set the pace when it comes to being honest about and confessing sin in the church.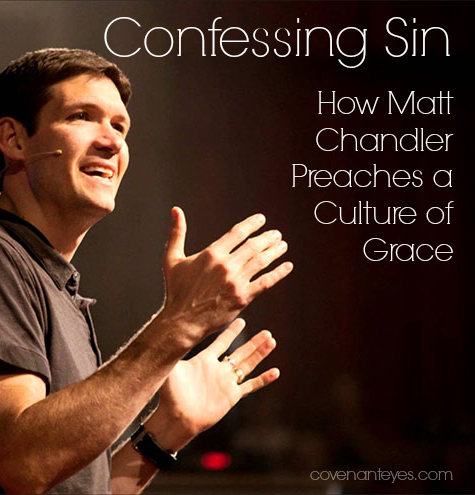 Matt Chandler of Village Church gets this. In his sermon, "Affections Matter," Chandler talks about what creates a church that breathes with a strong, vibrant love for Christ. Chandler teaches a church that loves Jesus is not afraid to be open about their great sin and is vigilant about fighting sin.
[powerpress]
Don't think, Well, my sin is so grotesque, there's no way I could ever come clean. I know some of you are lying to yourselves right now, Man, if I come clean about the things I have done, if I come clean about where I've been, there are going to be so many people who are disappointed. The whole fabric of the kingdom might unravel.
It's been my experience in the group I run with that my weaknesses do far more to push us into holiness than my strengths have done. When I come clean, it creates an environment of, This is okay to come clean here. But if I'm always, "Well, you know, I was memorizing Psalm 8, and then after that, I shared the gospel with my neighborhood, and then after that, just went looking for more people to share the gospel with. I was fasting as I did all of that. How was y'all's week?" That tends to be a bit stifling to people, right?
Most of us don't have, at this point, some real dark side that's external to us. It's far more internal to us; it's our hearts. It's the thoughts of our minds. It's our desires that we have to stay really tapped into so we can be honest about those, so it doesn't grab a foothold in our lives.
I'll unpack it like this: For me, there have been times I have acted the correct way, the way I know the Word of God would say I'm supposed to act, but my heart wasn't in it. Anybody else? There have been times I know I need to respond a certain way, so I will respond the way I know I'm supposed to respond even though my heart has another response it would like to give.
Then I've had some of our elders or some of the staff just come in and try to, you know, "Hey, thanks for the humility you showed on that." I'm like, "Whoa, whoa, whoa. So, let me just be straight. Let me be honest. I responded the way I know the Word of God wants me to respond. My heart is not there. I want an octagon and a choke-out. That's what I want right now. So don't be patting me on the back. That's not where I am."
That's what I mean by being tapped into your heart so you're able to not take praise that doesn't belong to you, so you're dialed in at such a level that you know you're in desperate need of Jesus.
Quit comparing your lives to other morons around you. Compare it to the holiness of God, and you'll see just how deeply you need Jesus Christ, which will lead to more extolling of his name.
My big concern for us as a church is not that we would over-preach grace because that's impossible. If we had all the words in every language on earth, you wouldn't be able to preach enough the grace and mercy of God found in Jesus Christ. My concern is that in the good, right preaching of grace, you might get confused and think grace makes sin safe, and it doesn't.
We are to know Jesus and extol his name, be honest about where we have fallen short (either mind, heart, or action), and take sin very seriously in our lives. Maybe not sin that's there, but sin that's a potential. All of us have iniquity. All of us have a bent. All of us are prone to certain wonderings. We must practice what the Puritans called vivification and mortification.
Here's what that looks like: We fix our eyes on Jesus, and we meditate upon Jesus, and we think on him and dwell on him and are in conversations about him. We sing about him and sing to him and walk with others, where he is the basis of our relationship until our affection for him outweighs our desire and affection for anything that would be rebellious to him. While our affection, our minds, our vitality are set there, we still are aware of this, and we set up obstacles and barricades that this would have to cross to get to us. We don't welcome it in and go, "Hey, don't get me in the back while I look at Jesus." Okay? That's not what we do. We're violent towards our sin because we understand what is at stake.
If you think of Colossians 3:1-10, the first four verses are, "Set your minds on Jesus. Set your minds on things that are above where Christ is." It's this idea of thinking on him, dwelling on him, and then verse 5 turns it: "And put to death, therefore, that which is in you that is of below, that is earthly, that is fleshly. Put that to death." So yes, let's focus on Jesus. Yes, let's confess. But let's also be very violent against the sin that wars against us and would draw us away.
I love Jesus Christ. I have strong affections for Jesus, but there are still rules in my life I live by. I'm free in those rules, but I can tell you I never travel alone ever. My wife goes with me. One of our pastors goes with me. I am never alone on the road. Is that because I think I'm going to slip up and hook up with a "woman of the night"? No, I don't think that's going to happen. I don't think if I'm in the parking lot and somebody offers me black tar heroin, I'm going to go, Should I do this? Here are the pros. Here are the cons. No thank you. Thank you, bro. Maybe some other people in there.
No, I don't think that's going to happen, but I know the Enemy is conniving. He has been at this longer than I have, and so he is not only going to have to get past my affections, but he is going to have to get past some other things in my life.
I can, before you and before the Lord, tell you I don't have a pornography problem, but I have Covenant Eyes on every one of my devices. Why? Because porn is available. And who knows? As I send my affections upon him, I am serious about him not getting a foothold in my life, him not wiggling in.
The elders have our finances available to them as the Chandler family, so at any moment, they can go, "Hey, bring your books in," and I'll gladly bring my books in. I have to be very careful there's never a discrepancy between who I am right here and who I am out there, and so I've tried to build barricades into my life with barbed wire and machine gun turrets against the Enemy, who would love to destroy me, who would love to destroy you.
My question is: Are you pursuing an affectionate relationship with Jesus Christ while simultaneously confessing and divulging practices while simultaneously building a defense against your iniquities? Because the Bible says when these three things are clicking, the overflow of the heart and affections towards Jesus is what occurs.