Covenant Eyes Radio – Episode 108
[powerpress]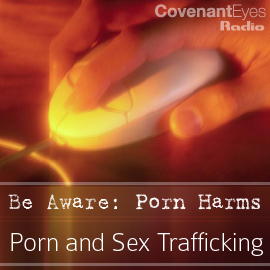 In this special series on Covenant Eyes Radio, we are addressing the harms caused by pornography. This week we are talking about the links between pornography and sex trafficking. What are the connections and why do they matter?
Continuing from the last few episodes, we have three guests for our roundtable discussion.
Jan Meza, an ex-porn star who spent several years in the commercial sex industry. Jan is now a part of the Pink Cross Foundation, speaking out about the destructive nature of pornography.
Noel Bouché, the Vice President of pureHOPE, and director of their pureJUSTICE internship program, a program designed to train college-aged leaders as effective anti-sex-trafficking advocates.
Michael Leahy, a former sex addict and founder of BraveHearts, an international social justice organization that works to reduce consumer demand for the "products" of  sexual exploitation.
For more about the harms of pornography, visit PornHarms.com.
Music for today's podcast is "There is a Curse" by The Difficulty
Listen to more Covenant Eyes Radio on iTunes.