Covenant Eyes Radio – Episode 103
[powerpress]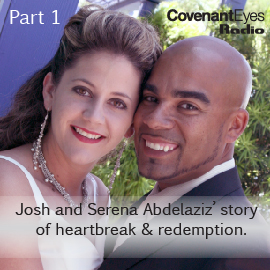 This is the first part of our interview with Josh and Serena Abdelaziz.
Serena was shocked the day she discovered evidence that her husband, who was also a pastor, was having an affair. As the weeks progressed, she learned the awful truth that this was not his first affair. Years of lust and battles with pornography had taken their toll on Josh's heart, and it seemed like their marriage was at the breaking point.
In today's portion of the interview:
Serena talks about her heartbreak and how God brought her through what seemed like a hopeless situation.
Josh talks about how the downward spiral of lust and deception brought him to the point of wanting to quit on his marriage.
Tomorrow we will play the conclusion of our interview. Serena will talk about how God answered her prayers for Josh, and Josh will share how God softened his heart and brought healing to his marriage.
Music for today's podcast is "We Are Not" by The Difficulty
Listen to more Covenant Eyes Radio on iTunes.
For more information: