"I have made a covenant with my eyes;
How then could I gaze at a virgin?"
– Job 31:1
How does pornography violate God's intentions for marriage? What did God design our sex drives for? For an excellent look at the "big picture" of sexuality and how pornography perverts God's intentions for sex, listen to "The Seduction of Pornography and the Integrity of Christian Marriage" presented by Dr. Albert Mohler.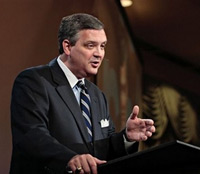 This talk was delivered to the young men at Boyce College in March of 2004. Far from an ivory tower theology of sex, Mohher's talk is intensely biblical and culturally practical. In his talk he calls men to ask themselves for what reason God gave the drive for sexual stimulation. Rather than merely pursuing inwardly-focused self-stimulation (such as pornography), the male sex drive is designed to drive us towards marriage. Moreover, Mohler argues that the male sex drive is a God-given incentive to drive a man towards "earning" the privilege of the marriage bed.
Mohler's message is great for parents of teens, youth pastors, and young single men. Mohler really models the art of speaking directly about sex without speaking lasciviously.
Listen to his message.
Dr. Albert Mohler is the president of the Southern Baptist Theological Seminary. Time.com called him the "reigning intellectual of the evangelical movement in the U.S." and The Chicago Tribune called him "an articulate voice for conservative Christianity at large." Mohler's daily national radio program and popular personal blog can be accessed at AlbertMohler.com.