The first thing most people struggling with porn try to help them quit? A porn blocker. They think if they can keep themselves from getting to porn, or keep it from coming to them, they'll finally be able to quit porn for good.
Porn blockers and internet filters do play an important role in breaking porn addition. Unfortunately, using a porn blocker alone to quit porn rarely helps anyone actually quit for good. Here's why.
1. Porn blockers will always have a way around them.
The ways around a porn blocker are almost endless–using someone else's device, proxy websites, VPNs, public wi-fi–you get the picture. And these circumvention methods and many more are just a Google search away.
Anyone actively seeking to bypass a filter can easily do so. Even people who aren't intentionally trying to bypass filters can stumble upon ways around them.
2. You are more likely to seek out porn.
Stats from the Barna study The Porn Phenomenon show that filters don't work for those who want to live porn-free lives. The study found that 54% of the general population say they "never" seek out porn, while 0% of filter users say they "never" seek out porn. This stat is alarming for those trying to live a porn-free life.
Some people discover that filters and porn blockers actually challenge them to find a way to seek out porn. It becomes a fence they try to jump over or an off-limits, hot stove they can't resist touching.
3. Porn blockers don't notify anyone if you find a way around it.
You could find a way around a porn blocker and no one might ever know. For someone struggling to beat porn, this anonymity and isolation will not help your situation.
4. Porn blockers don't help with the mental images.
Porn addiction is different than other addictions. The images you consume live in your mind, and you can't just throw them out. They can be recalled at any moment in time for another chemical "hit." A porn blocker can't help you get to the heart of this issue.
5. Porn blockers don't break the shame cycle that keeps people trapped by porn.
Research shows that shame is one of the biggest things that keeps people in addiction. Porn blockers do little to free people from the shame that binds them to porn.
While interviewing thousands of people who struggle with unwanted sexual behavior, counselor and researcher Jay Stringer found that shame was more closely aligned with porn use than most people think. Many people experience a sense of shame after their use porn, but he found that shame also frequently drives people to use porn.
Shame drives a person to porn, which causes more shame after its used, which then drives the individual back to porn again. It's a vicious cycle that easily leads to addiction.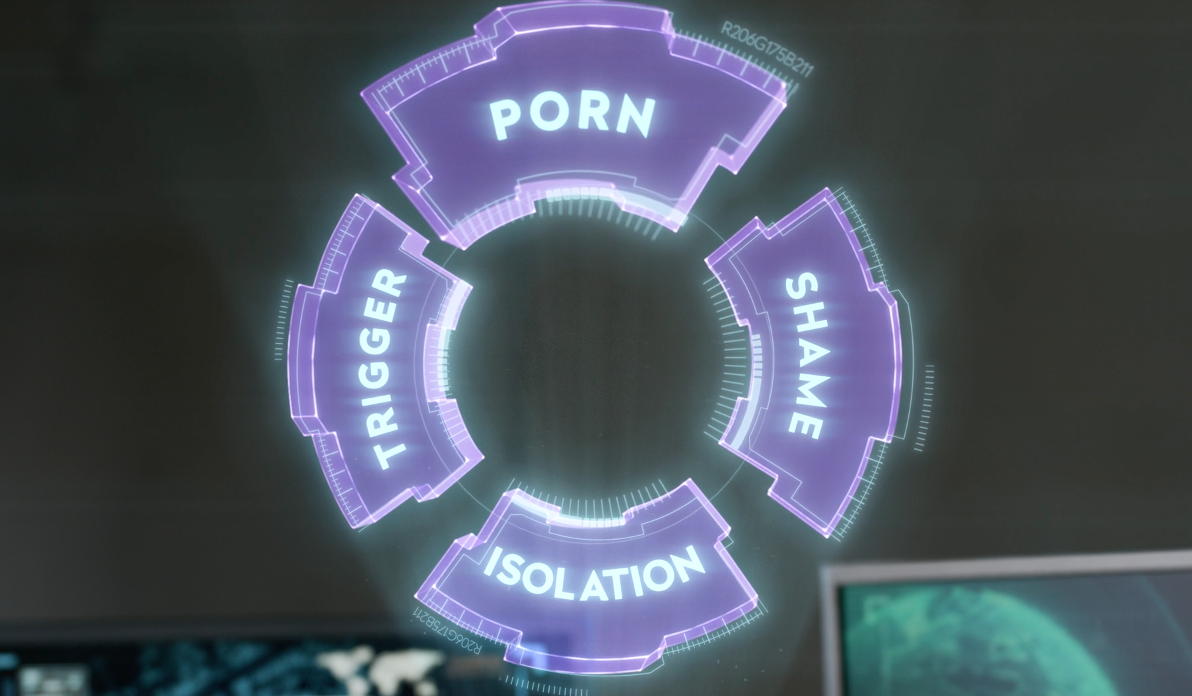 Brené Brown, in her talk "The Power of Vulnerability," shares how the line between addiction and shame is so fuzzy, it's hard to know where one begins or ends, or what actually comes first. It's a cycle.
To illustrate the relationship between shame and addiction, she shares a quote from Terry Real: "An addict needs shame like a man dying of thirst by the ocean needs a drink of the saltwater." The thing the addict thinks will save him or her is actually the very thing that leads to death.
The shame cycle keeps people going back to porn, and porn blockers do absolutely nothing to break this cycle. They encourage a "go-it-alone" mentality, and this isolation plays a key role in the shame cycle.
In fact, given the amount of ways around a filter and their ability to actually encourage porn use, using a filter alone may actually strengthen the shame cycle that ties people to porn.
What helps you quit porn better than just a porn blocker?
Ask anyone who has successfully quit porn (and stayed away) what helped them the most, and I can almost guarantee they will say they had someone who acted as an ally in their fight against porn.
Why is an ally so powerful in helping people quit porn? Allies destroy the shame cycle.
Shame begins to lose its power when we allow someone else we trust to see the parts of ourselves that we're most ashamed of. When someone else sees what you see on your devices, it changes how you use them and breaks the power of shame. Talking with a trusted ally about your thought life–including your sexual fantasies and what drives you to porn–helps break the power of the mental images too.
Experts agree in the power of enlisting help from a trusted friend to defeat shame too. In Daring Greatly, Brené Brown says, "If we can share our story with someone who responds with empathy and understanding, shame can't survive." And in his research, Jay Stringer also found that that when people faced their shame head on, it broke the power shame had over themselves. When we break shame, we start to break addiction.
What does it look like for an ally to hold you accountable and help you overcome porn?
Allowing your ally to see how you use the internet and your smart devices.
Having regular conversations with this trusted friend about how you're using your screens, and more importantly, the why behind it.
Making a commitment to be honest and let yourself be seen (especially the areas of your life where you feel shame).
Covenant Eyes helps make this accountability with a trusted ally happen. Our Screen Accountability™ service monitors the screens you use and sends a report of how you use it to your ally. This insight equips you and your ally to have powerful conversations that break the shame cycle, get to the real heart issues, and help you live a porn-free life. We also have an optional porn blocker (because while a porn blocker alone can't help you quit, it is still an important part of recovery).
With a 30 day money back guarantee, you have nothing to lose and a porn-free life to gain. There's too much at stake to stay stuck in the shame cycle another day. It takes courage to bring a trusted friend into the process, but it's the only way to truly find freedom.
Get Started with Covenant Eyes