Accountability Software 'Revolutionary' in Fighting Pornography Online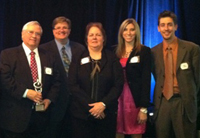 Many watchdog groups are sounding the porn alarm in the 21st Century—and for good reason. In the digital age, more counselors are seeing firsthand the damaging impact of pornography on marriages and children. But recently, the nation's oldest anti-pornography coalition recognized Covenant Eyes for its innovative approach to changing the way people protect themselves and their families.
Gone are the days of nervously thumbing through your daddy's Playboy. According to a survey of nearly 29,000 young adults, over two-thirds said they were exposed to porn by age 14. By the time teen boys enter adulthood, more than 8 out of 10 have seen group sex online, over a third have seen S&M activities, and a third have seen bestiality. One study published in The Journal of Sex Research found the presence of violence in 42% of online pornography. Unrestricted access to the Internet opens the door to a potential flood of hardcore erotic material.
The Unique Approach of Covenant Eyes
Since 2000, pureHOPE, formerly the National Coalition for the Protection of Children and Families, has awarded individuals for their special contributions to the cause of protecting families from pornography and sexual media. This year the special acknowledgment went to Ron DeHaas, founder and president of Covenant Eyes.
As Dr. Al Cooper noted, one of the reasons why Internet porn is such a formidable temptation is because of its secrecy—the anonymity of online interactions make porn all the more alluring. For 11 years, Covenant Eyes has been reversing the power of online secrecy by providing an Internet Accountability service, enabling adults and kids alike to be open and honest with others they trust about the temptations they face and the choices they make online.
Covenant Eyes invented the concept of Accountability software and has been the premier Accountability service for more than a decade. This approach to web safety aims at building a bridge between Internet habits and face-to-face relationships. Covenant Eyes provides an "over-the-shoulder report" of Internet use, says DeHaas. "Not only do people make better online choices when they know they are being watched, but when inappropriate activity happens, someone else is alerted and can compassionately talk to them about it."
Covenant Eyes Changing Church Culture
For the first time, pureHOPE chose to present this annual award to a software developer, as Covenant Eyes does more than traditional web filtering—it is literally changing culture within the church. "The church has yet to wake up to the magnitude of the harm that Internet pornography produces," said pureHOPE president Rick Schatz, "but Ron and his team at Covenant Eyes are leading the charge in changing this. Their software products are helping tens of thousands of Christians live out accountability and community online as well as off, and their educational resources are equipping thousands more."
The result is changed lives and a new culture of accountability in the church. "As the founder of Covenant Eyes, the leader in Internet accountability, Ron's vision and sacrifice has resulted in thousands of lives and relationships changed, healed, and protected through accountability and filtering software," says Schatz.
This year the award was renamed the Jerry and Patty Kirk Award, after the founders of pureHOPE. Past award recipients include national ministry leaders such as Dr. Paul Rader (former General of the Salvation Army), Internet safety pioneers such as Monique Nelson (former President of Enough is Enough), and legal advocates such as Bruce Taylor (former prosecutor for the U.S. Department of Justice).
Through this award, Rick Schatz offered DeHaas and Covenant Eyes the highest commendations. "Perhaps more than any other Christian leader, Ron DeHaas is shaping the way followers of Jesus live out their testimony in the digital age, and we pray his influence will increase mightily in the years to come."