Covenant Eyes Radio – Episode 98
[powerpress]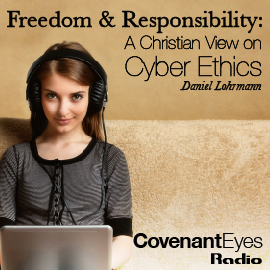 Cyber ethics is a major topic in the Information Age, but  Daniel Lohrmann, Chief Technology Officer for the State of Michigan, prefers to emphasize the need for virtual integrity, helping people get to the heart of moral behavior in the online world.
Today we are playing a presentation by Mr. Lohrmann, recorded on January 16 at the Center for Ethics and Public Life at Luther College in Decora, Iowa. Mr. Lohrmann talks about the importance of applying Christian ethics to online and offline life.
Music for today's show is "Shout" by Phil Joel
Listen to more Covenant Eyes Radio on iTunes
. . . .
Dan is author of Virtual Integrity: Faithfully Navigating the Brave New Web. You can read Dan's white papers and listen to more of his presentations on NetSafetyResources.com.