WHY IS INTERNET PORN SO ALLURING?
Psychologist Al Cooper said three factors play a role:
It is accessible. There are literally millions of porn websites which can be accessed almost anywhere.
It is affordable. Most people who view pornography only view the free material.
It is anonymous. You can look at porn in the privacy of your home or office. No one has to know you are viewing it.
Like a three-legged stool, break the leg of anonymity and the allure of pornography collapses.
.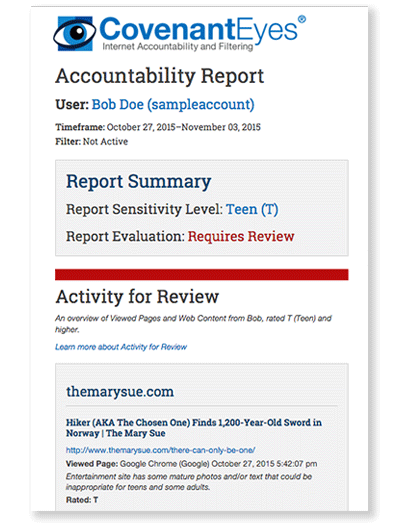 FIND FREEDOM THROUGH INTERNET ACCOUNTABILITY AND FILTERING.
Internet Accountability is a report of the websites you visit, the YouTube videos you watch, the search terms you use, and the apps you use on your Android™ phone, all sent by e-mail to the person you choose (like a friend or mentor). It helps you have conversations – so you and your friend can talk about where you struggle online, helping you to make better choices about Internet use.
Want even stronger protection? Add our optional Filter to block bad websites altogether. You can even use it to shut the Internet off completely at certain times a day!
Get Internet Accountability Reports for all your devices with one username for just $11.99/mo.
(Add Filtering for $1.50/mo.)
Available for: Windows®, Mac® OS, iPhone®, iPod touch®, iPad®, Android™ phones and tablets
HOW ACCOUNTABILITY WORKS
Internet Use Reports
Our Reports assign each website visited an age-based rating, making it easy to see what's inappropriate. They're customizable too! View a sample Accountability Report.
Unlimited Device Installation
Your personal username lets you install Covenant Eyes on all of your computers, smartphones, and tablets. Our apps for iPhone and Android are no extra cost.
Unlimited Accountability Partners
Can't decide who you want to receive your Reports? Send them to your spouse, brother, friend, or as many people as you like at no extra cost.
Panic Button
Finding it hard to resist temptation? Click the "Panic" button to block access to the Internet. When you feel stronger call our caring team to reinstate Internet access.
Restricted Uninstallation
Don't want to be tempted to remove Covenant Eyes from your computer? Have someone else handle the billing on your account, and you won't have the option to uninstall without their permission.
Optional Filter
Want extra protection? Block inappropriate websites completely by adding Filtering to your username for an additional $1.50/mo.
Device-Wide Monitoring for iPhone, iPad, and Android
Covenant Eyes tracks what domains have been accessed across your entire phone or tablet, and enforces the use of safe search on Google and Bing. (For the best protection on iPhone and iPad, use our built-in browser for Filtering and detailed web reporting. This browser is not available for Android.)
App Monitoring on Android
Covenant Eyes for Android tracks what domains have been accessed across your entire phone or tablet, and enforces the use of safe search on Google and Bing. It shows what apps were used on the Report. App locking is available as part of this app.
.
30-DAY MONEY BACK GUARANTEE
Sign up for Covenant Eyes Internet Accountability changes the way you use the Internet.
Try it out for 30 days, and if you aren't completely satisfied, you will be given a full refund.
Learn more about Covenant Eyes Internet Accountability.