The Internet has introduced unprecedented challenges, and the potential threats can change daily. Covenant Eyes is committed to helping you protect yourself and your loved ones from Internet dangers and temptations.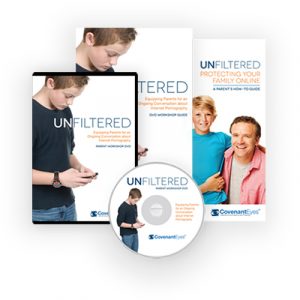 UNFILTERED: PARENT WORKSHOP KIT
UNFILTERED: Equipping Parents for an Ongoing Conversation about Internet Pornography is a DVD-based workshop featuring top Catholic experts. This workshop teaches parents about the dangers of pornography and how to prepare their children for a world where it's easily accessible.
You can watch UNFILTERED for free online.
WATCH "UNFILTERED" ONLINE
If you would like a DVD copy of UNFILTERED shipped to you, please contact our sales team at resources@covenanteyes.com or by phone at 877.479.1119 opt. 2.

FREE RECORDED WEBINARS
In 2011, hundreds of religious, political, and technology leaders gathered to address the convergence of new technology, pornography, prostitution, and human trafficking, in an effort to understand the critical issues and develop solutions.
Covenant Eyes and pureHOPE have partnered to distribute the videos from the Convergence Summit. These videos have been divided into interest areas based on pornography's interactions with social justice, neuroscience, and families.
This webinar was designed for anyone who is currently helping someone (male or female) through a struggle with pornography. It addresses five common myths about sexual sin, the cycle of addiction, and the biblical model of freedom.
By the time our children enter adulthood, 93% of boys and 62% of girls have been exposed to graphic sexual content online. How do you prepare your children to process these images and face these temptations?
This 16-minute video, Porn and Your Kids: The Key Tip to Keeping Them Safe, will equip you to understand and confront this issue head-on.