Covenant Eyes protects people, not devices. That means it works best when every person in a home (or using a shared computer, smartphone, or tablet) has a separate username.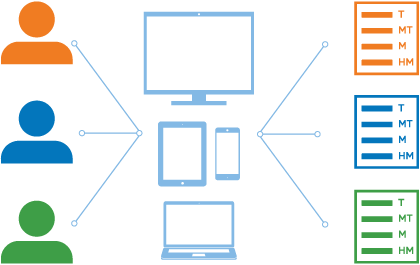 Depending on whether a specific username has Accountability, Filtering, or both, each username gets:
Unique Accountability Reports, making it easy to see who visited what website. For example, a parent won't have to guess whether the five-year-old or fifteen-year-old visited a specific site.
Separate Accountability Partners. A husband and wife can send their reports to each other, but they can also send their reports to their own friends.
Custom Filter settings for each person. The 5-year-old can be blocked at the Youth level and the 15-year-old can be blocked at the Teen level. They can each have custom block and allow lists, and even time of day blocking.
These settings follow each username no matter where they sign in. For Accountability users, this means that if someone signs in on a Windows computer and an iPad®, his or her browsing from both devices will show up on a single Accountability Report. If that person also has Filtering, he or she will be blocked at the same sensitivity level, and any custom block or allow lists will carry through on both devices. (Please note that Filtering is not currently available for Android™ phones and tablets.)
Adding Users to Your Account
Account Administrators can add or edit users in "My Account." (Get step-by-step instructions for adding users here.) For users with a Personal or Group Account, there is a maximum fee of $3.50 for additional usernames (see our Pricing page for full details). For users with Family Accounts, there is no additional fee to give separate usernames to everyone in a home.
Learn how to switch to a Family Account.
Using Multiple Usernames on a Shared Computer
Covenant Eyes allows you to easily switch between usernames by signing in and signing out with a different username. Additionally, if your computer's operating system allows you to have multiple user profiles, you can set a different Covenant Eyes username to sign in automatically with each user profile.
 How to use multiple Covenant Eyes usernames on Windows
How to use multiple Covenant Eyes usernames on Mac