Covenant Eyes partners with CleanBrowsing, a filtering company, to provide website blocking. This means that if a Covenant Eyes member, who is using the Filter service, attempts to visit a pornographic website on any device, then CleanBrowsing will block the site.
---
How do I turn the Filter on?
If you are an Account Administrator, you can add Filtering to yourself or any member on your account via our online member portal, My Account! Read this article for step-by-step instructions adding Filtering to a member.
How much does the Filter cost?
For most Covenant Eyes members, Filtering is already included in your current plan! This means that you can use our Filter at no extra cost.
Note: Longtime Covenant Eyes members may be on our legacy Personal Plan. This plan has a base rate and increases in price depending on the members and services you add. If you are on our Legacy Plan, adding Filtering will cost $1.50 per member, each month.
Are there different filtering options?
There are two filtering options, called Blocking Levels:
Standard Blocking Level: Blocks access to all adult, pornographic, and explicit websites. It does not block proxy or VPN domains. Mixed-content sites (like Reddit) are allowed. Google and Bing are set to use SafeSearch.
Strong Blocking Level: Blocks everything Standard Blocking does, in addition to proxies, VPN domains, some mixed-content sites (like Reddit), and YouTube is set to restricted.
What is SafeSearch?
SafeSearch is a search engine's optional, internal filtering feature that limits explicit search and image results. When the Covenant Eyes Filter is being used, it will automatically enable and enforce SafeSearch for popular search engines.
In My Account, you can select either the Standard Blocking Level or the Strong Blocking Level:
Standard Blocking Level: enables and enforces SafeSearch for Google and Bing
Strong Blocking Level: enables and enforces SafeSearch for Google, Bing, and Yahoo
What is the Custom Website List?
The Custom Website is a tool that helps you personalize your Filter to meet your needs! Here's how it works:
Note: When you enter a site into the Custom Website List to be allowed or blocked, don't add "www" or "https" to the beginning of each site.
Example: To block a website, enter the name of the site you want to block (1) into the Custom Website List form and (2) click the red "Block" button. A confirmation message will populate at the bottom of the screen notifying you that the change was successful and to refresh Covenant Eyes on your devices.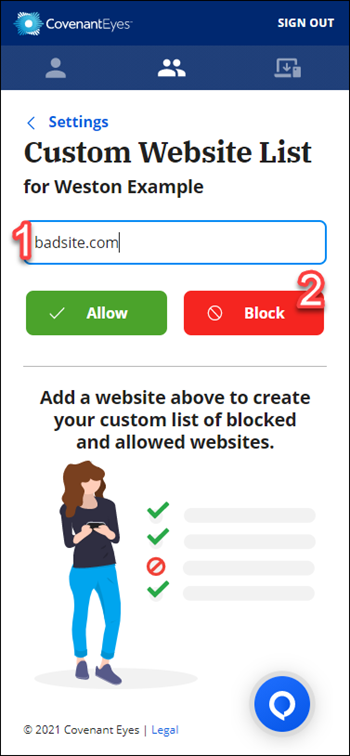 What about social media?
With a few exceptions, most social media will be accessible/allowed. With the Screen Accountability service, we're able to capture and report any concerning screenshots that would result from time spent on a social media site or in a social media app.
If you want to block social media, each site may require adding a few extra URLs to the Block List in order to block properly.
Note for iPhone users: Covenant Eyes is only able to take screenshots within our app, therefore, activity in social media apps will not appear on the report. It is recommended that members with iPhones remove social media apps and instead browse through the Covenant Eyes app.
What about apps?
Our current focus is using CleanBrowsing's expertise to block known pornography sites. CleanBrowsing will block access to pornography sites in our app or other apps. If the blocking doesn't occur, for whatever reason, our Screen Accountability service is ready to capture and report concerning screenshots in those apps. If blocking apps is important in your situation, then you'll want to read about using Apple's built-in parental control feature, called Screen Time, for iPhone® or using our App Lock feature for Android™ devices.
How do I know the Filter is working?
We've created a test page so you can test our filter without the risk of exposing yourself to explicit material. On any device running Covenant Eyes and signed in with a filtered username, go to www.covenanteyesfilter.com. If the filter is active and functioning properly, you'll receive a Covenant Eyes block page (pictured below). If the filter is not active and not working properly, the page will redirect to the Covenant Eyes homepage. If you're redirected to our homepage, please reach out to Member Care via chat, email or phone.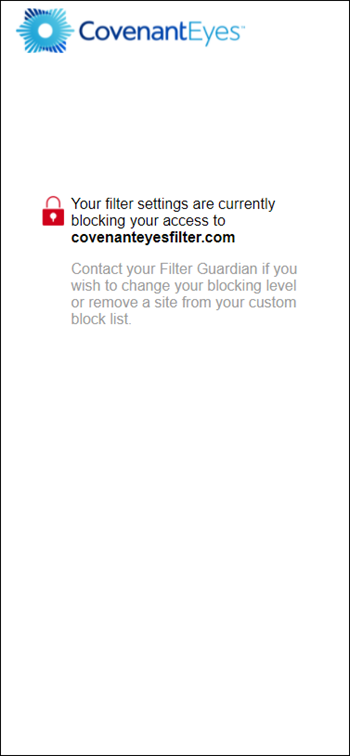 The Filter Guardian, whether it's you or someone else, is the person who can change the Blocking Level and filter settings. To edit filter settings:
How do I change the Blocking Level?
Sign in to My Account and select the desired member's name from the Relationships page.

Scroll down and tap the "Settings" option for that member.

On the Settings screen, tap the "Blocking Level" option.

At the bottom of the screen, select either Standard Blocking or Strong Blocking and then tap the blue "Save" button. A confirmation message will populate at the bottom of the screen notifying you that the change was successful and to refresh Covenant Eyes on your devices.

What about router-based filters?
In some cases, the simultaneous use of a router-based filter and the Covenant Eyes filter will lead to a conflict. Because the two filters are trying to do the same thing, they can end up "fighting" each other instead of helping each other. The user sees this as trouble getting online or loading a page. If you experience this, then consider using one filter. It's natural to think that "more is better," but that is simply not the case for content filters.
What happened to Blocked Times?
Covenant Eyes no longer offers that feature. It was a subset of our Filter service for Internet Accountability. In our new program, Screen Accountability, the filter service is different. Basic/General blocking is powered by Clean Browsing. Customized blocking is available by using the Custom Website List.
---
Related Reading