Covenant Eyes partners with CleanBrowsing, a filtering company, to provide website blocking. So if a Covenant Eyes member, who is using our filter, attempts to go to a pornographic website, CleanBrowsing will block the site.
Select one of the frequently asked questions below to learn about the filter:
---
How do I turn the filter on?
If you are an Account Administrator, you can add filtering to your profile or any member on your account via our online member portal, My Account!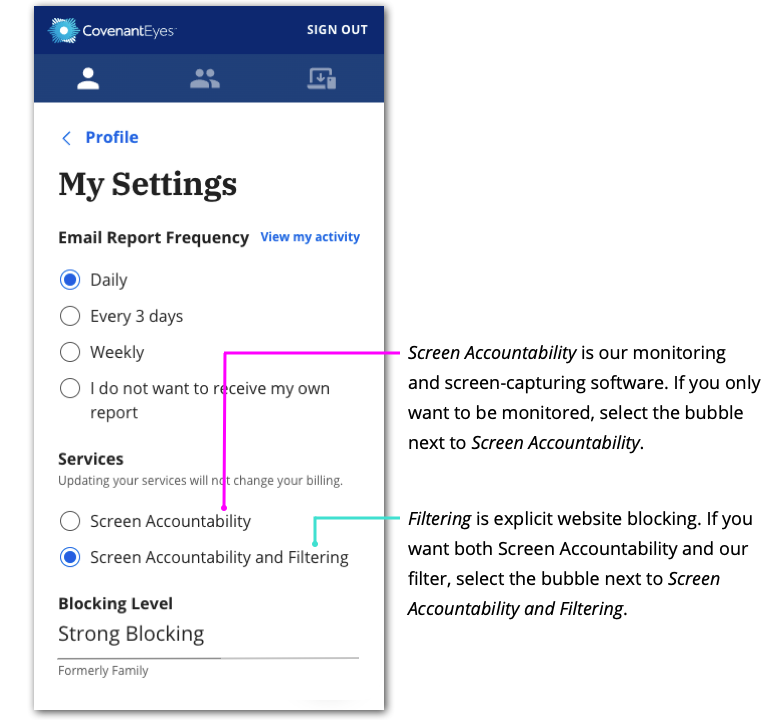 How much does the filter cost?
We include website filtering in your *current subscription; You can use our filter at no extra cost.
*Note: Longtime Covenant Eyes members may be on our legacy Personal Subscription. This subscription has a base rate and increases in price depending on the members and services you add. On our Legacy Subscription, adding filtering will cost $1.50 per member, each month.
Are there different filtering options?
There are two filtering options, called Blocking Levels:
Standard Blocking Level (default): Blocks access to all adult, pornographic, and explicit websites. It does not block proxy or VPN domains. Mixed-content sites (like Reddit) are allowed. Google and Bing are set to use SafeSearch.
Strong Blocking Level: Blocks everything Standard Blocking does, in addition to proxies, VPN domains, some mixed-content sites (like Reddit), and YouTube is set to restricted.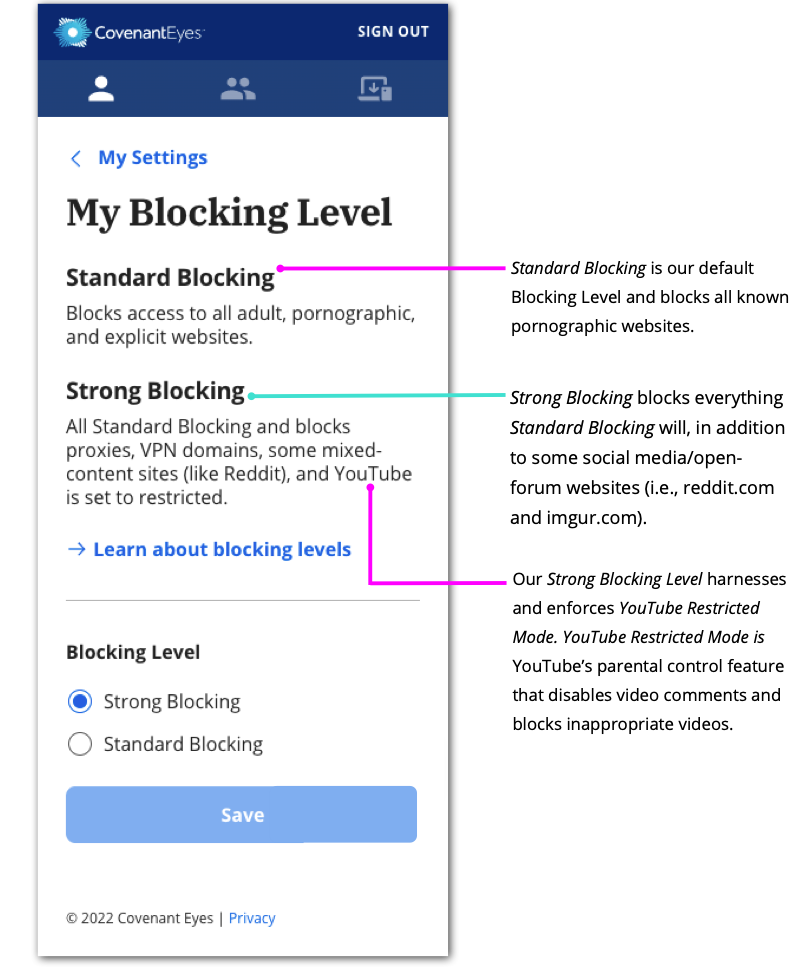 What is SafeSearch?
SafeSearch is a search engine's optional, internal filtering feature that limits explicit search and image results. We automatically enable and enforce SafeSearch for popular search engines for filter users.
In My Account, you can select either the Standard Blocking Level or the Strong Blocking Level:
Standard Blocking Level (default): enables and enforces SafeSearch for Google and Bing
Strong Blocking Level: enables and enforces SafeSearch for Google, Bing, and Yahoo
What is the Custom Website List?
The Custom Website List is a tool that helps you personalize your filter to meet your needs! Here's how it works: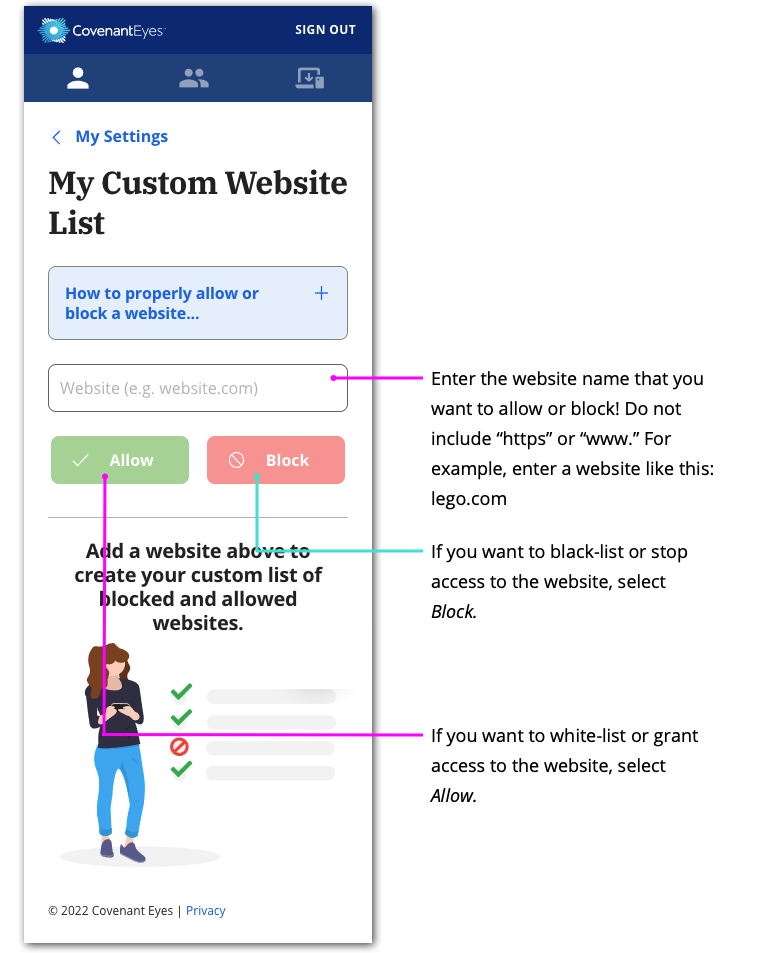 To learn more about the Custom Website List, read How do I block or allow websites with the Custom Website List?
Can I block word searches?
No, you cannot block words with the filter or Custom Website List. You can only block websites.
What about social media?
With a few exceptions, most social media will be accessible/allowed. Our monitoring software, Screen Accountability, will notify you about concerning social media activity.
If you want to block a social media platform, you need more than one website/URL in the Custom Website List to block it entirely.
Note for iPhone users: Covenant Eyes can only take screenshots within our iPhone® app. Therefore, we cannot screen-capture social media apps. We recommend iPhone® users remove social media apps and instead access social media in the Covenant Eyes browser app.
What about apps?
We will block access to known pornography websites in our app and other apps. If the block doesn't occur, for whatever reason, our Screen Accountability service will capture and report concerning activity.
If blocking apps is crucial for you, use Apple's free iPhone® parental control feature, called Screen Time, or our App Locking feature for Android™ devices.
How do I know the filter is working?
To test our filter, go to our filter test page on the device you want to check: covenanteyesfilter.com. Our test page should block itself (pictured below). You will be redirected to covenanteyes.com if the filter test page fails.
For more details, read How can I tell if the Covenant Eyes filter is working?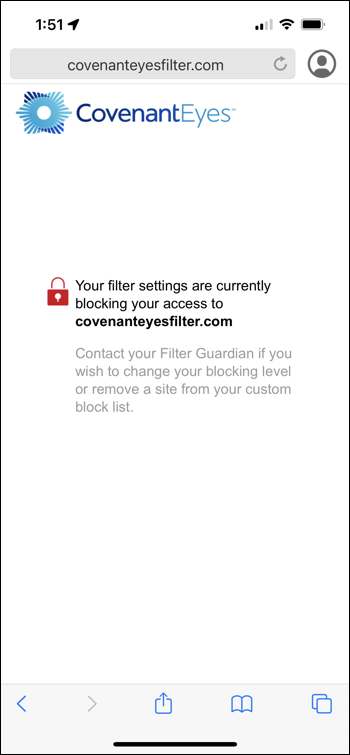 How do I change the Blocking Level?
The Filter Guardian can change the Blocking Level and filter settings. To change the Blocking Level, log in at my.covenanteyes.com to access your filter settings and select the desired level.
What about router-based filters?
In some cases, router-based filters and the Covenant Eyes filter conflict. This conflict happens because the two filters both attempt to block content based on their settings and end up "fighting" each other.
Then the user may have trouble getting online or loading appropriate, standard web pages. Use one filter and disable/turn off the other to resolve this problem.
---
Related Reading