This article applies to older accounts that deliver activity info via email and My Account. The free Victory app provides 24/7 reporting; it is standard for all new accounts and available to all older accounts.
Service Interruption means Covenant Eyes can't monitor a Mac® computer because we don't have access to Screen Recording.
On a Mac® computer running Catalina (macOS 10.15) or higher, Covenant Eyes needs access to the computer's "Screen Recording" permission to monitor activity. Select an option below to learn more: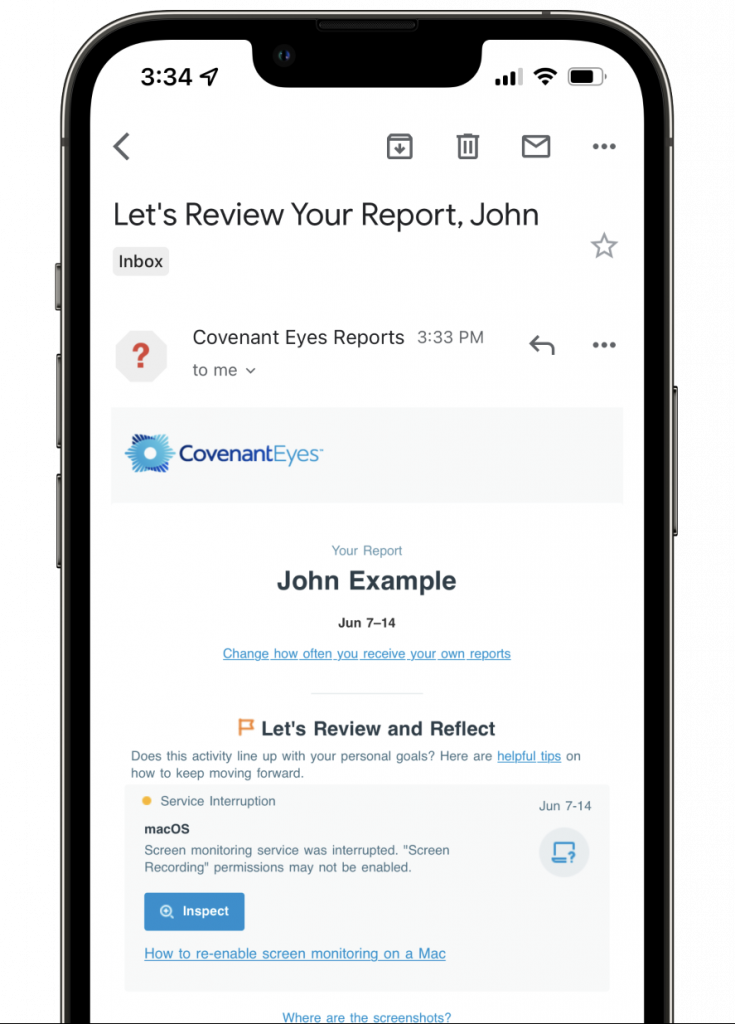 What is Screen Recording?
Screen Recording is a privacy setting on Mac® computers. When programs (like Zoom and Covenant Eyes) have access to Screen Recording, they can monitor and view your screen.
What does this message mean?
Starting with Mac® version 3.3.7, Covenant Eyes checks if our access to Screen Recording is enabled or disabled. If Covenant Eyes' access to Screen Recording is disabled, then a Service Interruption message will appear on the next email report (or in the Victory app Activity Summary).
There are two ways Screen Recording can be disabled:
The member upgraded their macOS® (operating system) to Catalina or higher (10.15+) and didn't realize they need to enable Screen Recording for Covenant Eyes.

The member intentionally disabled Screen Recording for Covenant Eyes on the Mac®. If this is the case, be sure to re-enable Screen Recording for Covenant Eyes.
How is this information helpful to me?
Covenant Eyes includes this message on email reports to notify allies if we can't monitor a Mac® computer.
Allies, while being supportive, should consider that this message may have occurred because Screen Recording was disabled by the member.
For more information about the message:
From the Service Interruption message on the report, select the "Inspect" button.

On this screen, you'll see: the name of the Mac, the date(s) and time(s) the Screen Recording permission was disabled, and how long it was disabled each time.

Not sure how to have a conversation? These posts may help: How to Be the Best Ally Ever and How to Respond When Your Friend Looks at Porn.
How can I prevent this from happening in the future?
To prevent the member from accessing and disabling Screen Recording on a Mac®, create a "Standard user" profile for them to use on the computer. Standard user profiles cannot make changes to system preferences (like Screen Recording) without the Mac® computer's Administrator password (which the ally, spouse, or friend can keep).
---
Related Reading