This article shows and explains a Screen Accountability report. It also explains the meanings of the four (4) email subject lines that are used when a report is sent out. Only one subject line will be attached to a report. The six (6) FAQs cover other aspects of the Screen Accountability reports. The Related Reading section contains links to articles that describe aspects of the service.
---
Annotated Sample

Email Subject Lines
When a report is sent to you, or an ally, it will contain one of the following subject lines:
Activity Missing: this subject line indicates that there were a) no screenshots, b) no iOS DNS domains, and/or c) the member is only using clients that are not compatible with Screen Accountability during this reporting period. See this article for more information.
Ready: this subject line means that a) device activity was detected and b) no explicit screenshots were detected.
Report is Ready – Update Required: this subject line indicates that some of the member's software needs to be updated to support Screen Accountability. While there can be some screenshots on the report, not all of the members' devices are reporting screen shots. For instructions on updating see this article.
Review: this subject line means that either a) there was activity and one or more screenshots were likely explicit, or b) Mobile Background Data was detected, or c) Unmonitored Screen Activity was detected, or d) Service Interruption was detected.
Timing
Delivery options for an emailed report are daily, every three (3) days, or weekly. You can change that selection at any time.
An online report can be accessed 24/7. By signing into your account you'll be able to view the report content from the last 30 days. For more information on generating your own report or a member's report, see this article.
FAQs
Are there any URLs or web addresses associated with the images on the report?
We will be able to report the time, date, app name, and window title for most images. With the Screen Accountability reports, there are no URLs or web addresses associated with the screenshots. The Mobile Background Data section will contain URLs, but only appears on a member's report if they are using our Screen Accountability service on an iPhone® or iPad®.
Why are the screenshots so fuzzy?
The screenshots on the report are blurred so as to keep the ally safe from potentially explicit content as well as the member's private information. All screenshots on the report will have some level of blur regardless of whether or not they contain concerning content.
Can I reduce the blur on an image in the report?
If the ally needs further clarity on a particular screenshot in the report, they will have the option to briefly reduce the screenshot's level of blur for a slightly clearer image. The Image Inspector can be found by clicking on the individual screenshot in the report. This will change the screen and present the option to "Decrease Blur." For a brief amount of time, the screenshot in question will become clearer, though still blurred. There is a reset time in between the blur reduction so as to not expose anyone for an unregulated amount of time.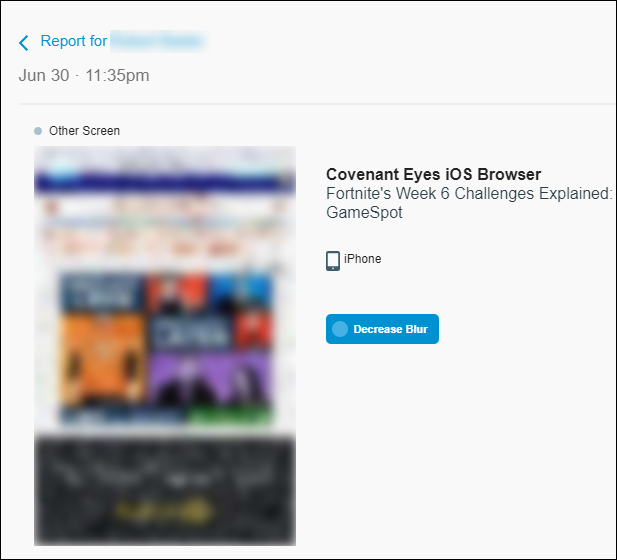 Why can't I reduce the blur on an image from the report?
If you are inspecting an image on the report and there is no option to "Decrease Blur," this means that this image is already at the lowest level of blur. Our Screen Accountability technology has two levels of blur that are applied to each image detected. An image that has been detected as containing concerning content will be blurred more than an image that was not seen as having concerning content. A message below the image you are inspecting will alert you if the image is already at the lowest level of blur.
Can I contact Member Care to have them review a screenshot I have questions about?
Our Member Care team does not have access to any of these screenshots and are unable to answer questions about specific screenshots. The Image Inspector cannot remove the blur entirely, but it should provide insight as to the nature of the screenshot.
Can I opt out of receiving my own report?
Yes, you are able to log into your account and remove yourself as an ally. It's important to note that this will only prevent you from receiving the emailed reports. You will remain able to generate your own report online.
What's New?
August 2021
Upgraded the Recap section – arranged by device and screenshots are listed chronologically.
May 2021
February 2021
Revised the Recap section – we moved from a grid of tiny images to a list of larger images with details next to each image.
December 15, 2020
Added "Update Required" banner. This banner indicates that the member has one or more devices that are not yet running software to support Screen Accountability.
December 2, 2020
June 1, 2020
Added the Service Interruption feature. When Covenant Eyes for Mac (version 3.3.7 and above) detects the Screen Recording permission as being disabled/off, then a "Service Interruption" note will appear in the report. Learn more at What is Service Interruption?.
May 4, 2020
Changed the sub-headline of the Additional Activity/Device Activity section to promote healthier interaction. The phrase "These screenshots may need review" became "Select a screenshot for more details."
March 31, 2020
Increased the number of included screenshots
Modified titles and text, e.g. – "Other Screenshots" became "Additional Activity: These screenshots may need review." [This change was made to encourage allies to review the "Additional Screenshots" section for items that were not classified as explicit by our software, but may be a concern in their particular situation.]
Reduced clutter, e.g. – if there are no concerning screenshots for that reporting period, then the Concerning Screenshots section will not be included in that report
Updated email subject lines
March 16, 2020
We updated the "Decrease blur" button to provide a clearer (less blurry) view of the screenshot.
---
Related Reading