Apple has guidelines for what apps can and cannot do on an iPhone® or iPad®.  One guideline in particular applies to Covenant Eyes: we cannot take screenshots inside other apps. We provide thorough accountability for the whole device by combining two items: 1) Screen Accountability within the Covenant Eyes app and 2) domain monitoring across the rest of the device.
Covenant Eyes App = Screen Accountability
You can use the Covenant Eyes browser the same way you use Safari—surf the web, watch videos, or do some online shopping! What makes our app unique is that all activity within our app is monitored by Screen Accountability. On an iOS device, this is the only place we can take screenshots. In general, any screenshots captured in the Covenant Eyes web browser will appear in  the "Recap of Activity" section of the report. If any of the screenshots are concerning, then they will appear in the "Screenshots to Review" section.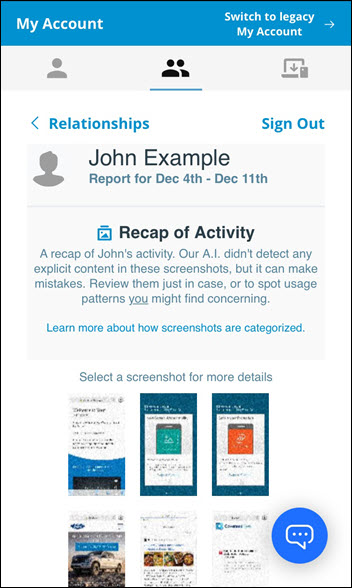 All Other Apps = Domain Monitoring
To capture activity in all apps besides our own, we use domain monitoring. Any highly mature domain activity captured outside of our app will be reported under the "Mobile Background Data" section of our report (see image below). Additionally, if you use the filtering service, you will see a "blocked" note next to any explicit domains. It's helpful! But when compared to Screen Accountability, this isn't the best or most effective form of accountability. For more information about the Mobile Background Data section and domain monitoring, read the Mobile Background Data article.

Filtering
When used on an iPhone, our filter service is designed to block known pornography sites in all apps and use the SafeSearch feature of major search engines. Additionally, you and/or your designated Filter Guardian can personalize your filter experience by using the Block/Allow list. To learn more, check out Understanding Filtering for Screen Accountability.
How Can I Stay Most Accountable on iOS?
Disable Safari and use the Covenant Eyes app for your internet browsing. To do so, you'll need to have 1) the device with you and 2) a trusted ally to complete the setup. Because of the guidelines imposed on iOS apps, we can't disable Safari for you. But following the steps is easier than you think! This page includes clear instructions and multiple pictures. If additional help is needed, please contact Member Care.
Related reading