Many people find power for lasting change when they invite someone into their story. If you're considering that step, or you've already decided it's the next thing for you, use this article as food for thought.
---
Who makes a good ally?
A good ally is someone that will affirm you, ask the hard questions, and help you achieve your goals. This person is neither a pushover nor a control freak. Consider the people in your life that are truly supportive of you. Consider the person who wants the best for you, who has a good mix of toughness and tenderness. The ally that can applaud your progress and, if necessary, encourage you to get back on track, is the kind of person who helps you become a better version of…you!
Should my spouse be my ally?
For married people, their spouse is often a natural fit to be an ally. In some case, the spouse may be the only ally needed. However, a spouse may also be too close to the situation to give constructive feedback and support. In many cases, the spouse needs some time for personal healing and is not ready to provide moral support. Your spouse should make the decision as to whether or not they want to be your ally.
How to bring up the subject in person
Share your story: Tell your potential ally what your struggling with and what steps you're taking to overcome the issue.
Explain: You need to explain what accountability means to you, what Covenant Eyes does, and how an ally is involved in helping you reach your goals.
Ask: It is time to ask this person to consider being your ally, but don't demand an immediate answer. Invite them to ask you questions, and give them a few days to think it over. They can't be forced to be an ally, it has to make sense to them.
How to invite an ally
1. Go to "Your Allies" in your online account. There you'll see a list of all who receive your reports and an option to "Invite an ally."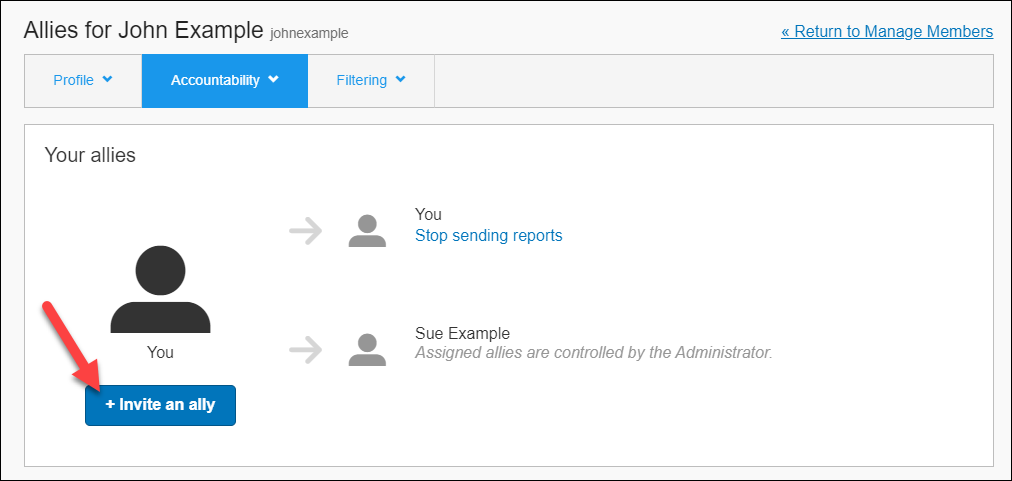 2. Fill in the email address and click the blue "Invite ally" button.