You need to have a Covenant Eyes username to install our software. Sign up today!
---
Covenant Eyes for Windows is compatible with Windows 7, Windows 8, and Windows 10. It is not compatible with Windows Vista or XP. To check which version of Windows you are running, you can follow these steps.
Begin by turning off the computer's antivirus (AV) program before you install Covenant Eyes; you'll turn the AV program back on when installation is complete. For full details about your AV, consult this article.
Next, ensure you are able to install apps, like Covenant Eyes, from the internet by clicking on the Windows icon at the lower-left corner of your screen, selecting the settings gear icon, and finally "Apps."
At the top of the screen, you will see a drop-down menu titled "Choose where to get apps." Select the menu and choose "Anywhere."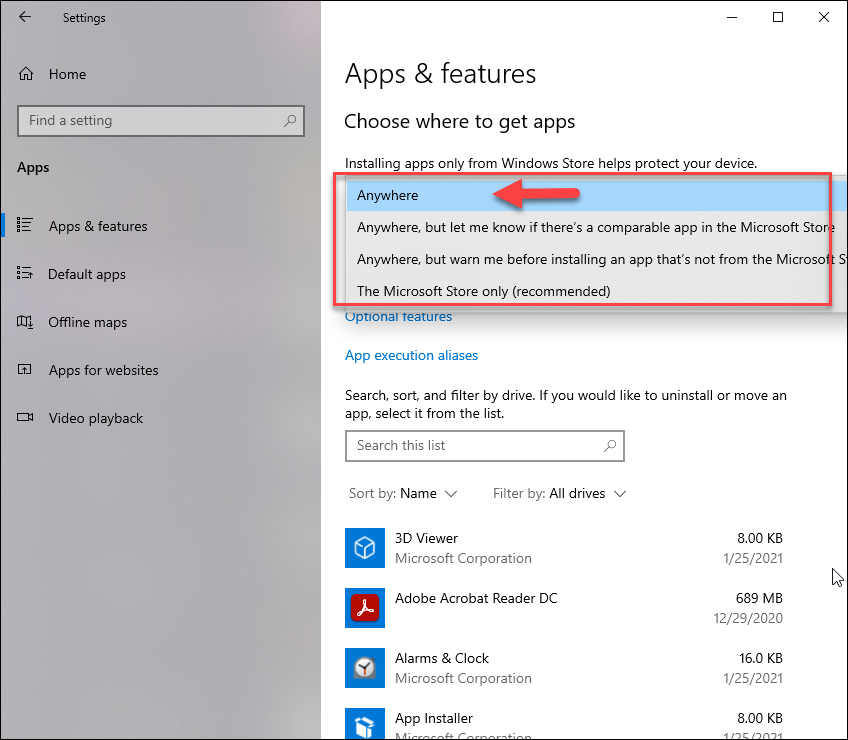 Then sign into your online account with your Covenant Eyes username and password.
On the left-hand side, select 1) the icon of the computer with the arrow pointing down and then 2) click the blue "Download Now" button.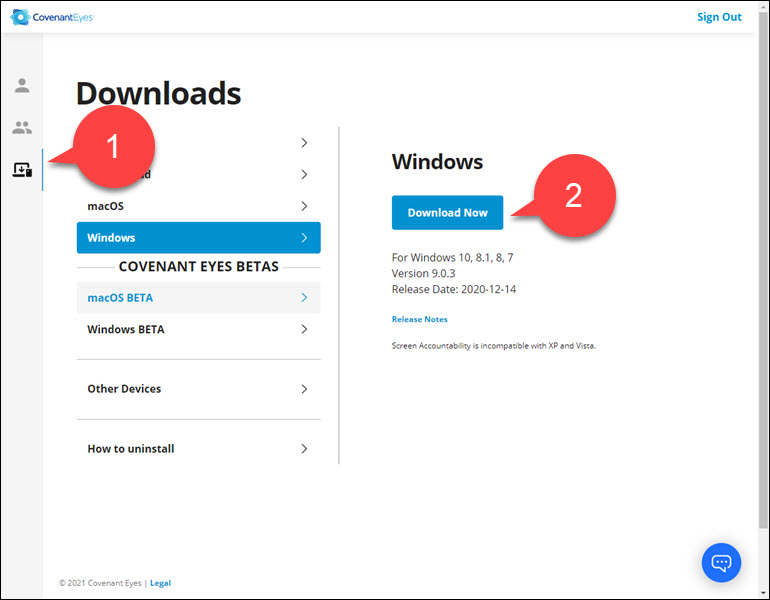 Now, follow these easy steps:
You will be given the choice to run the install file, save it, or cancel the download. Choose "Run." Your download will then start automatically. (Note: Depending on your choice of web browser, you may only be given the option to save the file or cancel the download. Choose "Save," then open the downloaded file.)
Windows may ask if you want to allow the program to make changes to your computer. Select "Yes."
The Install Wizard will start automatically. Close down any extra programs you have running and click the "Next" button as it appears on the next few screens.
At the end, click "Finish." If you are prompted to restart, please do so to complete the installation process.
Updating Covenant Eyes
If you need to update your Covenant Eyes software, simply follow the process outlined above. In most cases, you will not need to uninstall your current version of the software. However, if you prefer to do that, or have been advised to do so by a member of our Member Care team team, be sure to consult our directions for uninstalling Covenant Eyes.
Checking Your Version Number
Combined with your knowledge of installing Covenant Eyes for Windows, using the information below is an easy way to verify the installation/upgrade.
Click the Hidden Icons arrow, which is near the clock on your computer.
Click the eye icon (our logo) and a pop-up menu will appear.
The version number is displayed near the bottom of our menu. You can also select "About Covenant Eyes"  and a smaller window will display the version number.
 
---
Related Reading