Before You Install Covenant Eyes
Be sure you have a Covenant Eyes account. If you are not already a Covenant Eyes member, sign up now!
Be sure you have a Google Play Store account, you will need one to download and install apps. If you don't have one set up yet, follow Google's instructions here.
The Covenant Eyes app requires Android 6 or higher. (How do I find my operating system?)
Please disable the Blue Light filter app, or any other screen dimming apps, on your device. You will be able to turn it back on when installation is complete.
Disable or uninstall any app locking software. This will prevent any unnecessary conflicts during the installation process.
Installing Covenant Eyes for Android
*As you probably know, each maker of an Android device can customize what they build. That means that some words and images shared in this tutorial, may appear differently on your phone. If you desire free assistance during the install process, please contact Member Care via chat or phone (+1 989.720.8000). 
The Covenant Eyes app can be found in Google Play. Once you have found the app, hit "Install" to begin.
Sign in using your Covenant Eyes username and password.

After signing in you'll need to enable Device Administrator privileges. This step allows us to prevent accidental removal of Covenant Eyes. Tap "Activate" to enable Device Administrator.

Next, you will be asked to activate a VPN. Follow the prompts that will allow Covenant Eyes to use the VPN function. Some devices will also incorporate a "Connection request" pop-up, tap "Ok." (For information about our VPN, consult What is a VPN? How does Covenant Eyes use them on mobile?

*Accessibility Required – this is a new step beginning with version 5.7.0.1
Setup should bring you to the Accessibility Required screen. To proceed you'll press the green button in the lower right corner. Be aware that some  Android phones will require two taps after our green arrow, and some  require more (see example below), to get to the Accessibility toggle switch. It depends on how the manufacturer built Accessibility into their phone

On the Accessibility screen, tap the "Installed services" or "Downloaded Apps" option. When you get to the Installed services page, you may have to scroll down to locate the Covenant Eyes tile. Once you see Covenant Eyes, tap it.

Move the Accessibility toggle switch to the "On" position. The Android system may ask you to confirm your decision to  allow Covenant Eyes to use Accessibility. Tap the "OK" button to continue.

Finally, you will be presented with a screen titled Enable Screen Casting. This allows the Covenant Eyes app to capture screenshots. When you're ready, press the green arrow. A confirmation message from the Android system will appear (see details below.) Select the "Start Now" option. If you're running Android 9 or below, you may see an option to check "Don't show again."

Note: This message from the system might sound alarming but it's simply an automatic, generalized message. Anytime an app (like Covenant Eyes, Zoom, etc.) needs to use screen recording, the Android operating system displays this message. It is important to know that this message remains the same for any app using the screen recording/casting feature. The Android system is making sure you're aware of what you have open on your screen before you start recording or casting.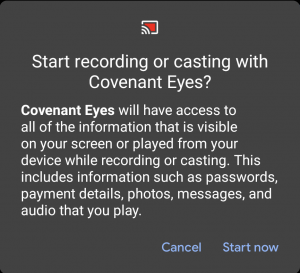 You have successfully installed Covenant Eyes and should now see our app menu! Be aware, your Android device may have a built-in battery saver, or power saving mode, and Covenant Eyes may need to be excluded from battery settings in order to run smoothly in the background. If you need help with battery settings, or any other technical issue, please contact Member Care.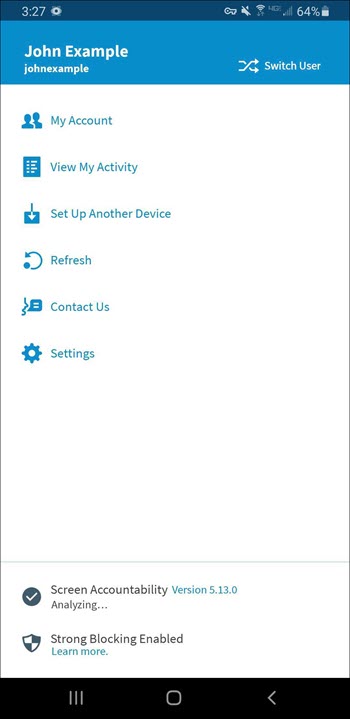 ---
Related Reading