After you install Covenant Eyes on your devices and sign in to our software, the filter should block explicit websites across your device! Read on to learn how to test the filter and how to fix it if it's not blocking properly:
---
How do I test the filter?
Note: you must currently be subscribed to Covenant Eyes and our filter service for the filter to be active.
Go to covenanteyesfilter.com on the device you want to test.

The filter is active and working properly if you get a message in your browser that says "Your filter settings are currently blocking your access to covenanteyesfilter.com." This is the correct response when you go to covenanteyesfilter.com – the filter test page should block itself.

The filter is not active and not working properly if you type in covenanteyesfilter.com but you're redirected to covenanteyes.com. This means that there is something wrong with the filter. Please contact Member Care for technical assistance so we can assist you.

---
How do I fix the filter if the test page failed?
If the filter test page redirected you to covenanteyes.com, the filter isn't working properly. Follow these steps to resolve the issue:
Check that Covenant Eyes is installed. In order for the Covenant Eyes filter to be active, our app/software must be installed on your device! If Covenant Eyes isn't installed, refer to our Install Covenant Eyes on Your Devices article for instructions.
Check the username that's signed in. Our filter is an optional service. This means that you and/or your Account Administrator may not have purchased filtering for your username. Verify that you're signed into Covenant Eyes with a username with filtering:

– To check that you're signed in and/or see who's currently signed in, follow the same steps you'd follow to switch users.

– To see what users on your account you have filtering for, follow the same steps you'd follow to add filtering to a new user.


Contact Member Care. If none of the above steps activated the filter and/or displayed the filter test page, please contact Covenant Eyes Member Care for assistance.
---
A Note for iPhone® Users
If you visit our filter test page (covenanteyesfilter.com), it will be noted in the Mobile Background Data section of the next report (see image below). In some cases, it is wise to let your allies know that you tested the filter before they get your next report.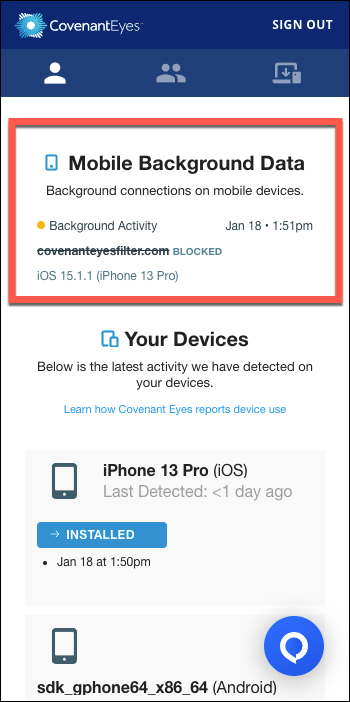 ---
Related Reading