Covenant Eyes firmly believes in the importance of protecting children online, and educating them about how porn warps sexuality.  To make it as cost-effective as possible for parents to protect their kids, as well as for single men and women to protect themselves, Covenant Eyes offers Personal and Family Accounts.
Personal Accounts are the most cost-effective for individuals and couples.
Family Accounts are designed for families with kids in the home.
What is the Difference Between Account Types?
The biggest difference between our account types is the price. Personal Accounts use a per-user pricing structure, while Family Accounts offer a flat rate of $15.99 per month or $183.99 for the whole year, including Filtering, for up to 12 users.
New to Covenant Eyes? Sign up for a Family Account.
Upgrading to a Family Account
If you wish to upgrade from a Personal Account (with per-service pricing) to a Family Account (with flat-rate pricing), sign in to My Account and click "Billing." (You must be the Account Administrator to see this page.)
Click on the link that says "Switch to Family Pricing." By clicking the link, you will automatically switch account types, even if you do not make any further adjustments to your account.

You will be asked to review all users on your account. Once you have reviewed any changes, chick "Complete."
You will see a confirmation screen. From here, you can add more users to your account, or add Filtering to anyone on your account, at no extra cost. (You may also modify users later by clicking "Manage Users.")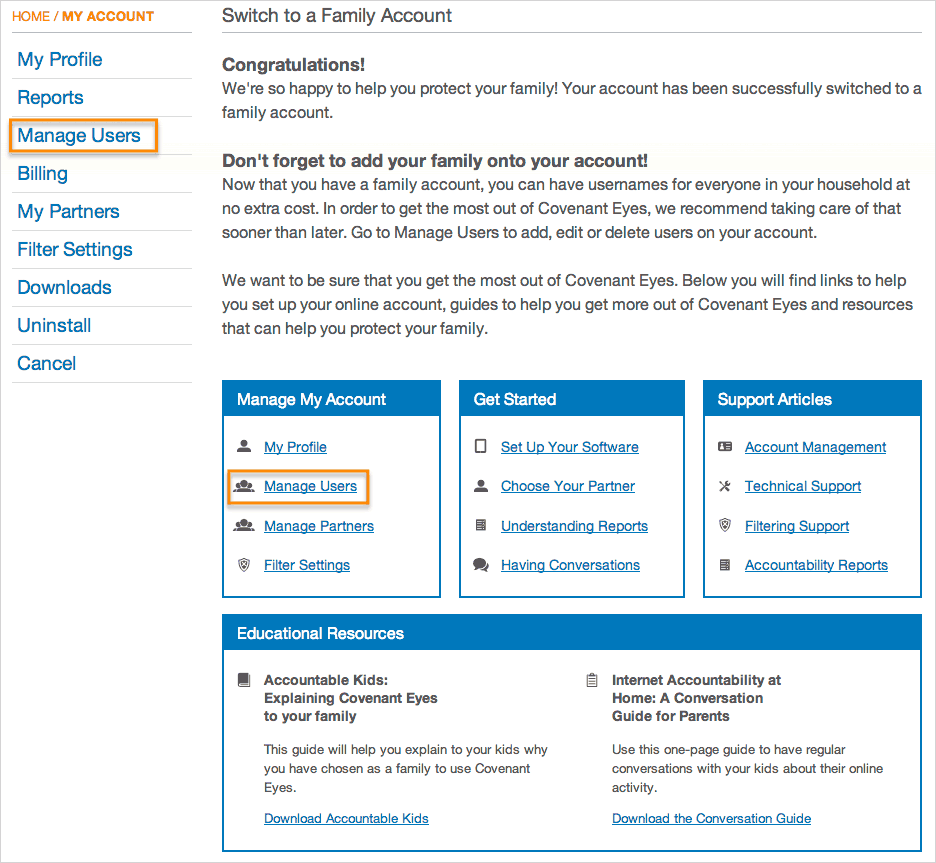 Why Families Need Protection
Not sure why protecting your family is important? Check out this infographic for more information.
Infographic created by April Frances Ortiga and Nerva Delacruz.