This article will cover the different reasons why Covenant Eyes may have charged you twice in one month.
---
You had an outstanding invoice and we collected payment.
An outstanding invoice means you have an overdue balance. If you have an unpaid balance, you may see two charges from Covenant Eyes in one month (one charge for the balance and another charge for your regular, monthly subscription).
Your overdue balance may be collected any of the following ways:
Our billing system will automatically try to collect payment for an overdue balance every 7 days, until the charge is successful or the subscription cancels due to non-payment.

However, our Accounting Team may try to collect the overdue balance any time after 7 days.

Your subscription was cancelled due to non-payment and you resubscribed.
Covenant Eyes will cancel your subscription if you have an unpaid balance for 30 days. If you decide to resubscribe with your past profile, you will receive two charges within 7-10 business days of resubscribing:
First charge: we will charge you the balance you had prior to your cancellation.

Second charge: we will bill you for your first month of service going forward (for monthly subscriptions) or we will bill you for your year of service (for yearly subscriptions).
You added a new member or service and have a legacy, Personal Subscription.
Longtime Covenant Eyes members may be on our legacy (discontinued) Personal Subscription. This plan has a base rate and increases in price depending on the members and services you add.
If you are on our Personal Subscription, adding the following services will increase your monthly/yearly subscription rate:
Filtering (website blocking): $1.50 per member, each month (or $18 a year per member, each year)

Accountability (screen monitoring): $2.00 per member, each month (or $24 per member, each year)
To see if you're on a Personal Subscription, log in at my.covenanteyes.com and select your most recent receipt. Your receipt may look similar to the image below if you're on a Personal Subscription: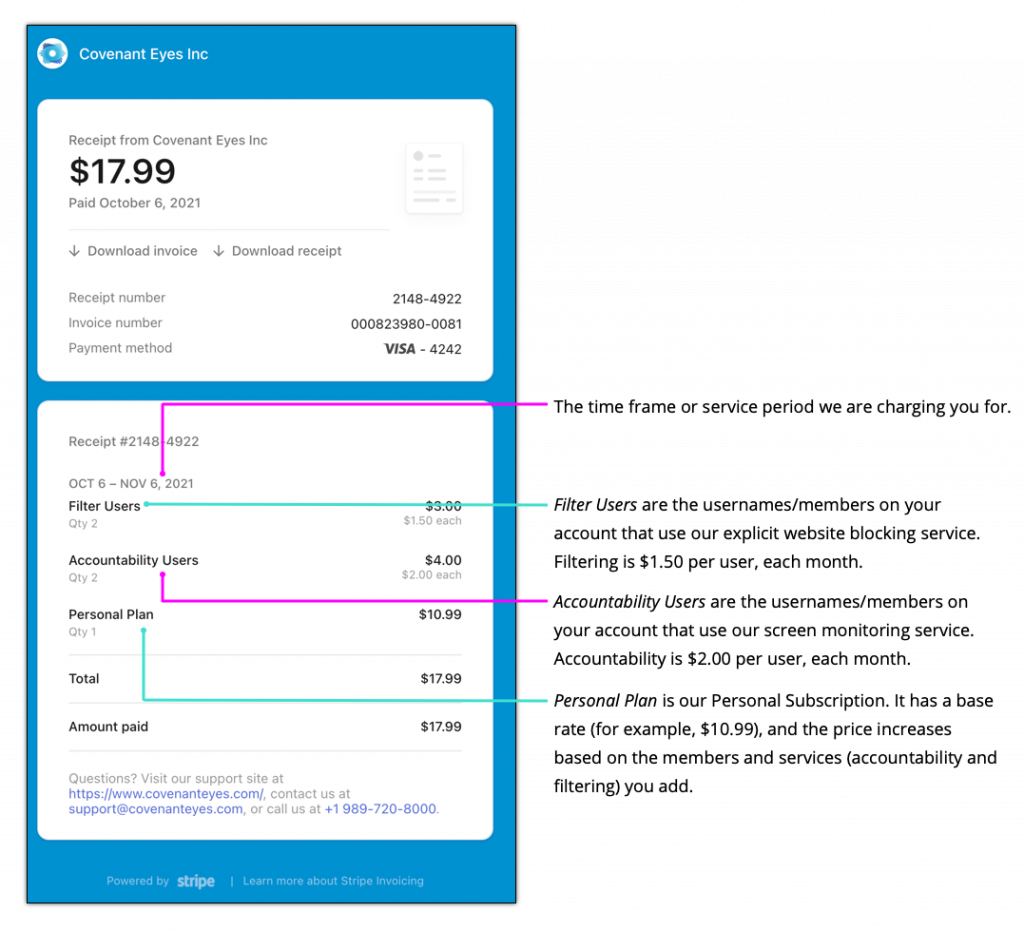 You weren't charged twice. You received a credit!
Invoices can be tricky to read sometimes, and sometimes we didn't charge you; we credited you. A credit is an adjustment or discount that lowers your monthly or yearly bill.
We may credit you for any of the following reasons:
Refer a friend program: we have a referral program! For each person that subscribes to Covenant Eyes via your personal referral link, we credit you $20!

Longtime members: longtime Covenant Eyes members may receive a legacy credit if/when you upgrade to a new subscription or due to a price increase. This one-time credit happens due to a billing system change with our payment processor.

Discounts: you received a discount and/or applied a promo code.

Switching from monthly to yearly billing: the day you switch from monthly to yearly billing you will receive a pro-rated charge for the new yearly subscription. The pro-rated charge is the yearly subscription, minus the time remaining from the previous month you already paid for.
If you need us, we're here.
Need help with your bill? We're here to support you. Please reach out via chat, email, or phone.
---
Related Reading