Covenant Eyes' monitoring app for iPhone®/iPad® works in two ways: Screen Accountability within the Covenant Eyes browser app and DNS tracking for all other apps. Select an option below to learn about DNS Activity:
---
What is DNS Activity?
DNS stands for Domain Name System. A domain is a website, like ad.google.com or nike.com. On iPhones and iPads, Covenant Eyes monitors all domains (web and app traffic).
Specifically, Covenant Eyes tracks top-level domains. We rate and display the heart of the website (i.e., facebook.com) and not the entire website URL (i.e., facebook.com-userprofile-john-doe-8592748).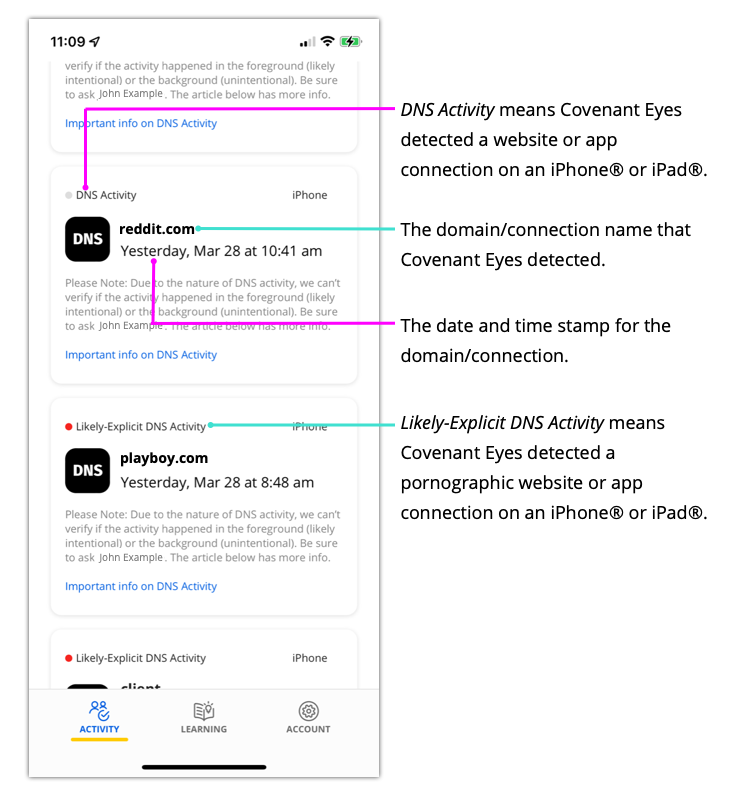 What is Likely-Explicit DNS Activity?
If Covenant Eyes detects and rates a domain from an iPhone®/iPad® as Likely-Explicit DNS Activity, then the website or connection is *probably pornographic.
*Important Information About DNS Activity:
Please note that some apps can generate domains/website connections in the background on their own, without the member's knowledge.

Covenant Eyes cannot discern intent: we can't pinpoint if the member intentionally viewed the domain or if it was an ad, if an app generated it in the background, etc.
What does BLOCKED mean?
BLOCKED means the Covenant Eyes filter stopped the website/app connection from happening and displaying its content.

What apps or browsers did the Likely-Explicit DNS Activity come from?
We cannot detect which app on the device generated the domains or what app the member used to access the activity.
However, the name of some domains can give you an understanding of their origin. For example, ad.google.com is a Google advertisement.
How do DNS and Likely-Explicit DNS Activity hold someone accountable?
We communicate DNS and Likely-Explicit DNS Activity to allies because Covenant Eyes cannot take screenshots of apps on iPhone®/iPad®; We only take screenshots inside of our browser app on iPhone®/iPad®.
So we provide DNS Activity and Likely-Explicit Activity to hold people accountable for their app and website usage.
Here are some resources that can help allies have constructive conversations with the people they are supporting:
How can I prevent Likely-Explicit DNS Activity?
Use Apple's free parental control settings, called Screen Time, to disable Safari, limit adult content, and disable the ability to install apps on the iPhone®/iPad®.
We highly recommend the member set and use Covenant Eyes as their default browser so we can screen-capture their browsing activity (instead of capturing domains/websites).
Apple's Background App Refresh setting allows apps to continually run in the device's background to check for new content. But when these apps run in the background, they can generate domain activity without you knowing. Turn off Background App Refresh for most apps (but leave it on for Covenant Eyes).
---
Related Reading