If Covenant Eyes stopped working on your Android™ phone or tablet, walk through the following steps:
---
Update Covenant Eyes
We recommend you use the newest version of Covenant Eyes, so you have the latest fixes and features!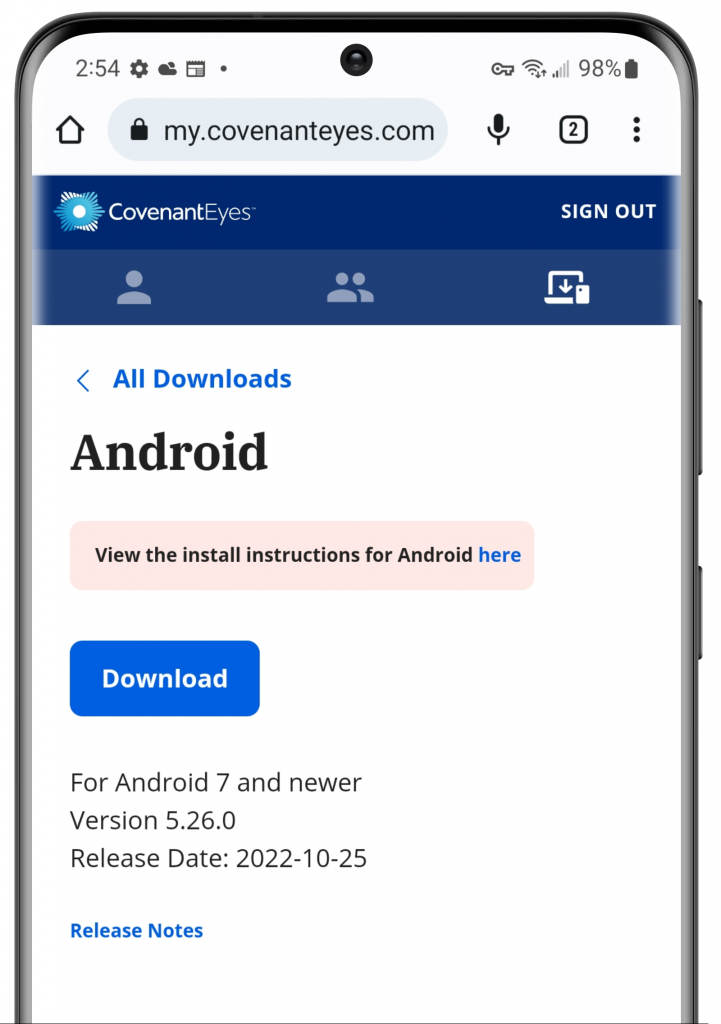 Sign-in to the Covenant Eyes app
After you install or update Covenant Eyes, our app immediately requires you to sign in! After that initial sign-in, our app will keep you signed in, but these two instances may occur: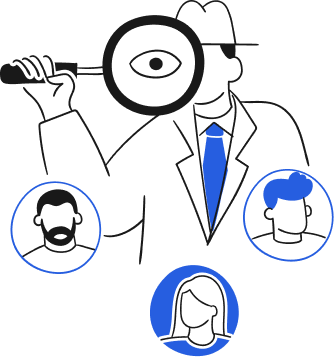 Operating system update
---
Our app may lose its connection to the internet when your device updates, and you may get signed out. To check if you're signed out of Covenant Eyes, open the app and see if you're prompted to sign in.
You're using the wrong username
---
If another member is signed into Covenant Eyes on your device, your activity will connect to the other member's account. Older accounts using email reports will see an Activity Missing report. Newer accounts using the Victory app will see messages about "no activity." You can easily switch users via the Covenant Eyes app menu.
Check for Conflicts
Please check the following things to see if they're impacting the Covenant Eyes app on your device:
Operating system update
If you noticed your Covenant Eyes app having problems shortly after an update to the Android operating system, simply uninstall and reinstall the Covenant Eyes app. After reinstalling Covenant Eyes, exclude Covenant Eyes from your device's battery optimizer settings.
Antivirus apps
Most antivirus apps work with Covenant Eyes. However, if the Covenant Eyes app is continually crashing: uninstall your antivirus app, uninstall Covenant Eyes, and then reinstall Covenant Eyes. If Covenant Eyes isn't crashing after the reinstall, your antivirus app may be incompatible with Covenant Eyes.
Blue light filter
Many Android™ devices have a built-in blue light filter, which helps reduce eye strain. To see if you're using a blue light filter, pull down from the top of your screen to view your notifications and buttons and look for "blue light filter" (some devices call it "night light"). If you have a blue light filter app, it may have conflicted with our app during installation. Disable your blue light filter/blue light filter app, uninstall Covenant Eyes, reinstall Covenant Eyes, and then turn the blue light filter back on.
Battery optimizer
Most Android™ devices have a built-in battery optimizer or battery-saver that manages the device's apps to preserve battery life. Covenant Eyes constantly runs to monitor and protect you, so the battery optimizer may flag it. Please exclude Covenant Eyes from your battery optimizer.
WiFi networks
Some parental control systems (like Disney Circle) or WiFi networks with security settings (like hospitals, schools, or businesses) can cause connectivity and filter issues with Covenant Eyes. To see if the WiFi network you're using conflicts with Covenant Eyes, temporarily switch from the WiFi network to cellular data on your device. If the issue goes away when you're connected to cellular data, the WiFi may be interfering with Covenant Eyes.
Cellphone provider apps
Some cell service providers pre-install an app on your device that has location monitoring, device protection, a VPN, a battery saver, content filtering, and/or time limits. These types of apps can cause the Covenant Eyes app to crash or have gaps in service. For example, AT&T's Secure Family app and Verizon's Smart Family app conflict with Covenant Eyes.
Task cleaner & killer apps
Task cleaner or task killer apps try to save battery on your device by "killing" (forcibly closing) other apps. These apps may cause lapses in Covenant Eyes' service. Please disable/remove any task cleaner or task killer app from your device.
VPNs
Covenant Eyes uses a VPN on Android™ devices to filter explicit websites. Android™ devices only allow one app on the device to run a VPN, so no other VPN can run alongside the Covenant Eyes app. Any other VPN (whether work-issued or personal) will conflict with the Covenant Eyes app, and you should remove it.
---
Related Reading