If, while using Covenant Eyes for Windows, you find yourself unable to get online, here are a few questions you can answer to identify the problem and get back to browsing:
Are you connected to WiFi or ethernet?
Look in the lower, right-hand corner of your screen (near the time and date.) You should see the network icon indicating you are connected. Sometimes, it is hidden in the Windows tray, and you must click the tray icon to view more.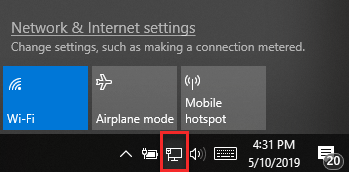 or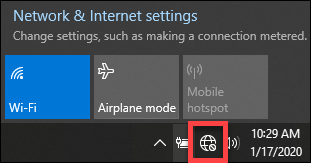 If you hover the mouse over the icon, a bubble/box will appear. It indicates that the computer is connected or that the computer is experiencing a network issue. If you are experiencing a network issue you may also see an exclamation point or an "x" over the network icon.

If you do not see the network icon or if you are not connected to the network:
Reset your router by unplugging it from the wall for ten seconds and then plug it back in. Give your router a moment to reboot, your computer a moment to recognize the network, and attempt to find your network icon again and connect.

If you are still experiencing network connectivity issues after resetting your router, contact your internet service provider to ask if there is an outage in your area.
Are you unable to sign in to the WiFi connection?
If you are at a coffee shop, hotel, airport, or other public hotspot and are unable to connect to WiFi,

follow these instructions to get connected.

Follow the same instructions if you are having trouble connecting to WiFi at a school, university, or at work. If you are still unable to connect, this could indicate special settings in the network that block the full functionality of Covenant Eyes. Contact the IT department to check on that side of things; they may need this information.
Have an antivirus program?
Some antivirus programs are very aggressive and have the potential to cause connection issues. Try turning it off and getting online. If successful, contact our Customer Service team for assistance. Any member of the team will help you set things up to avoid connection issues in the future.
Still unable to get online?
If you're unable to get online after walking through these steps, then please contact our Customer Service team via chat, phone (989.720.8000) or email (support@covenanteyes.com).