This support article will walk you through basic troubleshooting steps to help you get connected to the internet on your Mac.
Are you connected to WiFi or ethernet?
Look near the top-right corner of your screen, in the menu bar. You should see a network icon, click on it and a menu will drop down. There should be a check mark next to the network you are connected to.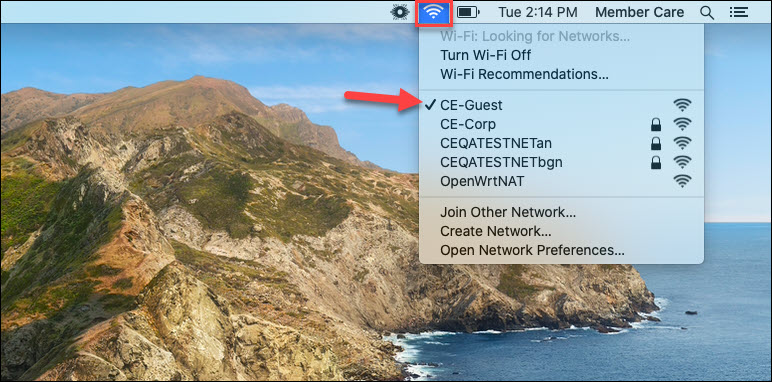 If you are not connected to a network, or if you are connected but have no internet, you may receive an error message from Covenant Eyes telling you that we cannot reach our server (M201, M202, or M204.) If you receive one of these errors, ensure that you are connected to a network, have signed in, and are authenticated.
If you do not see the network/WiFi icon or if you are not connected to the network/WiFi:
Reset your router by unplugging it from the wall for ten seconds and then plug it back in. Give your router a moment to reboot, your computer a moment to recognize the network, and attempt to find your network icon again and connect.
If you are still experiencing network connectivity issues after resetting your router, contact your internet service provider to ask if there is an outage in your area.
Are you unable to sign in to the WiFi connection?
If you are at a coffee shop, hotel, airport, or other public hotspot and are unable to connect to WiFi, follow these instructions to get connected.
Follow the same instructions if you are having trouble connecting to WiFi at a school, university, or at work. If you are still unable to connect, this could indicate special settings in the network that block the full functionality of Covenant Eyes. Contact the IT department to check on that side of things; they may need this information.
Connected to the network but unable to browse?
There are two final things you can do if you are successfully connected to a network, but are unable to browse:
Ensure you have the most up-to-date version of Covenant Eyes installed on your computer. You can check this by clicking the Covenant Eyes icon at the top-right of your menu bar, near the time. Once you click on the icon, you will know what version of Covenant Eyes is running on the Mac.

Now, you can a) click the "Check for Updates" option in that menu and go from there, or
b) login to My Account and check the Downloads tab to see if the default (aka most up-to-date) version is the one your Mac is running. If you do not, follow these steps.
Finally, you can check a Mac setting to make sure Covenant Eyes has been allowed to run properly on the computer. Start by clicking the Apple icon in the upper-left corner of the screen. Then choose "System Preferences."

The System Preferences window will open, choose the "Security & Privacy" option.

Make sure you are in the General section of the Security & Privacy window. Look near the bottom of the window for the following text: "System software from Developer "Covenant Eyes, Inc." was blocked from loading."
Click the "Allow" button and then test if you are able to browse.

Still unable to get online?
If you're unable to get online after walking through these steps, please contact Member Care.