If, while inspecting a member's report, you see this message – "Oh no! Your browser isn't supported, or is out of date" – there are three possible reasons for this and three practical solutions.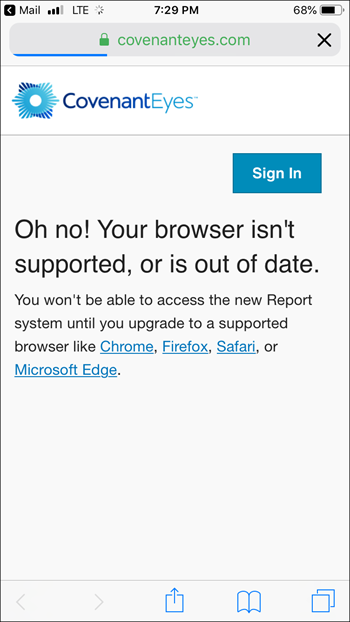 1. The page has not finished loading.
Your device may be running slow, or there is a weak connection. If you see that the page is still loading in your browser, wait for the page to finish loading and often the message will go away and the report page will load all on its own.
2. Your browser really is out of date.
Often, members who use the Covenant Eyes app for iPhone® will have their ally restrict the ability to install apps. This "closes" the App Store and thus eliminates an apps' ability to automatically update on its own. Because of this, you or your ally may need to temporarily reenable the App Store in order to update your browser; for details, see our article on setting up Screen Time. 
On Android, apps should update automatically. But you can manually check for updates by going to the Play Store and searching for the app where the message appeared.
For Windows and Mac, you will want to follow the browser-specific instructions to check for updates.
3. Your operating system is out of date.
It's possible that your device is out of date and could require an update. For instructions on updating your device's operating system, check the appropriate manufacturer's website for your device.
---
Related Reading