This article will cover the most frequently asked questions (FAQs) about your Covenant Eyes subscription! Select a question below to learn more:
---
How much does a Covenant Eyes subscription cost?
Covenant Eyes has two subscriptions available: $16.99/month or $183.99/year (you save $19.89 with a yearly subscription). Monthly and yearly subscriptions include filtering and allow up to ten (10) usernames.
Please note: Members that subscribe to Covenant Eyes via in-app purchase on an Apple device or in-app purchase on an Android™ device  will pay the monthly price listed at time of purchase. These members can still have up to 10 members on their accounts and can install Covenant Eyes on as many devies as they like.
Is the Victory app free?
Anyone can download Victory for free and read our educational mini-courses about journeying away from porn.
The Activity Feed will only display activity if you or the person you're helping subscribes to Covenant Eyes ($16.99/month) and uses the Covenant Eyes app.
Does Covenant Eyes accept PayPal?

Covenant Eyes accepts PayPal Cash Cards and PayPal debit cards. However, you cannot use your PayPal account information to pay for Covenant Eyes due to our payment processor. To learn more, read Can I use PayPal to pay for my Covenant Eyes subscription?
Will Covenant Eyes charge me sales tax?
Maybe: it depends on your state.
In the last few years, many states passed laws that require online services and subscriptions, like Covenant Eyes and Netflix, to charge sales tax. To learn more, read Why is Covenant Eyes charging me sales tax?
How do I change or update my payment information?
You can view your current card information, billing email, payment date, invoices, and receipts online! You can also update your billing information online and at any time.
How do I get my invoices or receipts?
We do not email invoices or receipts. The Account Administrator has complete access to billing history in our online member portal, My Account.
How do I pay an overdue balance?
To pay or retry an overdue balance, the Account Administrator can log in to My Account and pay with a credit or debit card.
What if I want someone else to receive billing emails?
If you would like another person to receive the billing communications for your subscription, enter the desired person's email address into the Billing Email field, and click the blue "Save" button.
Only that address will receive billing-related emails. Note: you may need to re-enter your card information and address.
Who is Covenant Eyes' payment processor?
Covenant Eyes' payment processor is Stripe. Stripe is a leader in the online payment infrastructure industry. Major companies like Amazon, Google, and Lyft use Stripe and rely on it for their transactions.
Covenant Eyes' invoices, receipts, and billing-related emails will always include our logo so you can easily identify us.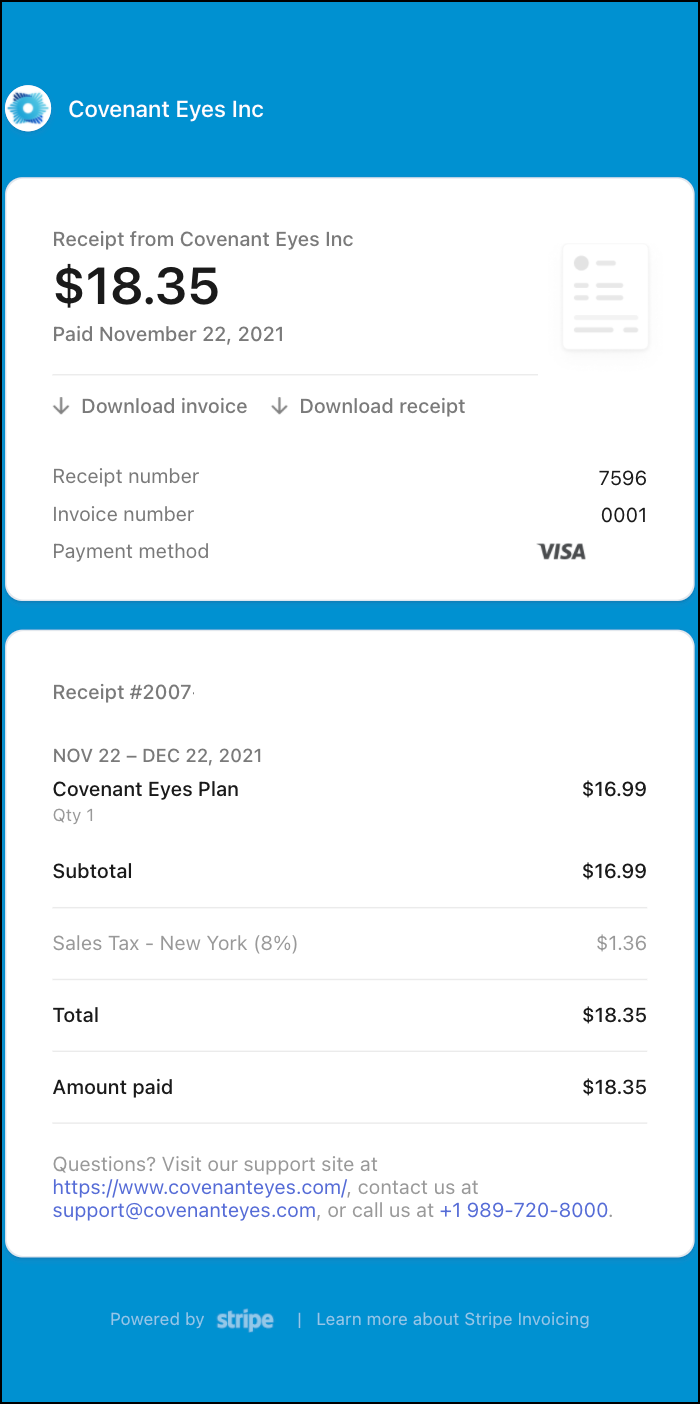 Will my payment information be secure?
Yes! We take your security seriously and will only work with a payment processing company that meets high-security standards.
Stripe (our payment processor) is PCI Service Provider Level 1 certified. PCI Service Provider Level 1 certification is the most stringent level of certification available in the payments industry.
Will Covenant Eyes constantly email me about my subscription?
No, Covenant Eyes will not bombard you with emails about your subscription! We keep billing email communications to a minimum and only email you when necessary.
When will Covenant Eyes email me about my subscription?
We'll email you in the following situations:
If you have outdated or missing card information
If you have a yearly subscription about to renew
If your subscription is ending due to a missed payment
If a price change is coming
Will the price increase?
At some point, yes. It's the nature of business and life. Will we tell you ahead of time? Definitely! We always attempt to notify you via the billing email before the new price takes effect.
Can I subscribe via in-app purchase on my Apple or Android™ device?
Yes, you can subscribe to Covenant Eyes via in-app purchase on your Apple or Android™ device!
---
Related Reading