We hope this page answers some frequently asked questions about billing. If you have additional questions, please contact us.
---
What can I do online?
You can view your current card information, billing email, payment date, invoices and receipts online!  You can also update your billing information online and at time.
Where is my receipt?
We do not email receipts. You have complete access to your billing history online in My Account.
What are my subscription options?
Covenant Eyes has two subscriptions available: $16.99/month or $183.99/year (you save $19.89 with a yearly subscription). Monthly and yearly subscriptions include filtering and allow up to ten (10) usernames.
How do I take care of an overdue balance?
To pay or retry an overdue balance, an Account Administrator can log in to My Account and pay with a credit or debit card.
When will Covenant Eyes email me?
If you have outdated or missing card information, we will email you so you can update the information.
If you have a yearly plan, we will email you about six weeks before we charge you for another year.
If your plan is ending due to a missed payment, we will email you before your service is impacted.
If a price change is coming, we will email you.
What if I want someone else to receive the billing emails?
If you would like another person to receive the billing communications for your account, simply enter the desired person's email address into the Billing Email field, and click the blue "Save" button. Only that address will receive billing-related emails. Note: you may be prompted to re-enter your card information and address.
Who is your payment processor?
Stripe is our payment processing company. Our online invoices and billing-related emails will always include our logo so you can easily identify us.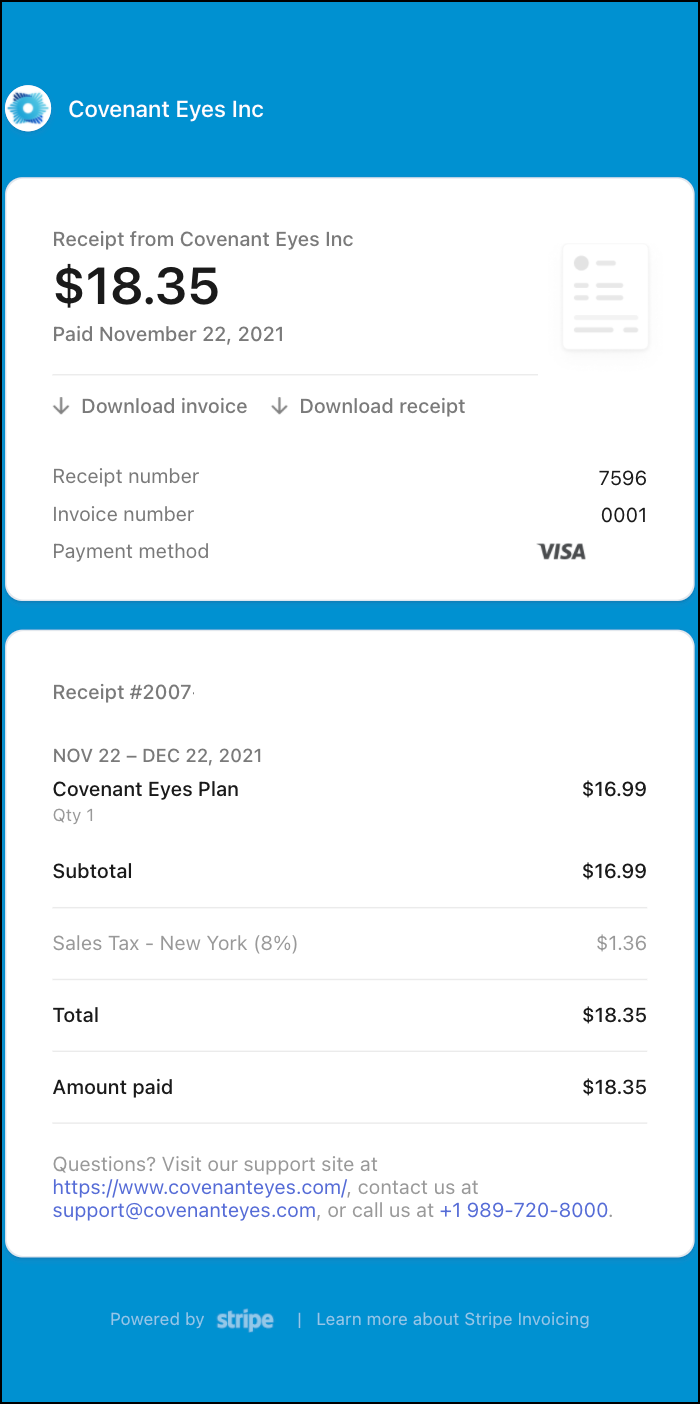 Will my billing information be secure?
Yes! Stripe has been audited by a PCI-certified auditor and is certified to PCI Service Provider Level 1. This is the most stringent level of certification available in the payments industry. We take your security seriously, and will only work with a payment processing company that meets high-security standards.
Will Covenant Eyes nag me about billing information?
No, alerts are only presented when outdated or missing billing information needs to be taken care of. We keep online alerts to a minimum. We only email you when there is the potential for a loss of service.
Will the price increase?
At some point, yes. It's the nature of business and life. Will we tell you ahead of time? Definitely! We always attempt to notify you via the billing email before the new price takes effect.
Can I subscribe via in-app purchase on my Apple or Android™ device?
Yes, you can subscribe to Covenant Eyes via in-app purchase on your Apple or Android™ device!
---
Related Reading