A good ally is someone who will help you achieve your goals. This person does not need to buy or install anything, he/she just needs a Covenant Eyes username.
---
Adding an ally
Go to your online account and click the Profile tab so you can invite an ally.
On the Profile screen, select "My Settings."
Scroll down the My Settings page until you get to the My Allies section. Click "+ Add an ally."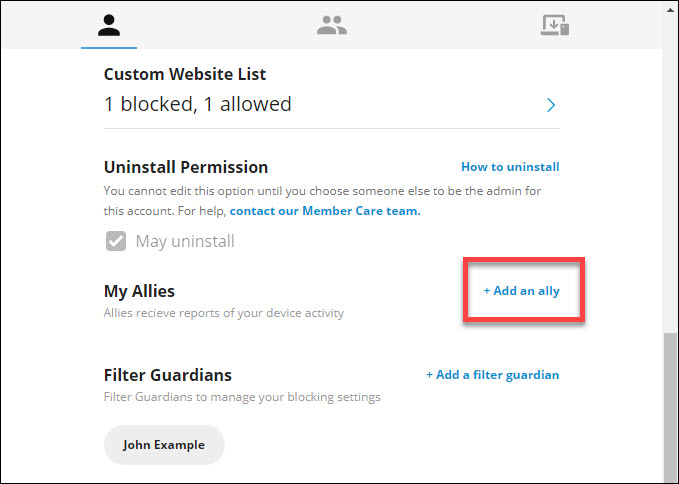 You can add/invite someone who is not on the account to become your ally; you can also add someone from the account. Make your selection and click "Next."
If you are inviting someone who is not on the account (you entered a full name on the previous screen), then you'll need to enter that person's email address and click the blue "Send email invitation" button.
The following confirmation screen will confirm that the ally invitation has been sent.
If your ally never receives the invitation email, have them check their Junk/Spam folder. If the invitation is in there, then have the ally add "support@covenanteyes.com" to their list of Always Allowed email addresses.
If the invitation email is not in their Junk/Spam folder, you can resend an invitation by signing into your account and selecting the invited person.
Check the email address. If it is incorrect, please click the "Edit email" option, otherwise, click the "Resend ally invitation" option.
Removing an ally or an ally invitation
Select the person from your Relationships list.
Click the "X" to remove this person as an ally, or potential ally.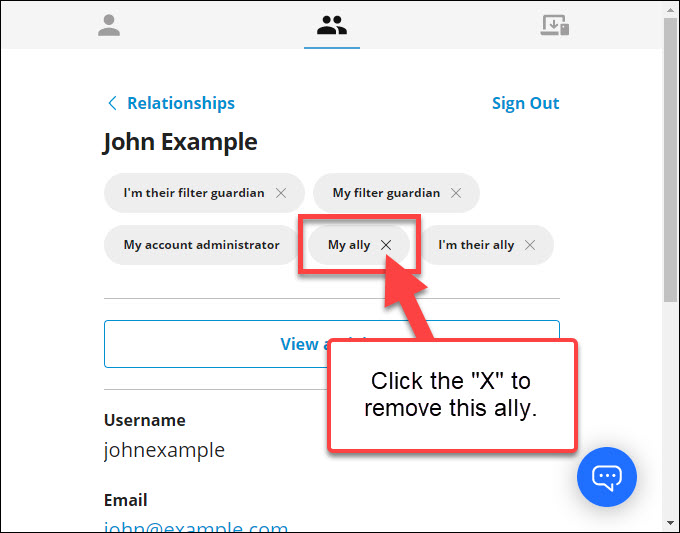 A smaller screen will appear so that you can "Confirm" or "Cancel" the request.
If you need additional assistance, please contact Member Care. Any person on the team would be glad to help!