If you are an Account Administrator, you can add, edit, or remove people in your online account at any time. If you are using a grandfathered (legacy) Personal plan, your monthly bill may change to match the changes you make.
Adding a Member
In the sidebar, click "Manage Members." From there, click the blue "Add Member" button in the upper, right-hand corner. You may also go directly to the Add a Member page by clicking here.
Enter the person's first name, last name, and email address. Then create a Covenant Eyes username and password for the new member.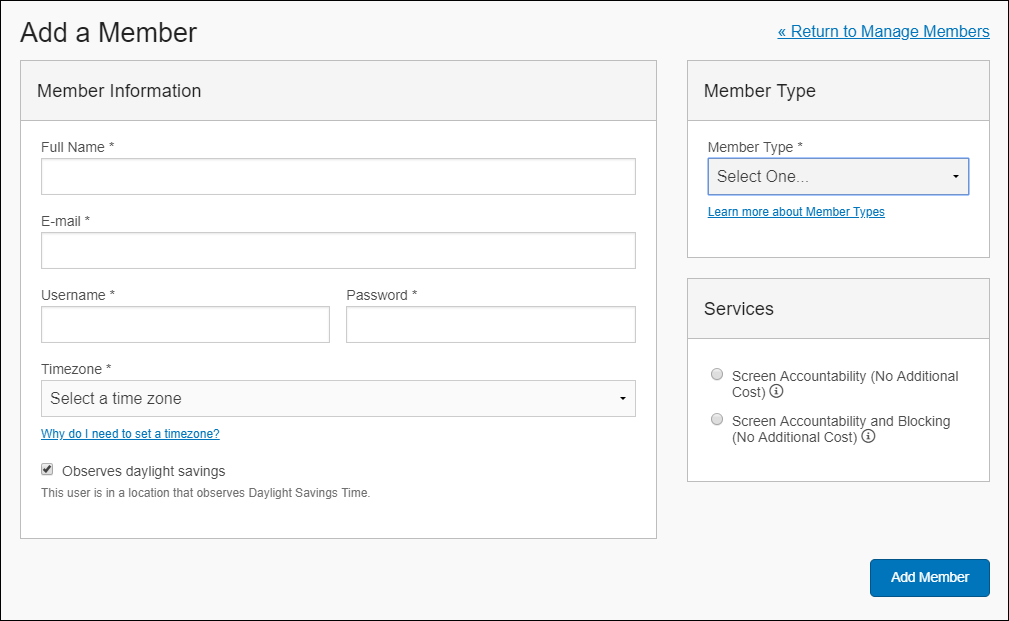 Next, you will be asked to select the Member Type. You are telling the system if this member is an Adult or a Child. The Member Type impacts a few default settings in our system. Most importantly, all Adult (Parent) members will by default receive reports and the ability to adjust Filter settings for all Child members on the account. All plans with at least one Child must have at least one Parent on the account as well.
Finally, choose whether you want the new member to use Accountability by itself, or both Accountability and Filtering. Once you have finished adding this person, click the blue "Add Member" button. If any item was overlooked, the system will show you what needs to be filled in.
Editing a Member
To edit a particular member, click the gear icon next to that person's name.
At that point, you can edit the member's contact information and service settings. You cannot change the Covenant Eyes username. Once you are done, hit "Save" to apply your changes.
Removing a Member
To remove a member, simply click the trash can icon by his name. A confirmation screen will pop up and you will click either "Confirm" (to delete the member) or "Cancel" (if you do not want to delete the member).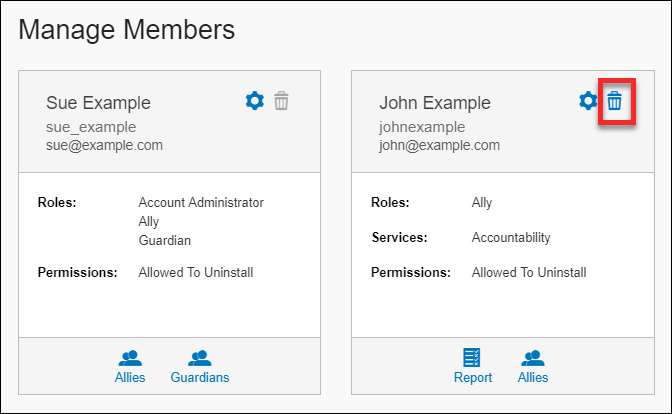 Related reading
How do I add or remove an ally?
How do I prevent someone from uninstalling Covenant Eyes?