If you receive a report for someone you hold accountable and it says "Activity Missing," it could be for one of four reasons.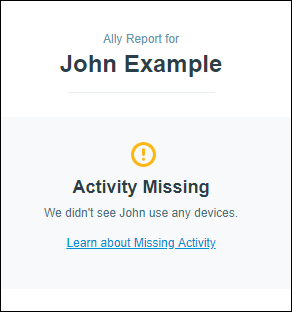 The member has not yet installed their Covenant Eyes software. The program must be installed before it can begin monitoring the screen. Once it is installed, the person receiving reports (the ally) will start seeing image activity on the Screen Accountability reports.
The member is signed in with the wrong username. This can happen on multi-member accounts. Covenant Eyes attaches activity to the username signed in. If the wrong username is signed in, all activity will appear on the report of the username that is signed into the device. To switch was username is signed into a device, read our "What is the Switch User option?" article.
The member upgraded his Mac OS (operating system) and missed two settings that need to be taken care of. Check out this article for full details about Covenant Eyes and Big Sur.
The member has not used their device during the reporting period. If the member has not used their device(s) during the reporting period, particularly for those receiving daily reports, it's possible that there may be nothing to report. 
No matter the situation, good accountability is conversational. Always keep the lines of communication open! If you still have questions, feel free to contact us.
---
Related Reading