Nearly every Android™ device has a built-in setting called Accessibility.
Traditionally, Accessibility powers voice commands, navigation, display settings, and more. The Covenant Eyes Android™ app needs access to Accessibility to provide some secondary app services.
This message occurs when our access to Accessibility encountered a problem and needs to be reset. This article will cover the following: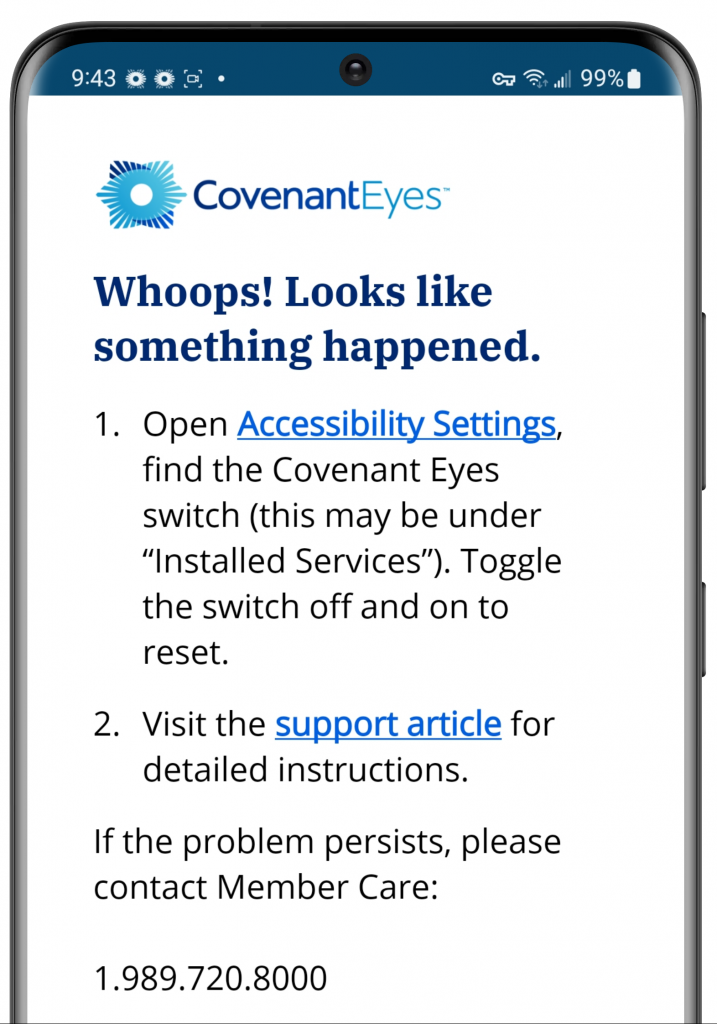 ---
Fix the Accountability Service Message
Tap "Accessibility Settings."

We will automatically direct you to the device's Accessibility page in your Settings app. Tap "Installed apps" or "Installed services."

Tap "Covenant Eyes."

Turn the toggle switch for "Covenant Eyes" on (move the switch to the right).

On the Allow Covenant Eyes to have full control of your phone? prompt, tap "Allow." We will automatically direct you to the Covenant Eyes app menu. You can exit the Covenant Eyes app. Great job! Covenant Eyes should now run properly on your device.

---
Troubleshooting Steps if the Message Persists
Receiving this error message repeatedly? Here are some other steps you can try:
---
If you need us, we're here.
If you'd like to verify that Covenant Eyes is working properly after completing the above steps, refer to How do I know that Covenant Eyes is working properly?
Are you still receiving this error message? We're here to support you. Please reach out via chat, email, or phone.
---
Related Reading