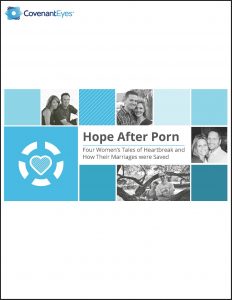 Today, over half of divorce cases involve one party having an obsessive interest in internet porn. More and more men withdraw from real intimacy with their wives and into digital worlds of fantasy.
In this free ebook, Hope After Porn, you will read stories from four women who have personally known the devastation pornography can cause in a marriage. They give readers a glimpse of the betrayal, the hurt, and the choices they made to try and make a difference. In this book these four women talk about:
Their husbands' constant withdrawal into porn, and their deception and unfaithfulness.
When their husbands reached a breaking point and started to make changes in their lives.
How they learned to trust their husbands again, in spite of years of betrayal and lies.
Fill out the form to download Hope After Porn: 4 women share their stories of heartbreak…and how their marriages were saved.