Porn use is common—incredibly common. A 2016 survey by the Barna Group found that 46% of men and 12% of women intentionally seek out porn at least once a month. And, even more accidentally stumble across it monthly—65% of men and 34% of women do.
Often, just one click on porn as a kid is enough to get you coming back for more—and before you know it, you're stuck in a habit that takes months or even years to break.
A problem with how you use your technology needs, in part, a technological solution—and that's where porn addiction apps like Covenant Eyes come in.
What Types of Porn Addiction Apps Exist?
Porn addiction apps are precisely what they sound like: apps for your smartphone or tablet, designed to help you find freedom. Most porn addiction apps—and the companies that create them—are focused on one or more of the following methods:
Simple Blocking
This is the default mentality that most people have for porn addiction apps. They want to make the problem go away by cutting off the access, so they find blocking apps that cut off the ability to view pornographic websites. Some also restrict content in other, non-browser-based apps.
Porn blocking is an important part of recovery, which is why Covenant Eyes includes a porn blocker, but it shouldn't be the only thing you depend on to help you break your porn addiction.
Monitoring and Accountability
Some apps, like Covenant Eyes, focus on monitoring and reporting device activity. When you give someone you know and trust the ability to see how you use your devices, it changes how you use them.

Some services create a list of websites visited or apps used during a certain timeframe. Covenant Eyes, meanwhile, uses advanced technology to analyze the images that appear on a device for pornographic content. Those highly blurred, highly encrypted screenshots can be viewed by you and any trusted friends you've asked to hold you accountable in a companion app called Victory.
Education and Behavior Change
Other porn addiction apps focus on education and behavior change. This might involve something like daily self-reporting or check-ins, daily readings, mindfulness activities, or other practices designed to help you break the behavior change that lead to using porn. In the Covenant Eyes companion app Victory, you'll find in-app courses that help you plan out your journey to quit porn, understand the science and psychology behind porn addiction, or help a friend or child break free.
Do Porn Addiction Apps Work?
If you're reading an article about porn addiction apps, you're probably looking for a solution either to your own porn use or someone else's. You may have been struggling privately for several years, or even decades—it's pretty common for porn addictions to start in childhood—and you want to be done, so you're looking for THE app that will solve all your problems.
Here's the harsh reality, though.
An app won't solve your problems because an app can't solve your problems—not on its own. The best filters have loopholes. So do monitoring services. Educational apps are only as good as your ability to open the app.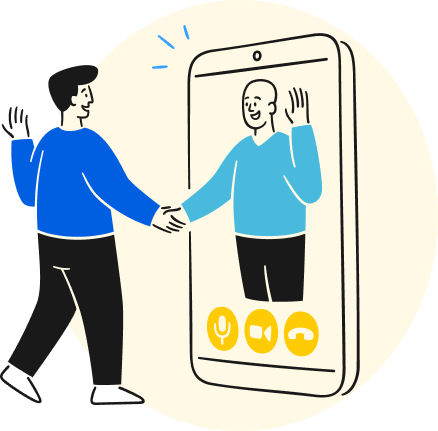 In fact, the same 2016 Barna study we mentioned earlier found that, of participants who used only a filter, literally none of them never tried to look at porn. Every single filter-using participant intentionally sought it out at least occasionally.
In which case, how do people find freedom through apps?  
The truth is, porn addiction apps work best when they encourage connection to other people. This makes sense—pornography thrives in isolation, after all. Connection—true, honest communication and vulnerability—kills that isolation.
So do porn addiction apps work? It depends on what you're looking for.
If you're looking for a quick fix—a private solution to a private problem—you're not likely to find it.
But if you're looking for an app that helps bring your struggles to the light before another person, who can then support and encourage you on your journey toward freedom and sobriety, then porn addiction apps are an indispensable tool.
4 Key Features of Great Porn Addiction Apps
There are a few key features to look for:
1. It helps you talk to others about your porn use.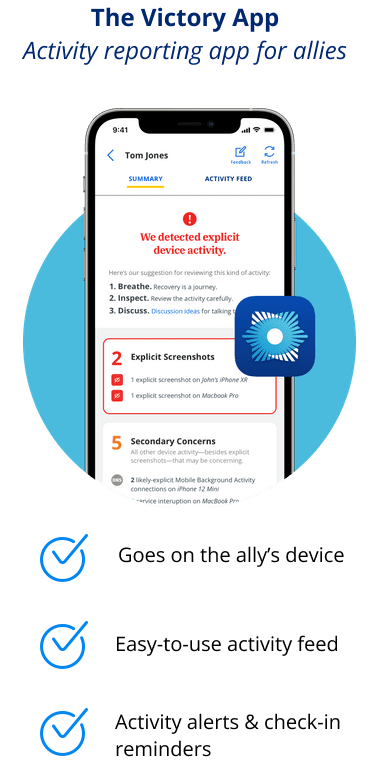 The best accountability apps are designed for conversation. 
Covenant Eyes' revolutionary Screen Accountability, for example, analyzes the images on your screen. It then sends a selection of those blurred and encrypted screenshots to an activity feed in our companion app Victory. Victory gives allies, trusted friends you've selected, a scrollable feed of your device usage, providing accountability in real-time and on-demand. It also provides check-in reminders and sends instant alerts if explicit content is detected, so your ally can know quickly whether you've been struggling. 
What's more, you can have as many allies as you need. That means you can invite two or three friends, and maybe a mentor or counselor as well, to view your device activity within the Victory app. We encourage regular meetings to talk about where you struggled, so you and your allies can start to identify patterns in your life that make you turn to porn. The device activity feed is designed to facilitate that conversation. 
2. It blocks easy access points to porn. 
While filtering generally doesn't encourage conversation—and therefore isn't effective alone for most people—a good porn blocker does come in handy in many situations. When you're really craving porn, for example, sometimes it's enough of a deterrent to have a porn blocker, like the one provided by Covenant Eyes, to prevent you from visiting a porn site. (Sure, you could find some workaround, but it's sometimes easier to persuade yourself not to do something you know you shouldn't do if that first gate is latched, so to speak.)  
And, if your goal is to protect your kid's phone so they can't see porn, in the first place, then filtering is indispensable. (Just make sure you have age-appropriate conversations with them—check out our free ebook Equipped for more information.)
3. It covers multiple platforms. 
While your phone may be the primary way you look at porn, it's probably not the only way. Most of us have multiple devices, and even if you have your phone locked down, it's easy enough to pick up your tablet or laptop to browse for porn instead.
Covenant Eyes can monitor your device activity across iPhone®, Android™ phones and tablets, and Windows and Mac computers. The best part is that you get access to all of these with your monthly subscription to Covenant Eyes at no additional cost. You don't even have to create a separate username—just sign in and your activity from all your devices will show up on your report. Easy peasy!
(For the record, we recommend signing up online before you download our apps—it will make your app setup a breeze.)
4. It helps you understand porn addiction.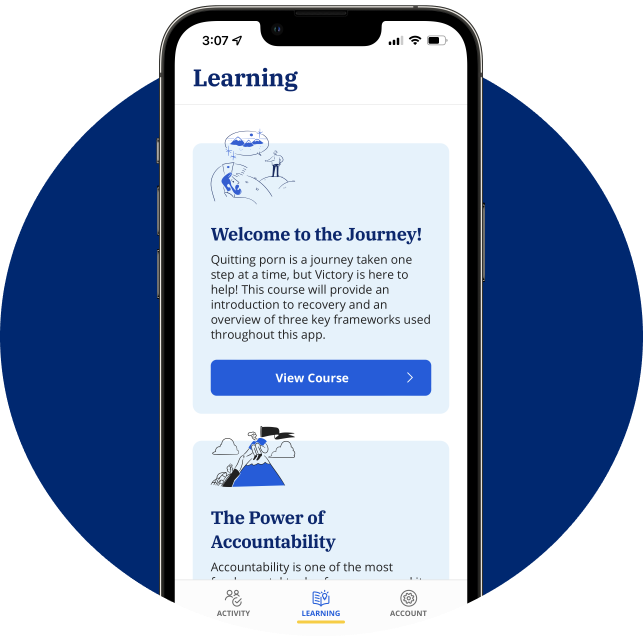 The only people who are successful at quitting porn are the people who want to quit porn. Does that describe you?
It might not—yet—and that's okay! You might just have a vague thought right now that you want to watch less porn, or maybe you were given an ultimatum that you need to quit. Whatever brought you here, your motivation and desire to quit will be strengthened the more you know about what porn is doing to your body, mind, and relationships. 
Covenant Eyes offers educational content directly within our companion app Victory. These courses give you vital information for quitting porn in bite-sized pieces that you can easily consume. Courses include: "Mapping Your Journey to Quit Porn," "Why Your Brain Craves Porn," "The Power of Accountability," "What You Can Learn From a Relapse," and "Ally Field Training" just to name a few. 
We also offer a number of free ebooks for men, women, parents, spouses, and allies, and a number of challenges outside of the Victory app, such as STRIVE, a 21-day porn detox for men. These resources are free and are designed to help you find the motivation to quit porn for good.