Updated August 2021. 
I've been a runner for most of the last 30+ years of my life.
Running is a very individual sport. There's a constant internal dialogue that goes on in my head while running—a war between mind and body. Can I run faster? No. Yes. Maybe. Can I catch that guy in front of me? I don't know—he looks faster. I bet he is. NO. I can beat him. Focus on his feet. Run toward his feet.
And, no matter how hot or difficult the run is, quitting is never an option. I always keep on running.
I ran my first marathon on a trail in Eastern Michigan, where my "never quit" mentality was put to the test.
The course was poorly marked, and the lead pack, which I was part of, took a wrong turn and ended up running an extra 2.2 miles. Now, a 26.6-mile race was about to become 28.8. It was brutal.
That was eight years ago, and I still have vivid memories of that entire race, wrestling with my thoughts, never allowing myself to quit.
I finished the race and collapsed. I could only crawl to the food table. I had absolutely nothing left.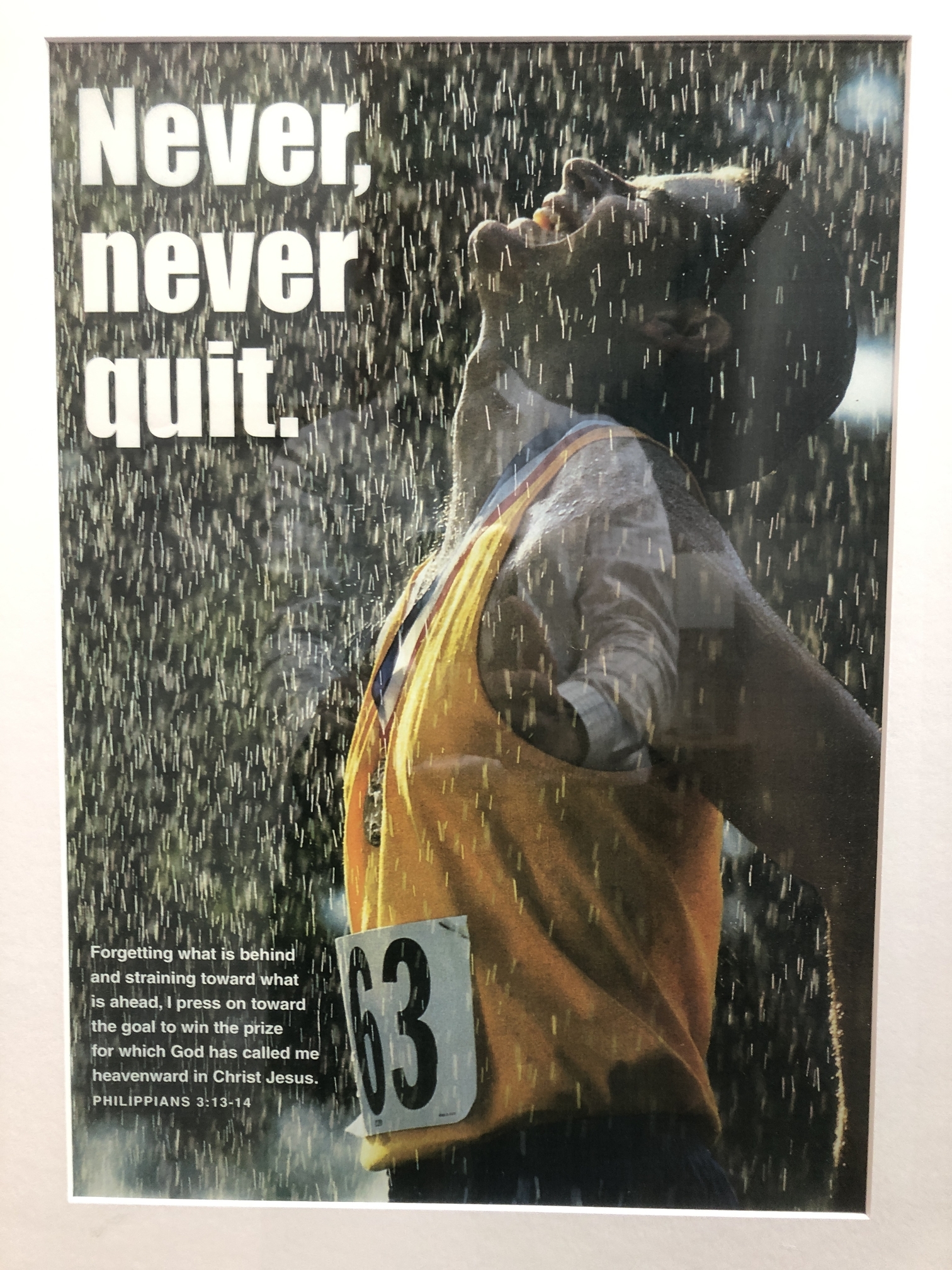 For most things in life, never quitting is a good thing. I've always had a strong, strong drive to succeed. This poster hangs in my office at Covenant Eyes, with Philippians 3:13-14, which were some of the very first verses I ever read in a Bible:
"Forgetting what is behind and straining toward what is ahead, I press on toward the goal to win the prize for which God has called me heavenward in Christ Jesus."
But for all of my successes, during the first 10 years of marriage, I struggled with watching online porn. I knew it wasn't good for me, but I thought I had done a pretty effective job hiding it from Andrea. I was wrong. Once I named it, she finally had a label for the distance between us.
For the first time in my life, it was time to become a quitter. For my marriage. For my three kids. For my heart. For my relationship with God.
Ten years later, I'm proud to say that I am a quitter. My recovery hasn't been perfect. But as the enemy finds new gaps in my protections, I put up new defenses. Covenant Eyes is my constant. The software was part of my life long before I decided to join their mission as an employee.
There are many reasons for becoming a quitter. Five stand out:
I quit because I want to stay married for decades. When one spouse regularly watches porn, the rate of divorce goes up.
I quit because I want to love my wife well. My porn consumption was a wound to her heart. See #1.
I quit because I want to tell my kids that I use the internet well. Let's be honest – if what you're watching online isn't good for a 12-year-old, then it probably isn't good for you either.
I quit because I want to respect the dignity of all people. Do you really know who is being coerced, abused, trafficked, or drugged to perform? It's not a risk I'm willing to take.
I quit because I want my full attention on the things that matter. While hooked on porn, no matter who I was with or what I was doing, my brain constantly wanted more porn. It distracted me from the things that matter. Can you relate to that?
Do you want to become a quitter? Great. Join the over one million people who have used Covenant Eyes to quit.
Are you already a quitter? Great. Is there anyone who might benefit from knowing that you took a courageous step? Share your story. If you're ever in Grand Rapids, look me up. Maybe we can go for a run and talk about it.