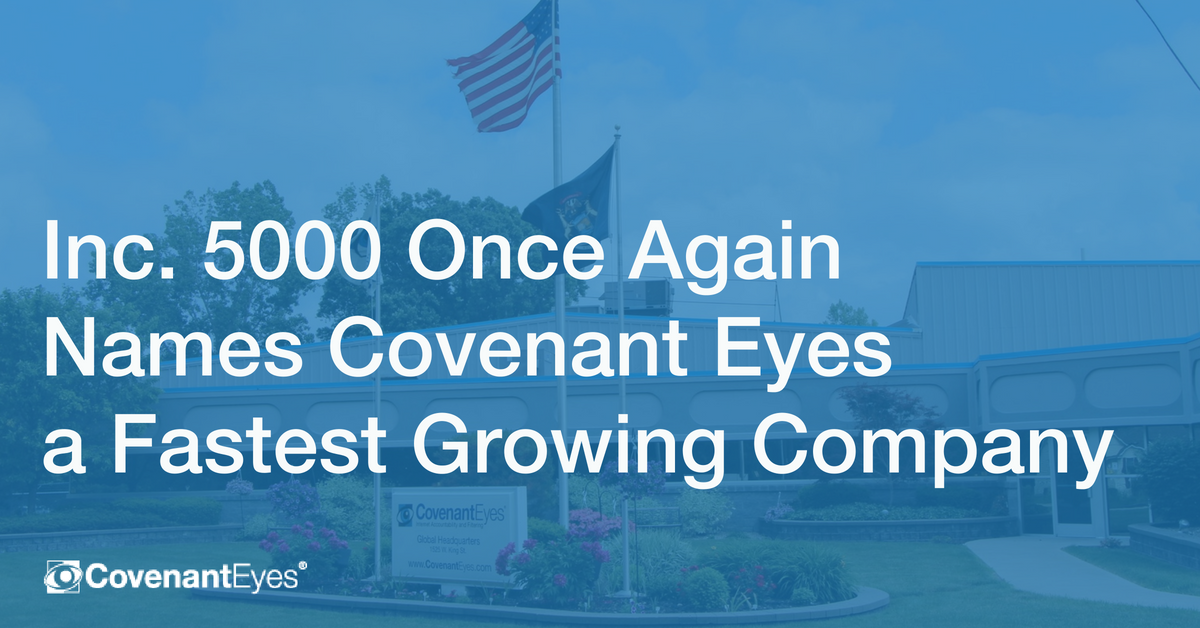 Inc. 5000 has once again named Covenant Eyes as one of the fastest growing private companies in America. Since 2010, the company has been recognized by Inc. Media for its year over year revenue growth and growth in employees. Out of 5,000 companies, Covenant Eyes was named number 4,505.
"Our passion to help people overcome pornography shows in how we continue to improve our service," said Ron DeHaas, president and CEO of Covenant Eyes. "Our advancements in image-recognition and machine-learning are world-class, and we believe we have the best team around."
"Since Covenant Eyes started, we've helped nearly a million people in their fight against the power of pornography," said Davin Granroth, COO of Covenant Eyes. "We're grateful to have served this many, but there are so many more who need our services. We're looking to grow. Our mission is worthy. Our teams are genius. Our technology is fitting. Our growth is empowering. I'm excited for the work ahead."
Since 2011, Covenant Eyes has grown from 80 employees to more than 170 employees. Revenue has grown more than 90% in three years.
Inc. 5000 ranked Covenant Eyes 3397 in 2017. That was up from 3674 in 2016, 4763 in 2015, 4283 in 2014, and 4253 in 2013. It's rank in 2012 was 2871 and 1554 in 2010.
In June, Corp! magazine selected Covenant Eyes for one of its 2018 Michigan's Economic Bright Spot awards. It's the second year in a row for that designation. The recognition is for economic growth, expansion, and hiring Michigan's brightest talent for the last 10 years.