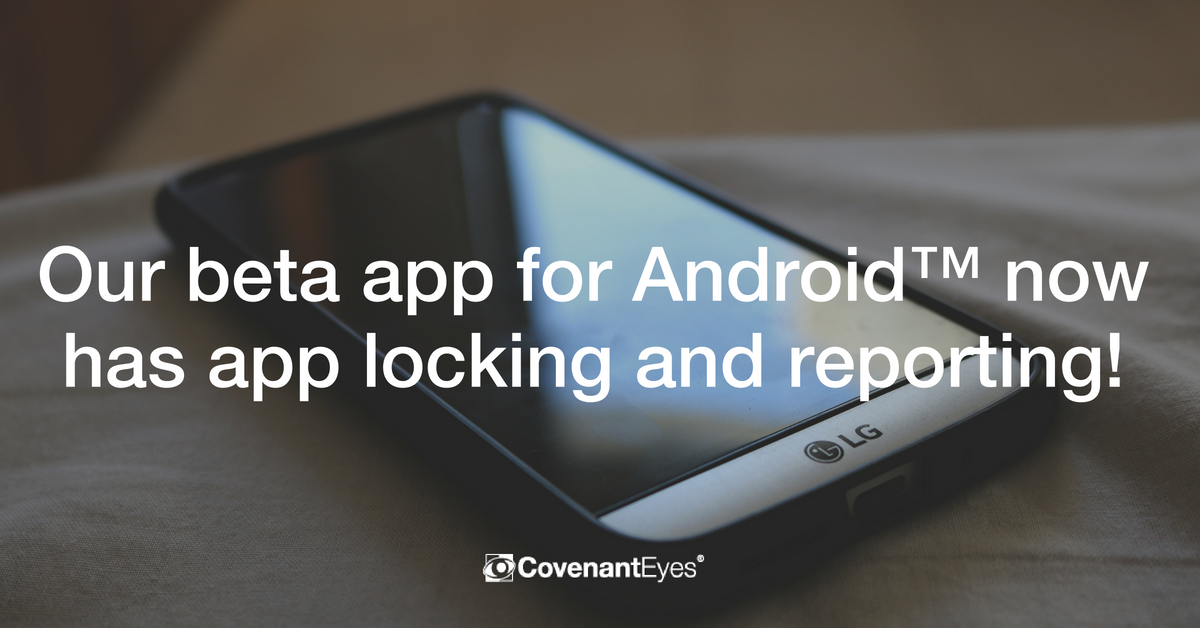 July 2018 Update: We have released this version as our default app for Android. Learn more here.
One month ago, we released a rebuilt app for Android, featuring monitoring of top-level domains visited across all apps. So far, feedback has been positive… but we've also heard people lamenting the loss of app locking and reporting.
App Locking and Reporting Are Back!
If you're one of those people, we have good news! Our newest version of the beta reincorporates both of those features. If you're already a beta tester, your app may have automatically updated. (Remember, you have to use Covenant Eyes Internet Accountability to use this app.)
We understand the importance of both of these features. App locking allows user to turn off access to certain key apps, like the Google Play Store, where VPNs and other tools can be accessed that might circumvent Covenant Eyes' service. App reporting tells Accountability Partners which apps were used and when they were accessed, giving partners greater insight into the device usage patterns of their friend.
Other features included in this beta are:
Forced safe search: We now force safe search in Google and Bing in all browser views (Chrome, Opera, Dolphin, etc.). This includes browsers that might be "embedded" in other apps, e.g., Facebook, Twitter, etc. This also includes a forced safe search in the Bing and Google Search Apps.
Clicked = rated: If you click on a link, in an email, app, or a browser, and a web page is viewed, we will rate it at the top domain level according to our age-based rating system. For example, if someone visits "espn.com/football" anywhere on the phone, the top-level domain, "espn.com," will be rated.
Highly Mature = always reported: Any clicked on link rated highly mature will now be reported in a separate section of the Accountability Report.
YouTube Restricted Mode: If you're a Filter user, you have the option of enabling YouTube Restricted Mode across the entire device. This can be done by the Filter Guardian in My Account, as explained in our support article. This is significant for parents who are constantly fighting against YouTube's lack of strong mobile controls.
Circumvention is difficult: Attempts to remove Covenant Eyes will cause a notification to be sent to the Accountability Report.
Less battery usage: Using accessibility caused significant processing drain on Android devices. Our rebuilt app solves this issue.
This app does not include Filtering at this time.
For our Android users, thank you for your patience and trust as we worked through some recent service difficulties. We are excited about these recent updates and we hope you are, too. As always, if you have questions or concerns, please leave a comment below or contact us.
SaveSaveSaveSave