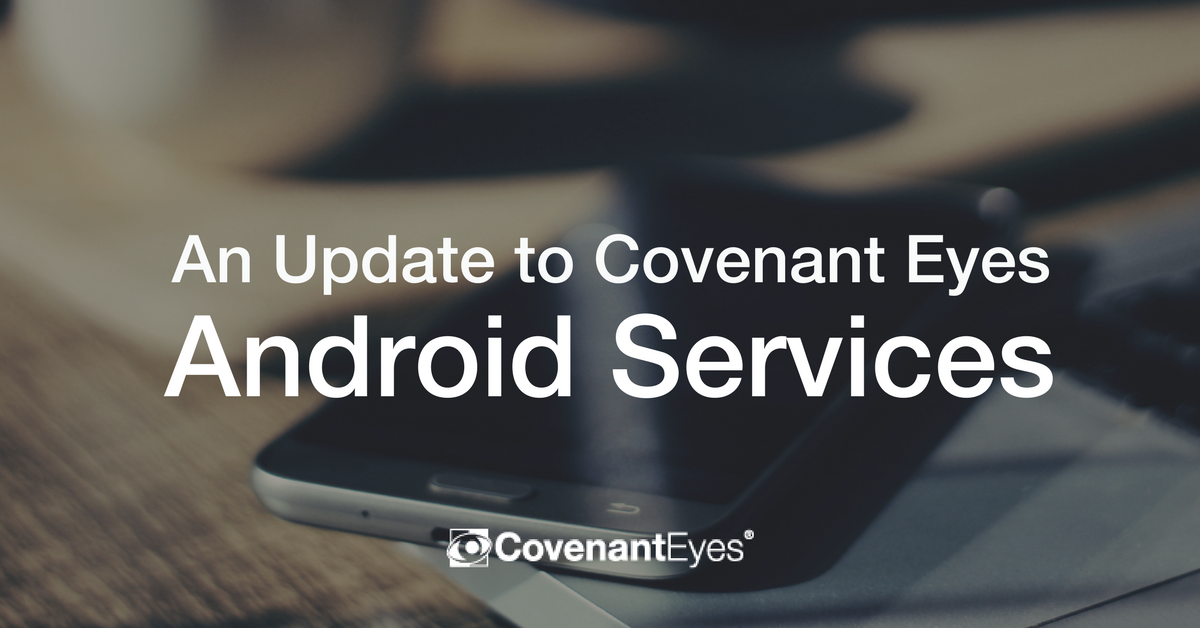 July 2018 Update: We have fully released a new version of our app for Android. Learn more here.
In December, we told you that Google informed a large list of developers, including us, that we would no longer be able to use Android's accessibility feature to monitor and filter Android devices. Simultaneously, updates to the Android operating system started causing periodic coverage gaps for Covenant Eyes' Android service.
It's been a rough couple of months for our Android users. Some of you have shared very honest feedback with us about your concerns and we've read all of it. Our mission is to provide tools that help men and women live porn-free and to give partners the information they need to meet the responsibilities of their important role. These recent Android changes have made it difficult to fulfill this mission.
But we've made exciting progress and we have great news to share.
Covenant Eyes Is Releasing a New Android Solution
Over the past four months, the Covenant Eyes Development Team has been carefully and diligently testing alternative methods of monitoring Android devices. Feedback we've received from an external testing pool has been very positive. As a result, we are releasing a beta version of our new Android monitoring solution to the general public for continued feedback.
Features included in this beta release are:
Forced safe search: We now force safe search in Google and Bing in all browser views (Chrome, Opera, Dolphin, etc.). This includes browsers that might be "embedded" in other apps, e.g., Facebook, Twitter, etc. This also includes a forced safe search in the Bing and Google Search Apps.
Viewed = rated: Using VPN-like technology, we're able to dig deeper into the Android operating system. I

f you click on a link, in an email, app, or a browser, and a web page is viewed, we will rate it at the top domain level

according to our age-based rating system

. For example, if someone visits "espn.com/football" anywhere on the phone, the top-level domain, "espn.com," will be rated. Additionally, ads on a viewed page are also rated. 

Highly Mature = always reported: Any clicked on link or any other viewed web content (e.g., ads) rated highly mature will now be reported in a separate section of the Accountability Report.
YouTube Restricted Mode: If you're a Filter user, you have the option of enabling YouTube Restricted Mode across the entire device. This can be done by the Filter Guardian in My Account, as explained in our support article. This is significant for parents who are constantly fighting against YouTube's lack of strong mobile controls.
Circumvention is difficult: Attempts to remove Covenant Eyes will cause a notification to be sent to the Accountability Report.
Less battery usage: Using accessibility caused significant processing drain on Android devices. Our rebuilt app solves this issue.
As we move away from accessibility, there are going to be changes to some of our historical Android features.
In this first release, Filtering will not be available. Additionally, our App Locking feature and the App Reporting section of the Accountability Report are both unavailable. This will require Accountability partners to ask more specific questions about the apps being used on the phone. Remember though, if a highly mature link is clicked on in any app anywhere on the phone it will be rated and reported.
(Please read our May 2018 blog post for updates on the App Locking and App Reporting features.)
We are aware that some members depend on our App Locking feature as part of their recovery. Our Development Team is working hard to see if there are non-accessibility methods for providing these features in the future. We have some promising ideas, but much more testing is required. Our hope is to find additional ways to drill deeper into Android devices while preserving your privacy.
To all of our Android users, we appreciate your patience. We have been very careful in our testing of this beta so that we release something that works. As always, we welcome your feedback in the comments below and value your trust.
If you're already a Covenant Eyes member, start taking advantage of the new Android service now.
SaveSave
SaveSave
SaveSaveSaveSave
SaveSave
SaveSave
SaveSave
SaveSave