July 2018 Update: We have released a new version of our app for Android. Learn more here.
If you monitor technology news, then you may have heard that in November, Google sent a notice to a large list of developers, including us, saying that we would no longer be able to use the accessibility feature on Android devices or risk being removed from the Google Play Store.
Accessibility is a feature on Android smartphones and tablets that helps people who might be visually or hearing impaired use the device.
At Covenant Eyes, we use accessibility to dig deeper into Android phones to provide the system-wide Accountability and Filtering services that our customers depend on in order to live porn-free. It's not just us—accessibility is used by many companies for other non-disabled reasons, such as password managers like LastPass and Dashlane.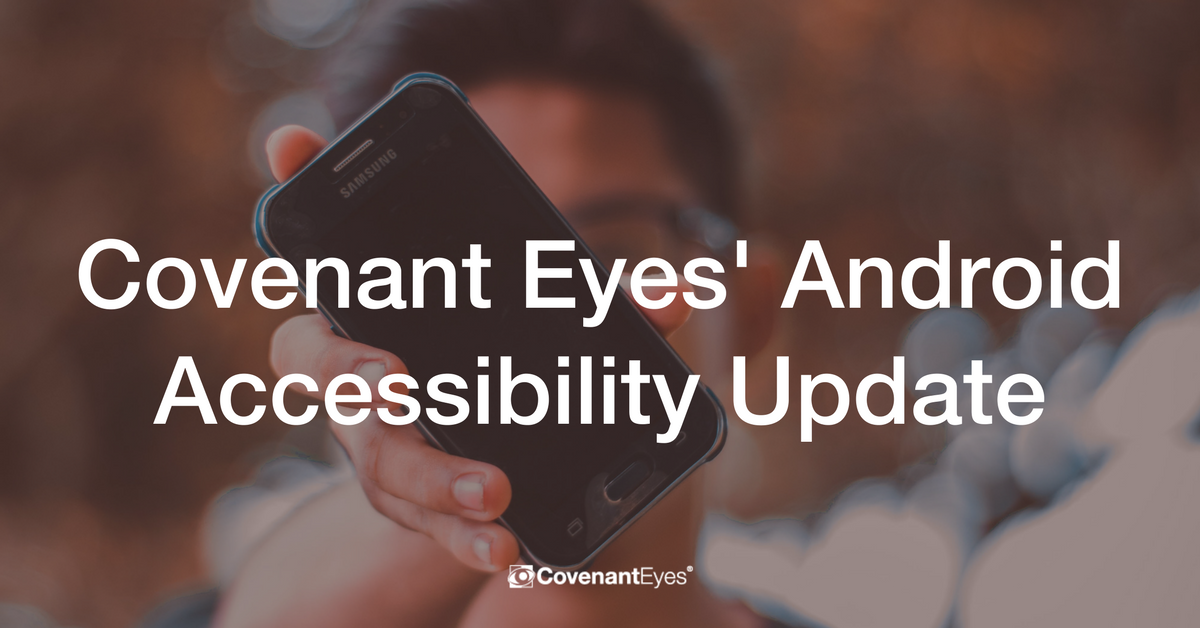 As a result, Google received backlash from large companies who depend on accessibility, causing Google to reconsider their next steps. Whether Google enforces their initial stance or not, our team is ready.
We have a couple of options:
We can either wait for Google to remove us from Google Play, or
We can proactively remove ourselves.
We're weighing these options right now. In either scenario, Covenant Eyes has made our Android app available for download through My Account in addition to Google Play.  
This move to My Account is likely temporary until we finalize an alternative way to monitor Android devices without using accessibility.
What does this mean right now?
On December 1, our team released one final accessibility-based version to Google Play, featuring two major bug fixes. If you have our app installed, or are planning to give someone an Android device for Christmas, we highly recommend installing this latest version now, while it is still available on Google Play. Google Play is the easiest way to install or update our software, so take advantage of it!
Again, if Google removes us from the Play Store or we voluntarily remove ourselves, our app will still be available for download through My Account.
What's next?
The Covenant Eyes Development Team has been testing alternative methods of monitoring Android devices, and so far, we're very excited at our fast progress. Accessibility is not the only way.
We've learned valuable lessons during the past year about the need for transparency. Although we're extremely satisfied with our recent app update for iPhone®, iPod touch®, and iPad®, which monitors the entire device, we did not do a great job keeping our audience updated on our progress of that iOS release. We promise to do better with this transition.
If we move away from accessibility, there may be temporary changes in certain features, but we commit to being transparent about these impacts and how we plan to address them.
For now, stay connected to our blog and our social media platforms, where we will make sure all of our amazing members stay fully informed.
SaveSaveSaveSave