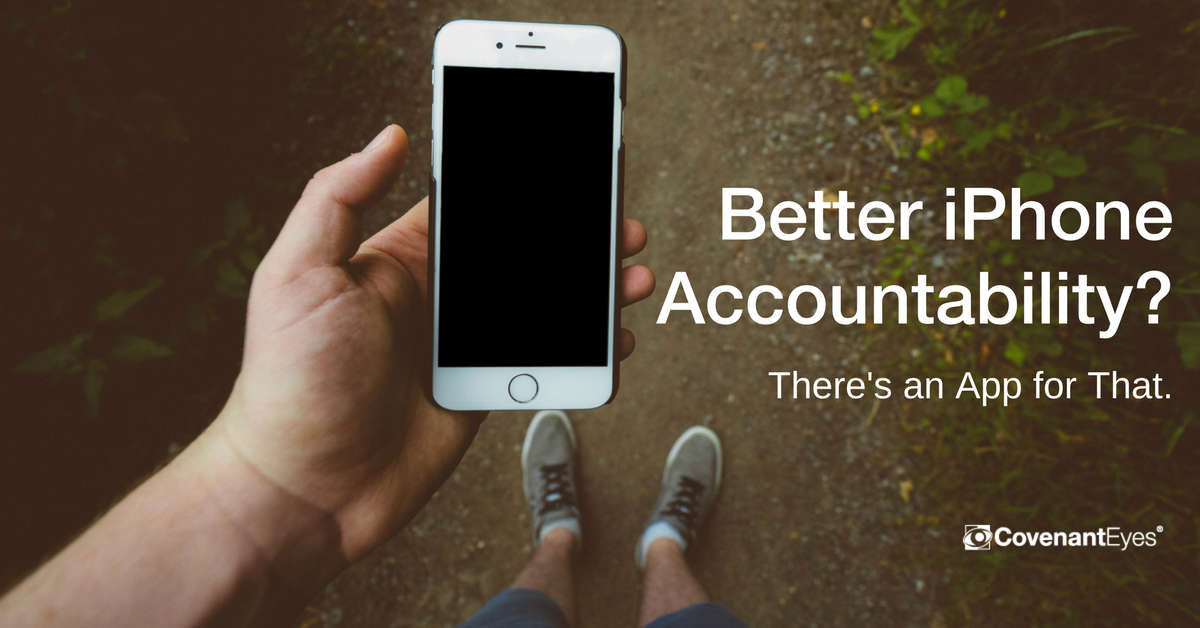 Enhanced iPhone Accountability Is Here
For over a year, Covenant Eyes has been working hard to invent new VPN (virtual private network) technology to drill even deeper into Apple's mobile operating system used on iPhone®, iPad® and iPod touch®. Today, we released a brand-new version of our Covenant Eyes app for Apple's mobile devices, which now provides enhanced accountability across the entire device. Some of you have been waiting patiently and we're very excited to share this technology with you.
Like an extension cord, Covenant Eyes can now "plug" our accountability services into parts of the iPhone that no one has ever had access to. This patent-pending technology creates a unique platform for exploring other innovative ways to extend accountability across more of the iPhone in the future.
A Deeper Look into the iPhone
This new technology enhances how Covenant Eyes functions on Apple's mobile devices in the following ways:
Forced safe search: We now force safe search in Google and Bing in all browser views (Covenant Eyes, Safari, Opera, Dolphin, etc.). This includes browsers that might be "embedded" in other apps, i.e., Facebook, Twitter, etc. This also includes a forced safe search in the Bing and Google Search Apps.
Click = rated: All search results in the Covenant Eyes browser will continue to be fully rated (i.e., espn.com/swimsuitissue would flag as "Mature"). All Google or Bing searches in any other browser view will be rated at the top domain level (i.e., espn.com) only if they are clicked on. Links clicked on through a search engine anywhere on the device will be rated according to our age-based rating system.

 

Safari and Siri are back: If you choose to toggle Safari "on" in the Restrictions, you can now click through to links included in e-mails and you can use Siri to perform voice searches while still being monitored. Remember, whatever is clicked on in Safari will be rated at the top domain level
Some app activity is monitored: For apps like Facebook and Twitter, most of the activity that takes place within the app is secured in the application for the privacy of all users. But with the new Covenant Eyes app for iPhone, you can know if a highly mature top-level domain was accessed in any app.
YouTube Restricted Mode: If you're a Filter user, you have the option of enabling YouTube Restricted Mode across the entire device. This can be done by the Filter Guardian in My Account, as explained in our support article. This is significant for parents who are constantly fighting against YouTube's lack of strong mobile controls.
So, Now I Can Use My iPhone However I Want?
For individuals who want to use Covenant Eyes most effectively, enabling "Restrictions" along with our app was always the most effective way to use the iPhone. Our enhanced accountability definitely provides more options for using the iPhone responsibly. We've categorized those options as "good," "better," or "best," as explained below.
For Everyone
We strongly recommend using the Covenant Eyes browser for all your browsing. The Covenant Eyes browser still provides the most accountable experience. It's the only app where all searches are monitored and rated, and where every web page you visit is given a unique rating. Currently, the Covenant Eyes browser is also the only portion of our app with Filtering available.
Good Option
Keep Safari toggled on for using Siri and e-mail links, with no "Restrictions" enabled. Before this latest release of our app, using an iPhone in this way provided ways to bypass our own brower's accountability capabilities. Now, with our enhanced app, Google and Bing safe search will be forced in Safari (or other apps), and for anything clicked in other apps, we will provide domain-level reporting. It's a significant improvement from where we were before, but definitely not the most secure way to go.
Better Option
Keep Safari toggled on for use of Siri and e-mail links, with "Restrictions" enabled. Enable restrictions (under Settings/General) to "limit adult content" in Safari and turn off the App Store to limit access to browsers that may allow circumvention.
Best Option
Use the enhanced Covenant Eyes app for all browsing. Enable restrictions to "limit adult content" and toggle off both Safari and the App Store. This continues to provide the safest experience on Apple's mobile devices.
We are very excited to release this new version of Covenant Eyes for iPhone, iPad, and iPod touch! Our hope is to find additional ways to drill deeper into Apple's mobile devices while preserving privacy.
If you're already a Covenant Eyes member, start taking advantage of the new app by downloading our newest update in the App Store. 
If you're not a Covenant Eyes member, what are you waiting for? Start protecting yourself and your family today.
Sign up for Covenant Eyes today