Back in February, Covenant Eyes had the pleasure of sponsoring the 25th Annual Movieguide Awards, which honored the top films and TV shows from 2016 featuring family-friendly content and Christian values.
It was a beautiful, elegant night, featuring guests like Terry Crews, Olivia Newton-John, Patrick Warburton, and Melissa Joan Hart, but it was more than that. Dr. Ted Baehr, founder and publisher of Movieguide, is a man on a mission: to show Hollywood that the world wants movies that match faith-based values.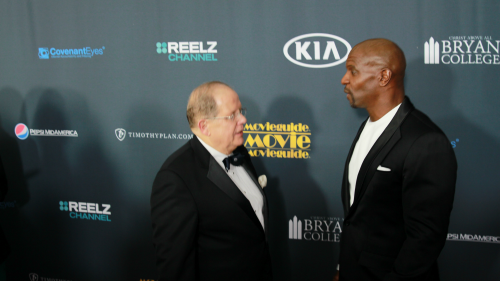 Dr. Ted Baehr and Terry Cruz
The son of actor Bob Allen (1906-1998), Dr. Baehr grew up in and around the industry. He remembered when religious leaders were asked to provide feedback on films (as seen in Movieguide nominee Hail, Caesar!), and he remembers when the religious coalitions providing feedback closed shop, allowing Hollywood to make films with increasingly negative content. At that moment, the industry plummeted; it went from 44 million weekly ticket sales to only 17 million in under five years, all because families could no longer trust that the movies they went to see matched their values.
Movieguide exists in part to fix this problem—and it's been wildly successful. When the first Movieguide gala was held in 1993, only 10% of movies featured redemptive content. In 2016, 64% of movies featured redemptive content. Its annual gala exists to honor Hollywood directors, producers, and stars for their contributions to cinema with God and family-honoring values.
So why does this matter? And why would Covenant Eyes choose to sponsor an event like this?
It's simple, really. Covenant Eyes and Movieguide share a mission of protecting families from harmful content, and a goal of changing culture.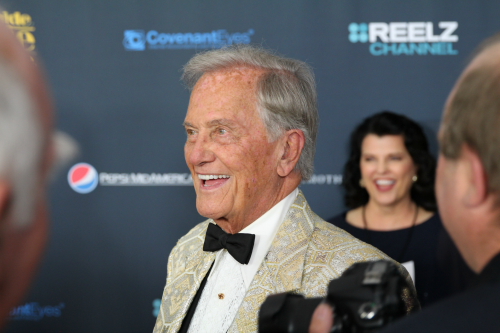 Pat Boone
A Mission to Protect Families
Last year, as part of a major Barna Group study on pornography, analysts surveyed long-time Covenant Eyes users and found that those who used Internet Accountability were much less likely to seek out porn than those who use only a Filter, and kids who grew up using Covenant Eyes in their homes were much more likely to understand that pornography is harmful. As Ron DeHaas, Covenant Eyes founder and CEO, explains, "Accountable families who take the spiritual formation of their children seriously are successful in passing on their values to the next generation."
Here at Covenant Eyes, spiritual formation largely means learning to use the Internet safely and wisely, but it's more than that. It's about engaging culture, and engaging the messages that we hear in music or see in movies. The truth is, the movies we watch can have a profound impact on our attitude and our worldview. At their best, movies like Hacksaw Ridge can help us work through the practical realities of our beliefs; at their worst, they can teach us to trust in the lies that personal fulfillment (especially through sex) is everything.
Of course, the problem for parents in particular is that they don't have time to analyze every movie. That's where Movieguide comes in: it evaluates movies for content, looking for the positive messages as well as warning about the negatives. That way, you can tell whether you should let your teenager see Ghost in the Shell with her friends, or whether it would be better to plop your toddler in front of last year's Pete's Dragon or Finding Dory (both 2016 Movieguide nominees) while you work on other things. And, of course, if you have time to review the movies themselves, even if you disagree with Movieguide's assessment about certain films and decide that, for example, last year's Kubo and the Two Strings is appropriate for your family, its reviews provide good launching points for discussions about how your family's values may differ from those portrayed in Hollywood.
A Goal to Change Culture
But Movieguide, like Covenant Eyes, does more than just educate parents. Both companies endeavor to actively change culture.
On the pornography front, that's why Covenant Eyes pushes Internet Accountability more than Filtering: we believe that filters block behaviors, but conversations change hearts, and a generation who grows up talking about the dangers of porn will destroy the market for porn. That's why we offer so many free e-books; that's why we offer tools like Communities to help churches build a culture of accountability. That's why, a little over a year ago, we cohosted a major conference with Josh McDowell Ministry. We don't just want to help men and women find freedom from pornography; we want to help create a world where people never struggle with it in the first place.
Movieguide's approach is a little different; it seeks to work within Hollywood itself. It does this in two big ways. First, in its annual report, it publishes the numbers that prove to studios that it's smart to make movies that promote redemptive values, if not the Christian worldview outright. Movieguide found that G-rated films average $71.7 million at the box office, but R-rated films only average $18.46 million. Movies with very strong Christian content earn nearly 5 times as much as movies with strong atheist or humanist content ($832 million to $174 million). As one former Hollywood executive put it, Movieguide's report proves that "producing good movies is morally responsible and financially lucrative."
If the numbers aren't enough, Movieguide started an annual awards gala to celebrate the best movies with redemptive values. Now in its 25th year, the Movieguide Awards are a public thank you to Hollywood actors, producers, and writers for their role in creating quality, clean movies and TV programs that promote Christian values. It's a mission field, in a way. Sometimes filmmakers aren't even aware of the redemptive content in their own productions; the Movieguide Awards are an opportunity to remind them that the underlying themes in their movies and shows really do make a difference, and to point them to Christ.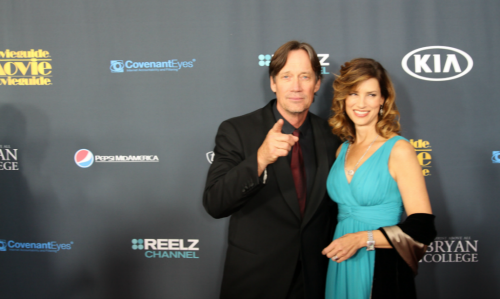 Kevin Sorbo
The Movieguide Awards are also an opportunity for Christians in the film industry to encourage each other in a world that still subscribes to the adage that "sex sells." This sort of encouragement is vital. Hollywood, as one attendee told me, can be a difficult place for a Christian; once you are "outed" as one, you often become a pariah, making it even harder to find jobs in an already cutthroat environment. The Gala allows people like Rick Barry, author of historical fiction, to meet people like Sharon Thomas, a distributor with Sony Pictures in India who seeks to make more Christian films. People like Pat Robertson, winner of this year's Lifetime Achievement award, can meet and encourage young children like Kylie Rogers (the child star of Miracles from Heaven) to remain strong as they get started in their acting careers. By working together and encouraging one another, we can truly change our culture—in our homes, in our churches, and even in Hollywood.
Help us show Hollywood that the content of the movies it makes matters! Watch the Movieguide Awards on Sunday, April 16, at 5 p.m. EST/2 p.m. PST on Reelz.

Ron and Michael outside Paramount Studios


Ron and our Movieguide Contest winners