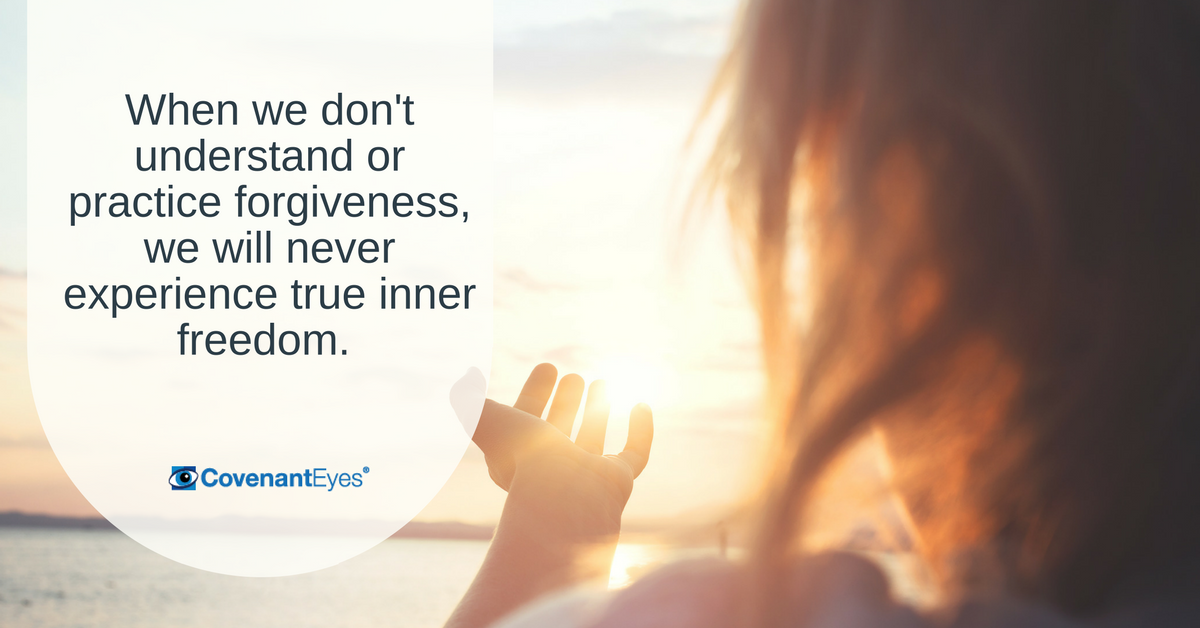 As a society, we don't encourage forgiveness very well, do we? Instead, the culture encourages resentment and paybacks by making the person suffer for the wrong they've done. Unforgiveness is almost celebrated.
Our hurts come in many forms–words, actions, or even inactions. These wounds can be brought on by the actions of others or decisions we have made. Our hurts can come from our family of origin, past abuse, current environment, friends, colleagues, or even strangers.
A Prisoner to Unforgiveness
While there are many ways we all experience hurt, if you've clicked on this particular blog post, part of your hurt is most likely connected to pornography. Porn has hurt the young and old alike. The ways pornography has hurt you probably differ from the next person. Maybe one of these situations resonates with your story.
You caught your husband viewing porn multiple times even though he says he stopped.

Your husband told you he actually prefers porn over intimacy with you.

Your parent left porn magazines laying around the house, exposing you at a young age.

Your friend showed you pornography at a sleepover when you were in elementary school.

Your husband pressured you to act out scenes from his favorite porn film.
Maybe it's one of these scenarios or something else, but the bottom line is you haven't been able forgive him or her yet, have you? You hold tight to resentment, bitterness, and feel unsettled without peace.
If this is the case, you are a prisoner to unforgiveness. But I assure you that you have found a companion in me. I want to help you break free from the confinement of unforgiveness. Lent provides a consistent time each year to reflect on the hope brought to us by the resurrection of Jesus Christ and to re-examine our lives in a profound way that we might seek restoration with God and our neighbor. I believe this season of Lent is your moment to begin seeking freedom.
How to Forgive and Be Free
When we don't understand the importance of forgiveness or actually practice it in our own lives, we will never experience true inner freedom. We become prisoners of bitterness and resentment. Saint Paul tells us, "Do not be overcome by evil, but overcome evil with good" (Romans 12:21). Father Jacques Philippe in his book Interior Freedom further adds, "When we refuse to forgive we are solving nothing and only adding to the evil."¹ This is the last thing we want to do isn't it? We know what it's like to be hurt and don't want to put more hurt and evil into the world. We don't want to be so resentful or tainted by a hurt we've experienced that we intentionally seek to wound someone else as a "payback." This is not freedom or healing, and this isn't ultimately what you desire.
To move forward on a healthy path, we must remove obstacles that keep us from forgiving. To offer you some steps for removing these obstacles, I offer you a few reflections from my own Lenten reading found in Interior Freedom that I hope serve as a helpful companion to you in the days ahead.
1. Realize that forgiving is not the same as condoning a wrong.
When you forgive someone for a wrong they've done, it doesn't mean you condone the wrong or pretend it's okay. However, forgiveness does say that I don't condemn you for your fault or the ways you have hurt me. I leave the judgement in God's hands. I find great consolation in knowing that God can draw good from evil, including the harm that has been done to me.²
Reflect on this:

"I don't want to pass a final judgement with no appeal on the person who has hurt me. I want to look at him with eyes of hope, because I believe something can grow and change in him, and I continue to want his good. I also believe that from the evil done to me, even if it seems irremediable from human view-point, God can draw good… Ultimately, we can really forgive people only because Christ rose from the dead; his Resurrection is the guarantee that God can cure every wrong and every hurt."³
2. Accept that you don't need to be a prisoner and burdened by the chains of resentment.
Resentment poisons our lives and keeps us ahold of the person or thing that has harmed us.4 
When you are wishy washy about forgiveness and hang onto resentment, you actually risk losing your own interior freedom. We are made for love, which involves showing mercy to others, even if they never showed us love or mercy. Our own lack of mercy toward another can burden us greatly. Essential to genuine love, forgiveness releases us from this burden. Isaiah 58 talks about the importance of loving our neighbor and setting the captive free. It even goes so far as to say in verse 8 that when you do "your healing shall spring up speedily."5 We were made for genuine love. We were made to love as deeply as God loves. If you remain open, the Holy Spirit will transform and expand your heart, even to the point of making your heart capable of loving as God loves one day.6
Reflect on this:

The following Gospel reading invites you to cancel the debts of those who have harmed you. In turn, you will be forgiven, and your heart will be free. Forgiveness is a gift, and God wants to give it to you. He wants you to forgive as He alone can do, and thus make you like Himself.7 Let the following passage guide you in your attitude towards those who have hurt you. See Luke 6: 27-38.
3. Know that other people's faults can bring about good.
The sins of others can actually bring about good. In Romans 8:28, Paul writes, "And we know that for those who love God all things work together for good, for those who are called according to his purpose." How many times have we heard that and tried to dismiss it?
I'm not saying that whatever wrong happened to you was a good thing, but God can work that to your good if you allow it. Will you allow God to turn your misery into some kind of ministry? He is able.
Reflect on this:

"Disappointment in a relationship with someone from whom we were expecting a lot (perhaps too much) can teach us to go deeper in prayer, in our relationship with God, and to look to him for that fullness, that peace and security, that only his infinite love can guarantee."8
4. Decide once and for all that other people's offenses take nothing from you.
One of the biggest obstacles to forgiving someone is the feeling that the other person's actions or words deprived you of something important. This nourishes resentment. Others can deprive us of things, things that are right and even just. But they can never deprive us of the essential, God's love for us and our love for him, which is the only true and lasting good. 9
Reflect on this:

"Nobody can prevent us from believing in God, hoping in him, and loving him, everywhere and in all circumstances. […] Rather than wasting time and energy blaming others for what isn't working out, or reproaching them for what we think they are depriving us of, we should strive to acquire spiritual autonomy by deepening our relationship with God, the one unfailing source of all good, and growing in faith, hope and disinterested love.

That others are sinners cannot prevent us from becoming saints. Nobody really deprives us of anything. At the end of our lives, when we come face to face with God, it would be childish to blame others for our lack of spiritual progress."10
5. Find freedom in being God's child
As a child of God, we are subject to nothing and everything is subject to us.11 However, we still know the sting of suffering and the experience of sorrow, "but everything that happens serves to make us grow in love and in the fact of being God's children. What happens and how others behave can no longer touch us negatively; they can only promote our true good, which is to love."12
Reflect on this:

"Hard as it is, we need to learn to forgive other people for making us suffer or disappointing us, and even to accept the problems they create for us as graces and blessings. The attitude is neither spontaneous nor natural, but it is the only one by which to achieve peace and interior freedom."13
Healing is Possible
Digital pornography harms individuals, marriages, and families. If you have been harmed by your husband's consumption of pornography, I invite you to download Porn and Your Husband: A Recovery Guide for Wives to learn more about pornography use and to equip yourself with practical strategies for healing your marriage. Understanding the complexities of pornography can be a great aid to healing and forgiveness.
---
1Philippe Jacques, Rev. Fr., Interior Freedom (New York: Scepter 2007), 64.
2Ibid., p. 65.
3Ibid., p. 65.
4Ibid., pp. 66-70.
5Ibid., p. 69.
6Ibid., p. 68.
7Ibid., p. 67.
8Ibid. p. 67.
9Ibid., p. 72.
10Ibid. p. 72.
11Ibid., p. 79
12Ibid., p. 79
13Ibid., p. 61.