Virtue and a life lived with integrity is always attractive. We all know someone who is a little more honest than us, treats others with greater respect, and puts God and neighbors first. They do what is right, and we're attracted to this way of life, aren't we?
When we see virtue lived well, it tugs at a deep desire within us to be more like that person who goes "above and beyond." There's an explanation for this tug. God created us for Himself! Naturally this means we were made for what is good and holy, because God is goodness and holiness.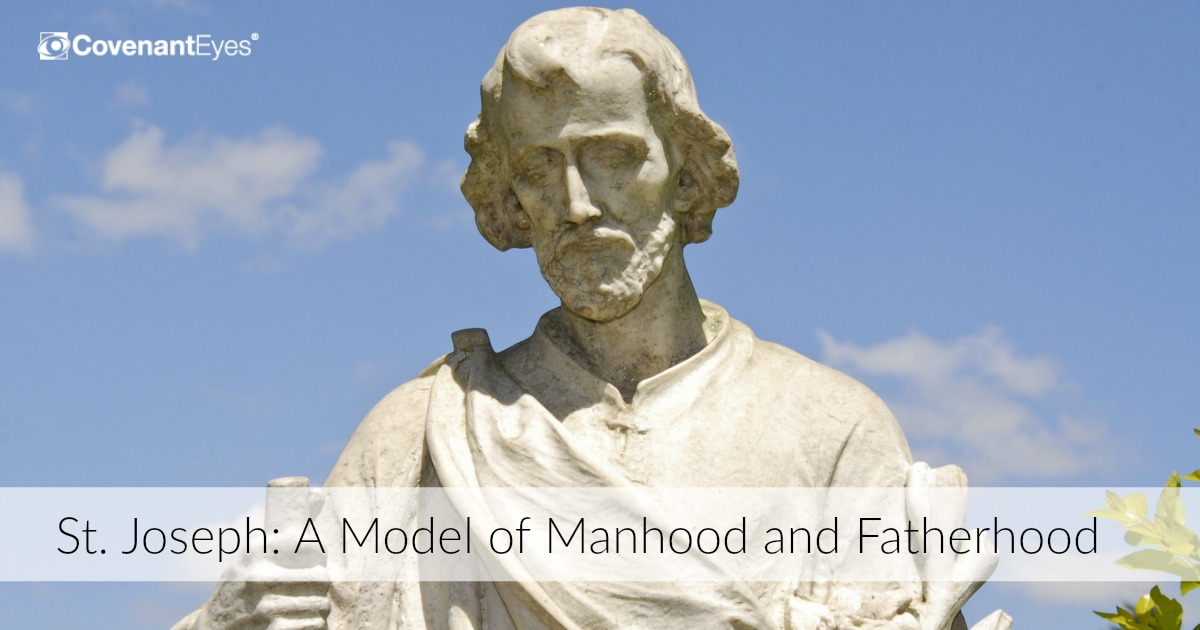 We see glimpses of goodness and holiness in others, especially those who are seeking to live lives of virtue that are ordered to God. Again, this is attractive because, whether we know it or not, ultimately we are each seeking God. Our only true desire in this life is to be in union with God. So we want to do those things that, even if subconsciously, bring us closest to Him.
Follow the example of Saint Joseph
Saint Joseph is a model and messenger of this "living in virtue." As the spouse of the Blessed Virgin Mary and foster father of Jesus Christ, he faithfully lived a life ordered to God. His life, in right relationship to God and family, inspires people of good will throughout the ages. I can see St. Joseph as the quiet one that other boys and men admired.
Here are a few things Joseph teaches us, including characteristics for men to "put-on" and for women to assist their fathers, brothers and husbands to strive after.
Spouse and father – St. Joseph's life shows us that being a spouse and father involves a complete gift of oneself. He laid down his life in service to his wife, child, and ultimately, for his community, faith and for God.
Faith and fidelity – St. Joseph was a man of faith, and because of this, he was able to be obedient to whatever God asked of him. He served faithfully and with great wisdom. He willingly took on the most precious responsibilities God entrusted to him: Mary and Jesus. Joseph made room for God to act in his life and was not jealous when God acted in the lives of others.
Protector – God entrusted a very precious gift to St. Joseph when He called him to be the guardian of Mary and Jesus. Joseph safeguarded the gifts that had been entrusted to him. Under his care the gifts entrusted to him grew to fruition–the Word of God grew and lived among us.
Clearly, being a father goes beyond just fathering a child. Being a husband goes beyond just saying "I do." Husbands and fathers are called to be chaste, pure, faithful, hardworking and just. Husbands are to be companions to their wives and guardians of their honor. Fathers are to provide for the spiritual and moral formation of their children. All of these characteristics are needed and essential for mutual love in marriage and family life. St. Joseph is a model.
A vocation and any human relationship based on these characteristics has the foundation to allow it to thrive; this is what men are called to and women are called to guide men in.
An old trick of the Father of Lies
Sometimes we believe something will bring us closer to God, but in reality it is really Satan tricking us. He's attempting to bring us back to the Garden of Eden, and sometimes he succeeds. The Father of Lies aggressively invites us to become our own gods. To satisfy these temptations, we set aside our pursuit of lives of virtue and goodness, and we grasp for things that can be more easily attained—types of immediate gratification.
Instead of growing in virtue and taking on characteristics of a holy life, like St. Joseph, Satan invites men (and women) to fill the desire for more with a counterfeit satisfaction. He tells us to steal rather than to provide for our family. He tells us alcohol will make us more likable. He tells us to watch pornography instead of striving to build real relationships to satisfy the intimacy for which we long.
Woman's plea to man
Written in our very being, women desire love, support, protection, openness, leadership and respect from men. Women desire to journey with men of virtue. A woman longs for this so that she can be true to who God made her to be– a friend, spouse, mother.
A man longs to be a provider, protector, father and husband. Women want these things for you too! We want to see you be who you are called to be and we want to strive with you to make that happen and walk with you to be who we are called to be together in union with God.
Time to act
Brothers, fathers, sons, please take a lesson from St. Joseph and "put-on" his virtue and open yourself to what God is calling you to: freedom, obedience, sonship, and guardians of women's honor!
We need you, and we need you to be the fathers, brothers, husbands and friends that God is calling you to be.
While you are called to be guardians of woman's honor, you also need to guard your own honor, eyes, hearts and souls. Sign-up for Covenant Internet Accountability and Filtering Software.
---
Pornography is a problem without religious boundaries.  The Covenant Eyes blog team welcomes, even encourages, submissions by all faiths.  Opinions and theological statements expressed by the authors are those solely of the authors, and not of Covenant Eyes.