A doctor walks into the treatment room to tend to a patient, "What seems to be the problem?"
"Well," says the man sheepishly, "Every time I remove this Band-Aid to put a numbing agent on my open, festering wound, the Band-Aid pulls my arm hair and stings something awful."
"I see."
"So, what can you give me for the Band-Aid pain?"
The confounded doctor looks at the man with quizzical disbelief. "Maybe we should treat the wound instead."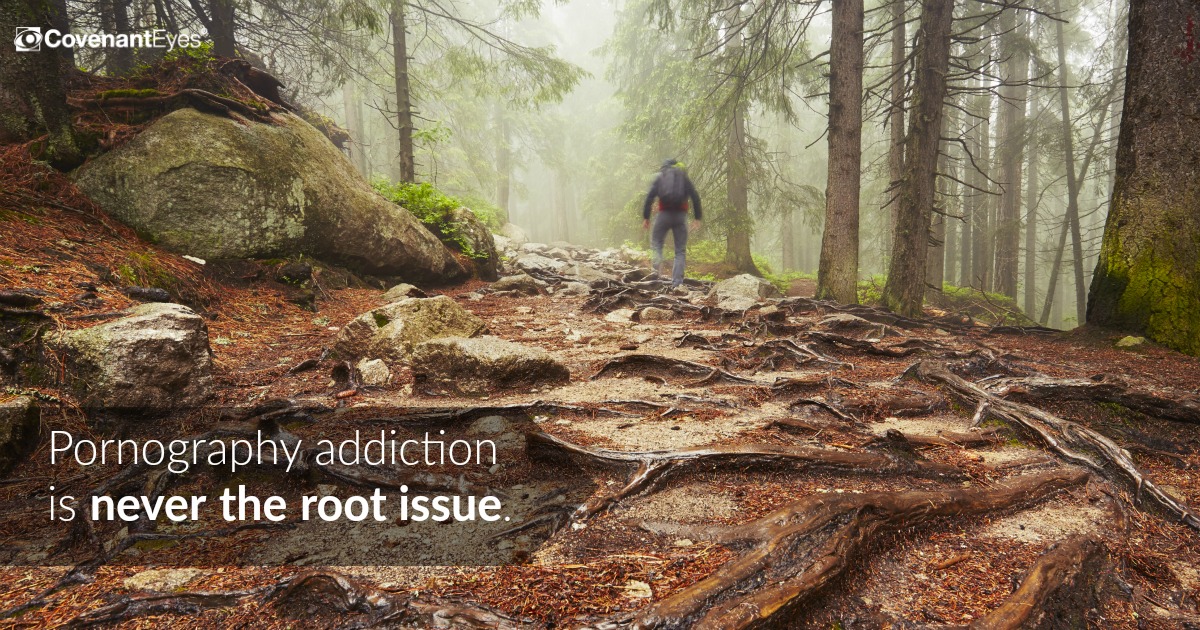 The way most men approach their porn addiction is no different than this doctor scenario. Pornography addiction is never the root problem. While physical factors do fuel with the addiction, most men run to pornography in the first place because of a heart wound, need or lies(s) that we hold in our heart.
The confusion comes because we don't experience conviction from the Holy Spirit regarding our heart wounds. Instead, conviction happens when we act out in sin to compensate for them. When we feel this conviction of the Spirit, we are grieved and pained in our souls because of the sin. This grieving soul-pain is like the Band-Aid pain of the man in the analogy. We feel this soul-pain and conviction of the Holy Spirit and wrongly assume, "This must be what God is dealing with. This is what I have to stop."
The truth is we aren't feeling the pain of the preliminary root issue in that moment because the sin temporarily numbed that pain. I only became aware of my real wounds when I stopped running to porn.  Rather than self-medicating our wound, we should run to God. We would instead become acutely aware of our actual problem and receive the care and comfort of the Father, the Great Physician, to heal what is really hurting the most.
Most men are battling pornography rather than addressing the root cause. This pursuit can never result in freedom, and God doesn't actually want it to. You heard me correctly. For Him to allow you to overcome porn without healing the root would be as irresponsible as that doctor treating only the Band-Aid pain. Yes, God hates sin. But God hates a broken heart more; and like the doctor above, He is wise enough to know in what order to address these issues.
Divine Wisdom and Order
In Luke 4:18, Jesus shares the reasons He came. His list is a progression of priorities that is divinely inspired and divinely ordered.
"The Spirit of the Lord is upon Me, because He has anointed Me to preach the gospel to the poor. He has sent Me to heal the brokenhearted, to proclaim liberty to the captives and recovering of sight to the blind, to set at liberty those who are oppressed."
Phrased differently, Jesus' logically ordered priorities are: (1) eternal salvation of the soul, (2) healing of the broken heart, and then (3) deliverance for those in bondage. It can be no other way. Salvation puts us into right relationship with God so that we have the intimacy, favor and unbroken fellowship with the Father. In restored relationship, we receive all things from Him that we need to overcome. God, by giving Jesus as a sacrifice for all sin–past, present and future–created a scenario where we don't have to be perfect in our flesh to enjoy being perfect in the Father's sight. Many Christian men wrongly believe they don't receive these benefits of salvation until after they clean up their own act.
Important: if you aren't experiencing the love of God or walking in the confidence that Jesus has made you righteous despite your shortcomings, if a fall sends you into a downward spiral rather than propelling you into the experiential joy of your salvation, if you feel shame when you think of standing in His presence–I recommend you go back and read some of my previous posts. These attitudes indicate you aren't walking in a Christ-centered, right relationship with the Father. God's first priority is for you to experience all the benefits of salvation so you have the right foundation for growth. He doesn't just want you to overcome this sin–He wants you equipped to walk in the fullness of all He has for you in life.
After restoring you to right relationship with Himself, God wants to heal your broken heart. When we get saved, our spirit-man is saved, but our souls still carry the scars of living in a fallen world. I know a man who had an eating addiction. He got his stomach stapled and lost 300 pounds! But then he developed an alcohol addiction. After losing his medical practice and going through rehab, he developed porn and sexual addictions that escalated to the destruction of his marriage. The Holy Spirit showed me his real, root problem wasn't with pornography–it was self-hatred. I promise you this: if you stop looking at porn without addressing the wounds, like self-hatred, that fuel the addiction, you will inevitably substitute one addiction for another–and not all addictions are as  obvious as this man's.
Related: What Your Sexual Fantasies (Might) Say About You
The wounds at the root of porn addiction can be vastly different. They can be self-hatred, shame, insecurity, distrust of God, anger at God, control, rebellion, rejection, retaliation, loneliness, lovelessness and so many others. Here's a hint to help identify yours: your sexual fantasies are inseparably linked to your wound. Fantasy is the subconscious mind's way to compensate for these wounds. After years of helping men with their heart wounds, I can usually determine his wound by hearing his fantasies, and vice-versa. If you have a wide range of fantasies, you probably have more than one wound.
The good news is God knows your wounds and wants to heal them. As surely as the cross guarantees salvation, the other reasons Jesus came are equally certain. After your salvation, God's highest priority is to heal your broken heart. The seemingly big and insurmountable sins become small issues when no longer fueled by a wounded heart. This is the wisdom of God's divine order.
Healing Heart Wounds
So how do we heal these heart wounds? Keep in mind that each person received their wounds differently. I think this is why Jesus never healed the same condition using the same method twice in the Bible. Because of this, I teach principles for heart healing, not a formula. If a formula for healing heart wounds existed, then we'd rely on the formula more than we rely on intimacy and relationship with Jesus. This would be tragic–Jesus is the way, the truth and the life. I encourage you to spend some time with the Father, our Great Physician.
The following are a few helpful principles when praying about heart wounds.
Ask Him to help you see and understand the things fueling your actions and addictions.
Forgive any people involved in causing the wound and treat them as broken vessels with their own wounds that fueled their sin.
Repent and forgive yourself of any wrong ways you responded.
Repent of any wrong agreements with the enemy's lies you may hold in your heart and ask God to form new ways of thinking and seeing these issues.
Invite God into the area of wound. I like to picture Jesus holding me while the traumatic event happened. I like to ask Him what He would say or was saying to that young person who processed things wrong and formed wrong agreements.
Remember you are a new creation now in Christ. God has set you in a new family. The person those things happened to died. There is a new you now that doesn't have to feel or think the way the old you did in response to what happened.
Keep crying out for revelation and healing if you don't experience it instantaneously. I've had healing come at unexpected times and in unexpected ways. God is faithful.
This isn't an exhaustive list–nor can there ever be such a thing when it comes to heart wounds. If you'd like more guidance, there are several chapters on this in the Mighty Man Manual, as well as resources on other issues we've touched on here: healing from shame, experiencing more of God's love, your identity in Christ and much more.