Pornography is a problem. Chuck Swindoll says, "Pornography is the greatest cancer in the church today." I believe it. The more I counsel people on a regular basis, the more I see the harmful effects of pornography in the church today.
It's Trapping Many People
A study recently conducted by the Barna Group in the US showed that 63% of men, ages 18 to 30, view pornography several times a week. Think about that. More than HALF of the young men you see everyday look at porn multiple times a week.
Between March 1999-2001, Alexa Research examined ten of the leading search engines, and the #1 search was "sex" with "porn" being ranked #4. This is especially true of men. Studies show men are 543% more likely to look at porn than females (that wasn't a typo: 543%).
Porn is all around. Many in the church are enslaved by it, and there seems to be no way out.
Related: Why the Church Must Be a No-Shame Zone
A statement I hear time and time again from those I counsel is, "When the desire comes, I feel that I have to look at porn." Maybe you have experienced this yourself or have heard someone make a statement quite like it.
So, is porn just inevitable for the Christian man or woman?
There Is Hope
"Blessed be the God and Father of our Lord Jesus Christ, who has blessed us in Christ with every spiritual blessing in the heavenly places, even as He chose us in Him before the foundation of the world, that we should be holy and blameless before him"​ (Eph. 1:3-4).
As Christians, God not only chose us to be His before the foundation of the world, but He chose us to "be holy and blameless before him." Wow! What a wonderful truth. God has called you and I to holiness.
So here is the question: Does God command ends without providing means? By no means! "His divine power has granted to us all things that pertain to life and godliness, through the knowledge of him who has called us to his own glory and excellence" (2 Pet. 1:3).
You know what this means? There is hope.
Christ took your sin on the cross and rose from the dead to show He has power over sin and death. By placing your faith in Christ, there is hope. Through the Gospel (good news) and the Holy Spirit in you, you never have to look at pornography again.
Understanding the Trap
After understanding the powerful resources God has given you through the Gospel to say no to pornography, you must now move toward an understanding of WHY you desire to look at porn.
Related: 6 Reasons Why Men and Women Are Drawn to Porn
When you desire to look at porn, it is because you take pleasure in porn more than you take pleasure in God and His glory. This is always the case.
It was C.S. Lewis who said, "Indeed, if we consider the unblushing promises of reward and the staggering nature of the rewards promised in the Gospels, it would seem that Our Lord finds our desires not too strong, but too weak." But yet, "We are far too easily pleased [with other things]."
Related: Porn and the Desire Dilemma 
Our minds need to be renewed by God's Word (Rom. 12:2). We need to meditate on and memorize Scripture so we can fight the temptation to look at porn with God's truth (Ps. 119:11, Ps. 1).
Practical Tips to Avoid the Porn Trap
Every time you look at porn it is because you have the access, the time and the desire for it. Removing the access and time you have for porn right now will help you as you work on erasing your desire for it. The great hope we have as Christians is that through the power of the Gospel, you can get to a place in your life where you have access to porn, but no desire for it. Here are three steps to take:
1. Take radical measures to cut off all access to porn.
I highly recommend Covenant Eyes for this. Covenant Eyes is an accountability program with an optional web content filter. It tracks every website you visit and sends a Detailed Browsing Log to the person you choose as your Accountability Partner. I have it on every device I own!
2. Find a spiritually mature person of the same-sex to walk with you through this.
Find someone and open your heart to them. Tell them your struggles. Pray with them. Meet with them often. Remember, "The one isolates himself seeks his own desire and breaks out against all sound judgment" (Prov. 18:1).
3. Serve others.
If you are not already, become a member at a local church. Serve people there. Get involved and use the gifts God has given you to serve His church. Do it often. This will fill up your schedule and deplete the alone time you would have to be tempted by porn.
Once again, understand the power you have in the Gospel. God is for you in this battle. And remember, if He is for you, who could ever be against you? (Rom. 8:31).
---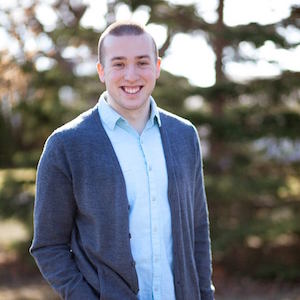 Brad Merchant is the College Pastor at Liberty Baptist Church in Sweetser, IN. He is a frequent writer at www.bradmerchantblog.com. You can connect with Brad by following him on Twitter @brad_merchant