"Stand therefore, having your loins girt about with truth, and having on the breastplate of righteousness; and your feet shod with the preparation of the gospel of peace; above all, taking the shield of faith, wherewith ye shall be able to quench all the fiery darts of the wicked. And take the helmet of salvation, and the sword of the Spirit, which is the word of God." -Ephesians 6:13-17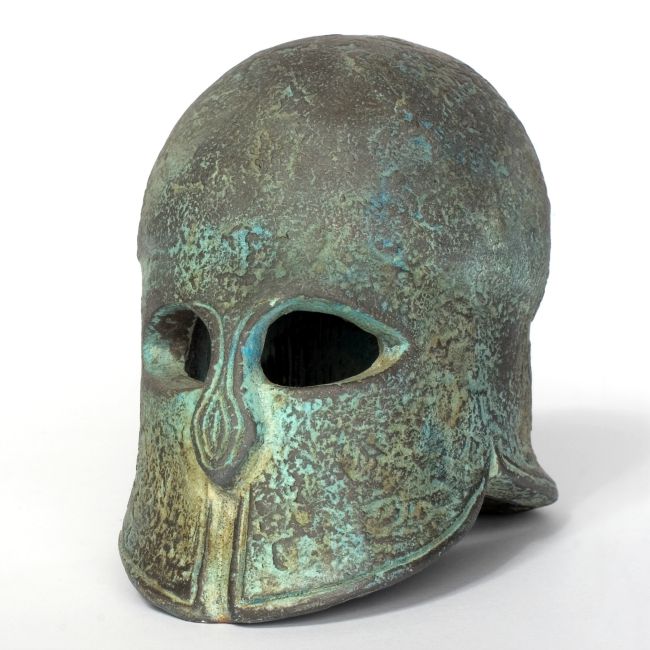 My wife enjoys the What Not to Wear cable series, in which two fashion experts choose a woman whose wardrobe needs revising, then become Henry Higgins to her Eliza, reshaping her look and, hopefully, her confidence and success in the process. It's a cute show (yeah, I've watched it) but to this fashion-challenged old guy who lets his wife do his clothes shopping because he's convinced the Lake of Fire is a Macy's, dressing hip isn't on the menu. It's enough for me to know what's essential—what not to not wear—and leave it at that.
There are essentials no believer should leave home without. You'd never, I hope, play ice hockey without proper gear, nor would you play football or baseball without basic protection. Suiting up, so you can handle the rigors of the game, is primary to any sport.
How much more, then, should you be suited up, armor in place, before meeting the daily challenges of the world, the flesh, and the devil? Paul mentions the "whole armor of God" in the verse cited above, which is standard attire for any man wanting to "withstand in the evil day and, having done all, to stand."
In practical terms, that tells me never to be so stupid as to begin a day without prayer, because neglecting that basic makes as much sense as playing hockey in a pair of Speedos. It's an arena, after all, that we exist in, not a spa, so let's be prepared.
A few other points Paul raises here:
"Stand therefore having girded your waist with truth."
The waist and trunk area cover vital organs, body parts you don't want injured. Likewise, the truth you take from Scripture (which should also be taken in daily) has a covering effect over your vitals, influencing, sharpening and up-building your mind and heart. By its nature, it keeps you from falling for any number of lies you're likely to encounter during the day, lies about yourself, people, life and God. Truth is standard equipment, so please read it, reflect on it, draw on it daily.
"Put on the breastplate of righteousness."
In prayer you're built up spiritually, strengthening your faith in Him, and in the righteousness He's imparted to you. Living righteously is, of course, critical, but even more so is the remembrance of the righteousness of Christ, apart from my own, that's mine by faith. I put it on like custom designed royal apparel, strapping what's holy and exquisite onto what could never, on its own, do anything but fall short.
"Shod your feet with the preparation of the gospel of peace."
Walking with clarity is essential to any good fight (or any successful battle, for that matter) and clarity makes necessary distinctions. There's a difference between the saved and the unsaved, the "His" and the "He wants." Remembering that essential, sobering truth keeps me "gospel aware" that there's a literal heaven and hell, and everyone I encounter is bound for one of them. No one who stays aware of that can stay unaffected by that knowledge, the remembrance of which influences speech, behavior, thoughts, everything. Being prepared to speak the gospel of peace cannot help but have a purifying effect.
"Take the shield of faith with which you will be able to quench the fiery darts of the wicked one."
Faith comes by hearing, Paul said (Romans 10:17) and hearing by the Word of God. When taking the Word in regularly, faith grows, the shield is strengthened, and the enemy's fiery darts, relentless as they are, can't harm you.
"And take the helmet of salvation, and the sword of the spirit, which is the Word of God."
That's the rhema word of God he's referring to, the communication given directly from Him to you. Mature believers are well grounded in Scripture, and from that foundation they're better able to discern God's still small voice speaking guidance, reassurance and insight to them. His promises to you as a believer are spelled out verse by verse; His more specific promises to you, whispered to the heart or announced through unmistakable providence, are there for the taking as well. They both protect like a good helmet and, when necessary, attack and cut with a sword's force.
I well remember paying for it if I showed up for practice not fully suited up. Swats with a wooden paddle, extra laps, or being "dressed down" in front of the guys were lessons well learned, since my coach never wanted any of his guys half protected.
He still doesn't, so let's face our days armed, prepped, dressed. A neglect for basic grooming is tacky, but a deficit in necessary armor is downright dumb.