"Whether you eat or drink or whatever you do, do it all for the glory of God." – 1 Corinthians 10:31
In the war against sexual impurity, what should be our ultimate reason for victory?
The first thing we need to address is that it's not about you. It's not about you having victory, or about you winning the war, or even about you being pure. Read our 1 Corinthians 10:31 again. My friend, we will never be successful in finding freedom from our struggles with impurity until our primary reason for wanting it is so that our victory and ongoing purity will glorify God.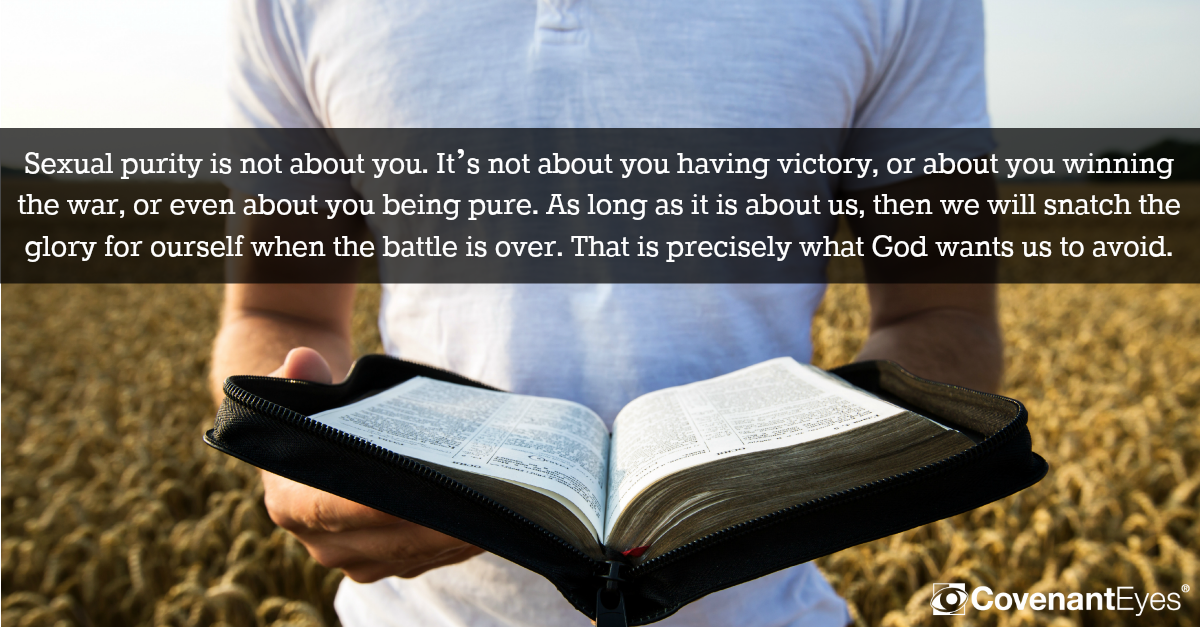 As long as it is about us, then we will snatch the glory for ourself when the battle is over. "Look what I did! Look at all that my hard work accomplished! I deserve this victory!" That is precisely what God wants us to avoid.
A great example of this is found in the book of Judges where we read of a man named Gideon. Leading an army of nearly 32,000 men, he's about to charge the camp of the Midianites—a formidable army of 135,000. Early in the morning, as Gideon stands outside his tent surveying the camp, God approaches Gideon and tells him he has too many men and that he needs to begin the process of whittling down his army until he is left with only 300 men. Talk about poor odds.
Why did God do that? What was His purpose? If we could have listened in to His conversation with Gideon, I wonder if we would have heard something like this: "Gideon." "Yes, my Lord." "Gideon, you have too many men for me to deliver Midian into their hands." Gideon chuckles, a little surprised that God would show His sense of humor at a moment like this.
Silence.
Nervously clearing his throat, Gideon says: "Um, Lord? Would you mind repeating that last order?" "Yes, Gideon, you have too many men for me to deliver Midian into their hands. I want you to get rid of the majority of your army." Gideon tries not to look surprised. The men were already worried about being outnumbered as it is, and rightly so. They would surely doubt his ability to lead such a battle if he sent even a fraction of them home. "May I be so bold as to ask why, my Lord?" "You are to decrease your numbers in order that Israel may not boast against Me that her own strength has saved her" (see Judges 7:2).
Did you catch that? God intentionally shrunk the size of Gideon's army because He didn't want Israel claiming glory for themselves after they had won the battle. He knows man struggles with pride. He knew that Gideon and his men would look at their handiwork and accept responsibility for the victory. Never forget that God will always work only for His own glory.
If God is going to help you fight against the beast of impurity and win, it must be on His terms and for His glory (Colossians 3:17; 1 Thessalonians 4:1; Proverbs 25:27).
It is said of King Hezekiah, "In everything that he undertook…he sought His God and worked wholeheartedly. And so he prospered" (2 Chronicles 31:21). Now, prospering sounds like a good thing doesn't it? The word here literally refers to enjoying great success. I'm pretty sure I am safe in saying that you would like to enjoy great success in this battle against lust, pornography, and masturbation.
Listen closely, my friend: In everything you undertake, in every aspect of this war, you must seek God's strength, God's wisdom, and God's glory. Only then will you prosper. When it seems that you can't win this battle, when you feel totally surrounded and pressed in upon to the point that defeat is imminent, that's a good thing. That means you understand you can't win. Seek God with your whole heart. It is only through Him that you will find the strength to fight (Philippians 4:13). Only He will provide the victory.
In 2 Kings 6 the king of Syria sends "horses and chariots and a great army" by night to surround the profit Elisha (2 Kings 6:14). In the morning Elisha's servant…
rose early in the morning and went out, behold, an army with horses and chariots was all around the city. And the servant said "Alas, my master! What shall we do?" He said, "Do not be afraid, for those who are with us are more than those who are with them." Then Elisha prayed and said, "O Lord, please open his eyes that he may see." So the Lord opened the eyes of the young man, and he saw, and behold, the mountain was full of horses and chariots of fire all around Elisha. (2 Kings 6:15-17)
The God of Elisha is our God! The God who surrounded His servant surrounds you. The God who stood ready to help, stands ready to help you! What a great and glorious promise!
---
Steve Etner is a national men's speaker, author, and Purity Coach. His latest book The Pure Man's Devotional Guide is available on Amazon. Steve is also author of Extreme Mind Makeover: How to Transform Sinful Habits into God-Pleasing Patterns of Life. Steve's conferences, seminars, and retreats focus on what God has to say about the way we think and the impact it has on our behavior. His ministry is focused on helping men develop a Bible-based, Christ-centered strategic plan for purity in their lives, and his goal is for men to have a reignited passion for Jesus.