For anyone who has felt the weight of addiction, the thought of being free is beyond liberating. We fail to realize though, that the depths of our addiction didn't happen in one day, so similarly our full victory will not be instantaneous.
A history of mistakes made, sin willfully indulged in, consequences suffered, and lessons learned has taught me that freedom from the habits which bind us become ours through the daily choices we make. Being stubbornly diligent is required for us to grow in our pursuit of purity.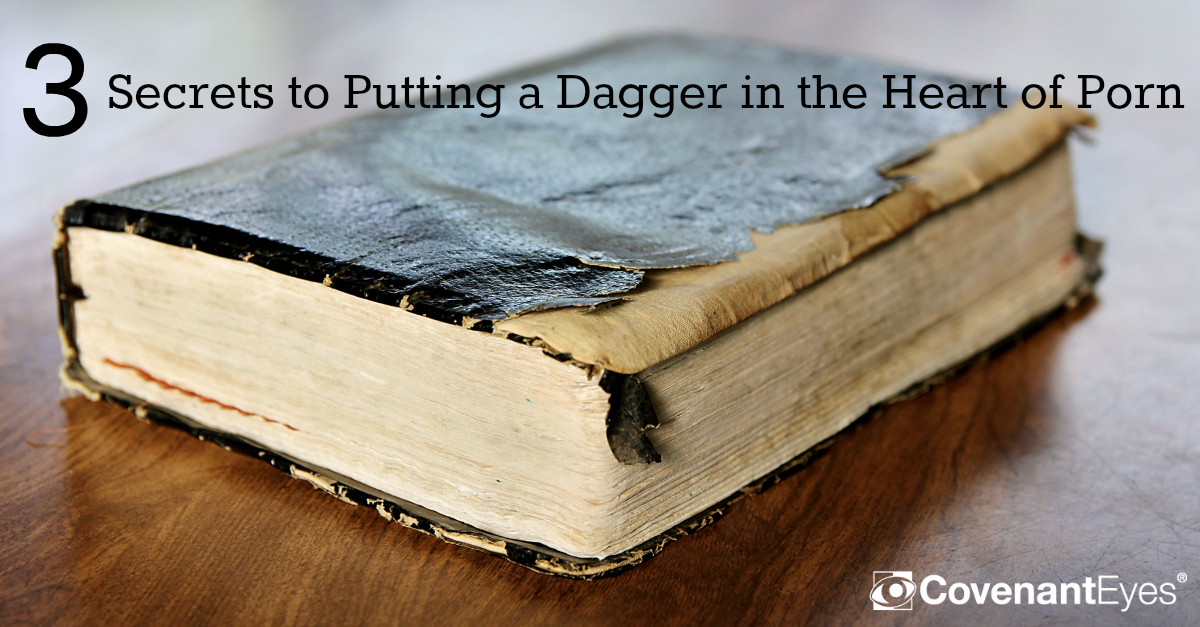 3 Crucial Steps to Slaying Porn
Regardless of the depths of your addiction to the sin of pornography, there are a few steps you can daily apply that will better equip you to gain and walk in victory:
1. Saturate your mind with God's word.
Make the time to read the Bible. The daily intake, memorization, application, and treasuring of it will prove to be life-changing.
As John Owen put it, "Holiness is nothing but the implanting, writing, and living out the gospel in our souls." The Bible will renew our minds (Romans 12:2), purge and refine our desires, and correct wrong concepts we may have regarding sin, righteousness, purity, and choices. It will give us a new found appreciation for Christ and the sacrifice He made on behalf of us all, enable us to see sin through God's perspective, and equip us to view others as people with inherent value made in the image of God (instead of vessels for our own selfish gain).
Devouring the truth of God is a habit worth forming; bringing undeniable transformation by effecting change at the heart level.
Elizabeth and Jim George said, "Nothing else in this world can renew our minds like the Bible, which is: a light to guide us, a rod to correct us, a staff to lead us, a mirror to reveal us, a banquet to feed us, and a rudder to steer us."
2. Make wise choices.
If it is true that "what we are today is who we are becoming," then what C.S. Lewis asserted is also true: "Good and evil both increase at compound interest. That is why the little decisions you and I make every day are of such infinite importance."
When it comes to the power of sin to entangle and snare, infiltrate, and distort, we would be wise to filter everything we dwell upon, watch, listen to, read, speak of, engage in, and cling to through the lens of Scripture. We can ask ourselves in the moment of temptation what consequences might result from even small choices we make and ways they could potentially harm us in grave ways in the near or distant future.
As John Owen said, "Temptation is like a knife, that may either cut the meat or the throat of a man; it may be his food or his poison, his exercise or his destruction."
3. Educate yourself.
Along with the previous two steps, I have found it to be tremendously helpful to diligently study resources which address sexual sin from a thought-provoking and Biblical perspective.
Reading e-books, articles, and webinars by Covenant Eyes, and resources by other ministries such as XXXChurch will be an eye-opening experience as you begin to discover possible underlying causes and get to the root of the problem of what has enabled your addiction to continue and thrive. You may also read my blog where I write about various topics including sexual sin and purity.
If you would like to write to me personally with questions and comments or are in need of somebody who's willing to further dialogue regarding addiction and steps to recovery, I would be so glad to hear from each of you. You can contact me through my blog or write to me through the social media links listed there. My heart's desire is to warn and be of help to others because of my own experience with addiction and ways I have been transformed and restored.
While it's true that we will never be sinless and battling our sinful nature won't cease until our time on this earth is done, we may very well grow in sanctification by applying steps like those listed above. The recovery process requires time and daily attention, yet nonetheless, what is the alternative?
"The vigor and power and comfort of our spiritual life depends on our mortification of deeds of the flesh." – John Owen
What is the most challenging aspect of your current strongholds? How can you begin implementing the steps presented here?